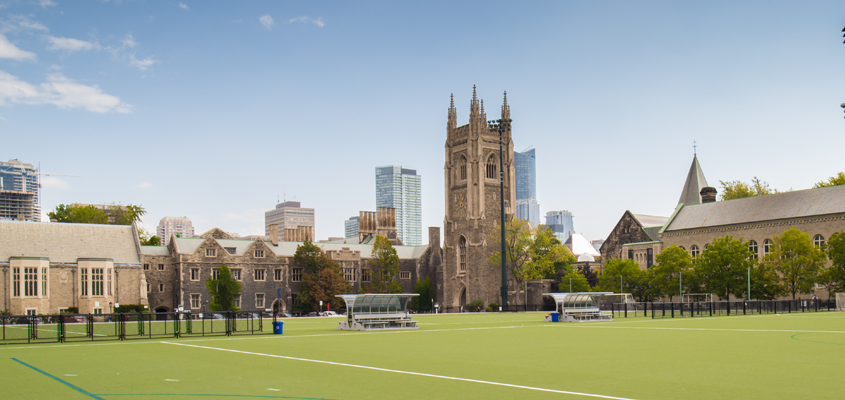 Make friends, have fun and add to your university experience by playing intramural sports!
The intramural program at the University of Toronto is one of the largest in Canada. We offer a wide range of sports to meet the diverse interests of the student population. 
No matter your skill level, you'll find an activity that is right for you. We offer a variety of leagues and divisions for any level of play. This year, come check out traditional sports, like dodgeball or badminton, or try something new, like spikeball or esports!
Please note that due to COVID-19-related reductions in programming, Esports leagues are only open to U of T students. Learn more about our esports leagues
PROGRAM CANCELLations DUE TO COVID-19
Given the grey zone measures in place in the City of Toronto, U of T intramurals will maintain the temporary stoppage of all indoor and outdoor intramural sport programs until further notice.
INTRAMURAL CHAMPIONSHIP T-SHIRT DESIGN CONTEST
We are launching our annual Intramural Championship Design Contest!  Calling all students to get the creativity flowing, and have your design featured by every intramural champion for 2021-22.  Designs are due by Friday, May 14th.  Designs must:
- not alter the colour, text, or spacing of the logo used
- not have artwork touch the logo - meaning any design needs to use the logo independently, and design around it.
- use no more than 2 colours, not counting the logo used. 
The following logos are eligible to be used: 
Good luck to all entrants!  Finalist designs will be selected by staff and posted on social media for a student vote on the winning design.  
---
Commitment to Equity and Accessibility
The University of Toronto Intramurals program along with the Faculty of Kinesiology & Physical Education strives to create and maintain a welcoming and inclusive atmosphere for all students and members in all our facilities - one that is aligned with University policies, guidelines and statements on equity, diversity and excellence.
To this end, the faculty has made a systemic commitment to equity through a variety of targeted strategies and initiatives. We work closely with the University's equity officers at the Accessibility, Sexual and Gender Diversity, and Anti-Racism and Cultural Diversity offices to design and develop initiatives to improve accessibility, sexual and gender diversity, as well as anti-racism and cultural diversity.
Mission Statement
A student and staff partnership leading the way in providing opportunities for fun, fair play and development for all.
Learn More