Welcome KPE and Varsity Blues alumni and friends.
The Faculty of Kinesiology and Physical Education Alumni and Advancement Office works with both athletic and academic alumni, donors and volunteers. Whether you represented a Varsity Blues team as a student-athlete, or earned an undergraduate or graduate degree from the Faculty, we are your contacts for news, events, volunteering and supporting the programs that mean the most to you.
Academic alumni of the Faculty are represented by the KPE Alumni Association. Varsity Blues alumni are known as T-Holders and are represented by the T-Holders' Association. Please contact alumni.kpe@utoronto.ca if you are interested in learning more about alumni activities or would like to subscribe to email updates! You can also keep up with the Faculty by reading Pursuit magazine.
Welcome from Dean Gretchen Kerr, Fall 2021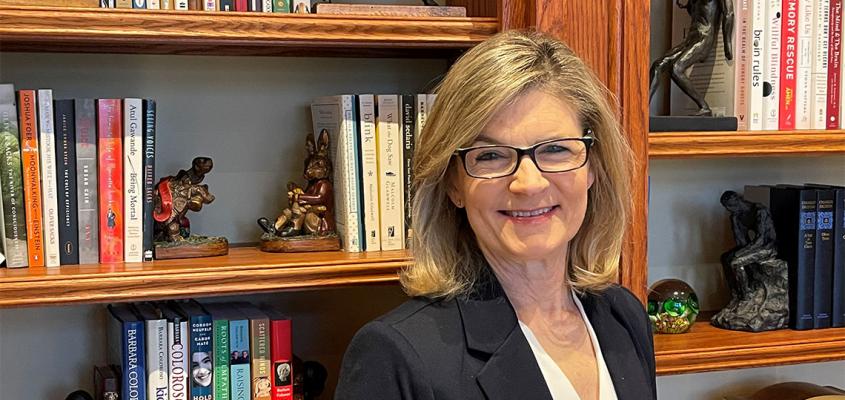 Greetings,
As we begin the 2021-22 academic year, it is my pleasure and privilege to greet you as the new Dean of the Faculty of Kinesiology and Physical Education (KPE). I am excited to build upon the foundation of excellence that former dean, Professor Ira Jacobs, laid for the Faculty, and maintain our vision of advancing the health of the population through education, research, leadership and the provision of equitable opportunities in physical activity, dance, sport, recreation and play.
This is an important moment for KPE. As we emerge from the global pandemic, we will be challenged to address the problem of inequitable access to quality physical activity, school and community sport experiences – inequities that existed before the pandemic and have been exacerbated by it. The process of reconciliation with Indigenous peoples and the embedding of Indigenization into all of our curricular and co-curricular pursuits are urgent needs. We will continue to be called upon to dismantle systemic racism and discrimination, address climate change and mental health challenges in and through education, research, leadership and the provision of opportunities.
KPE is uniquely positioned to meet these challenges. With existing strengths in health promotion and a long track record of impactful equity, diversity and inclusion initiatives, we are well equipped to contribute to the health and well-being of the university and broader community populations.
Our thriving alumni/alumnae community has long contributed to the success of our Faculty. Furthermore, our students have benefitted from the ongoing support of our alumni/alumnae base, from speaking at KINections career panels to providing financial support and mentorship. It is a priority for me to connect with our KPE students, faculty, staff and alumni/alumnae to continue to foster our growing network, and I look forward to doing so – in-person or virtually - in the coming months.
Our alumni/alumnae community is a continual source of pride and inspiration for us all, in particular for the new generations of students at our Faculty. I am excited about the memorable experiences this new academic year has in-store and I look forward to working with you and building upon our Faculty's strengths to contribute in significant ways to a healthier, more just society.
With best wishes,

Gretchen Kerr, Ph.D., (she/her)
Dean, Faculty of Kinesiology and Physical Education
University of Toronto
Update from Dean Ira Jacobs - Spring 2021
Update from Dean Ira Jacobs from UofT Kinesiology & Phys Ed on Vimeo.