Our team in the KPE Office of the Registrar and Student Services is looking forward to helping you. We are available throughout the year for consultation regarding any difficulties you may experience, even if they are not related to academics. We are here to equip you with the supports and services you need to succeed throughout your academic career.
HOW TO CONTACT US
RECRUITMENT AND ADMISSIONS INQUIRIES
Are you a future student that has questions about our undergraduate and graduate programs? Connect with our Recruitment and Admissions team by phone or email: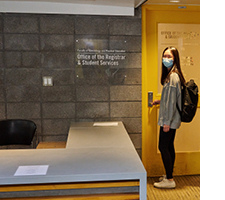 The Office of the Registrar and Student Services is currently providing services through a combination of virtual and in-person delivery. 
We are located at 320 Huron Street, in the Clara Benson building in BN110, behind the yellow door.
The office is open:
Monday - Thursday: 8:30 a.m. - 12 p.m. and 1 - 4:30 p.m.

Please note the office is closed daily from 12 p.m. - 1 p.m., Monday - Thursday.

Friday: 8:30 a.m. - 12 p.m.
The official mailing address for KPE's Office of the Registrar and Student Services is:
Faculty of Kinesiology and Physical Education
Registrar's Office
55 Harbord St.
Toronto, ON M5S 2W6
Canada
The fax number for KPE's Office of the Registrar and Student Services is:
416-971-2118
---
Registrar's Services
The Office of the Registrar and Student Services offers a variety of services to Kinesiology students, including:
If you have any questions or concerns about degree planning and progression, or your Degree Explorer assessment, we recommend that you make an appointment with a Student Advisor at uundergrad.kpe@utoronto.ca.
Electronic newsletters are sent to all KPE students by email on a regular basis. These newsletters contain important and time-sensitive information about procedures, policies, deadlines etc. It is your responsibility to check and read your UTmail+ account regularly.
A Letter of Confirmation, also referred to as a Proof of Enrolment, Confirmation of Enrolment or Enrolment Verification, is an official document that will state your enrolment in courses for a specific academic session. You may need a Letter of Confirmation for an RESP, scholarships, employment or immigration purposes.
The information that can be included on your Letter of Confirmation includes:
Faculty of study (Faculty of Kinesiology & Physical Education)
Program of study (Bachelor of Kinesiology)
Your of study (Year 1, Year 2, Year 3, Year 4)
Course load (full-time, part-time)
Enrollment status (invited, registered)
Start date and end date of chosen academic session
Intended graduation date from your program of study
STEP 1
Review these steps to generate a Letter of Confirmation on ACORN.
If you are unsure if the Letter of Confirmation is the letter you are looking for, please email undergrad.kpe@utoronto.ca and provide details on what you are requesting and for what purposes (e.g. bank request, insurance). 
Registered Education Saving Plan confirmation forms for the current academic session can be completed and signed in person at no extra charge. Confirmations for the next academic session will be completed after a student's academic year and standing have been determined in mid-July. Students who do not have forms provided by their RESP provider may request a Letter of Confirmation ($7.00 fee).
Please do not fax or mail forms. All pre-filled forms should be submitted to the online form submission site.
Please submit your RESP form with a filename as follows:
FirstName LastName student id number RESP form.pdf
(example: "John Smith 1001231234 RESP form.pdf")
Letter of Permission is for current KPE students who would like to take courses from another university for credit towards their Bachelor of Kinesiology degree during their studies in the Bachelor of Kinesiology. There is a $40 fee for the Letter of Permission evaluation. 
Request a Letter of Permission by following these steps:
STEP 1: PAYMENT 
Head to the first floor of the Athletic Centre at the Customer and Membership Services Main Office (55 Harbord St.) to make your payment.
Clearly state you are paying for a Letter of Permission ($40.00). You will receive an email with your proof of payment.
STEP 2: SUBMIT REQUEST AND PROOF OF PAYMENT
Submit both the completed Letter of Permission Request and proof of payment via the online submission site. Please do NOT fax, drop off or mail in forms or proof of payment.
STEP 3: LETTER OF CONFIRMATION SENT TO YOU
Your request will be processed after receiving proof of payment. The PDF letter will be sent to your student email address (UTmail+).
If you would like a physical copy of the letter, you will be notified once the letter is ready for pick-up.
If you have any questions about submitting a request or paying a processing fee, contact the Office of the Registrar and Student Services before submitting the request at undergrad.kpe@utoronto.ca.
You may use this form to make one of the following changes in your official academic record:
Correct a mistake in your name
Add, remove, or change middle name(s) or middle initial(s)
Change your name to something different from your formal legal name (i.e. preferred name)
Change your name prior to graduation
Change your name on an existing diploma or certificate (requires supporting documentation)
Change your gender
Download the Change of Name or Gender Request Form
Please do not fax or mail forms. All completed forms should be emailed to undergrad.kpe@utoronto.ca.
Past recipients of OSAP funding who are studying full-time and are not receiving OSAP funding for the current year can complete a Schedule 2 Form in the KPE Registrar's Office. It is best to complete these forms by the end of October.
Current students and recent alumni can order official transcripts online using the ACORN system. A valid UTORid and password are required to login.
Pre-UTORid alumni can order official transcripts online using Alumni Transcripts. A valid student number and PIN are required to login.
Fees apply per transcript. Courier options are available for a higher fee to ensure quick delivery. More information about ordering transcripts is available through Transcript Services.