Learning Through Experience
Hands-on learning, practical experience, classes taught by accomplished professors, and a program designed to foster an evidence-based approach to continued learning.
With the growing awareness of the role that physical activity plays in the optimization of health and in the prevention and treatment of the leading causes of illness and disease, there is an increasing demand for professionals in the field of kinesiology and physical education. 

Students enrolled in the Bachelor of Kinesiology (BKin) program will take academic courses in human movement and its relationship to health. This program combines knowledge spanning the biophysical, psychological and physical cultural areas of study and includes course topics such as exercise physiology, psychology of injury and rehabilitation, motor learning and control, ethical issues and biomechanics.

Students have the opportunity to enrol in elective courses from other divisions within the University (in biology, psychology and the humanities, for example). 
In-Field Learning

Work with professional mentors who are experts in their field.
Study in downtown Toronto and gain unrivaled access to:

Health-care, sport and physical activity institutions
Research opportunities
Some of the largest and most diverse school boards and community recreation centres.
Leading Professors and Research

Enjoy courses taught by accomplished scholars and scientists who bring their research and experience into the classroom and lab.
Engage in independent research projects while working alongside professors.
Attend national conferences to present your research.
Integrating Theory and Practice
Take advantage of a wide array of courses and become a movement specialist.
Develop knowledge and competencies related to the design and delivery of exercise and physical activity.
Take courses such as Teaching the Child, Aging and also Adapted Physical Activity, which include applied sessions in a field setting.
Experience the Outdoor Projects

Learn fundamental skills to engage in outdoor-related activities, while also gaining leadership, co-operation, teamwork and problem solving skills.
Broaden your horizons and learn about environmental awareness, equity, diversity and social inclusion.
Small Community, Big Opportunities

Located at the heart of U of T's St. George Campus, the Faculty gives you the advantage of being immersed in one of the world's leading research universities, while also enjoying the support and camaraderie of a small, close-knit community of students and faculty.
Enjoy an inclusive, welcoming and safe environment, with access to a wide range of student support services to help you make the most of your university experience – inside and outside of the classroom:
Front-line support right within our faculty
Academic Student Advisors
Learning skills resources, workshops and counselling
Health Sciences Writing Centre
Career skills development
Kinesiology and Physical Education Undergraduate Association (KPEUA)
KINections
Great Facilities and Programs

The Faculty of Kinesiology and Physical Education supports all U of T students by providing a wide range of co-curricular physical activities that strive to find a fit for everybody. Students can access physical activity, sport and leadership opportunities in all our facilities: the Athletic Centre, Varsity Centre, and state-of-the-art Goldring Centre for High Performance Sport.
Students can also participate in a multitude of pursuits and activities, including over 800 clubs ranging from drama productions to multi-faith groups to community work. Being part of a large and prestigious university provides advantages such as access to one of North America's largest library holdings, as well as proximity to learning and networking opportunities through the University Health Network hospitals.
Where can a BKin Degree Take You?
University of Toronto BKin graduates are well-prepared to pursue a wide array of careers or to continue their studies in many professional and graduate schools.
 
| | |
| --- | --- |
| Health Sciences | Public Policy Analysis |
| Regulated Health Professions | Fitness Industry |
| Business | Event Management |
| Education | Marketing and Promotion |
| Recreation | Clinical Kinesiology |
| Sports Administration | Ergonomics |
| Outdoor Leadership | Clinical Trials Management |
| Coaching | Academia |
| Government Scientists | Public Health |
| Non-Governmental Organizations |   |
Relevant Organizations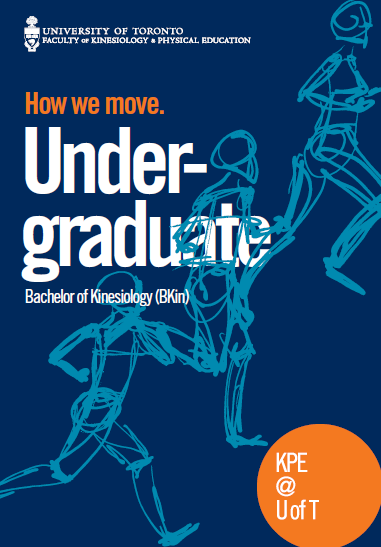 Apply Now
Click the button below to learn more about the admission requirements for the Bachelor of Kinesiology program and the steps required to submit an application.