The Bertha Rosenstadt National Undergraduate Research Conference in Kinesiology and Physical Education
Conference Scope
At this annual conference, undergraduate students have the opportunity to present literature reviews, critiques, term papers and findings from research projects. This is a multidisciplinary conference that includes topics from exercise physiology, biomechanics, sports medicine, coach education, motor learning and control, exercise and sport psychology, philosophy, history and sociology of sport. Students submit an abstract and are given 10 minutes to present their papers to peers and faculty. Awards of recognition will be given to the best presentation in each area.
The 2022 conference took place on April 1, 2022.
abstract submission and Registration 
Presenters and participants can submit their abstracts and register for the conference by completing the online registration form. The deadline to apply was March 11, 2022 at 5 p.m. ET.
Registration fees: The registration cost is $35.00 for all presenters (except for students registered in KPE390Y, KPE490Y or KPE495H in the current academic year) and for participants/attendees. The registration fee includes lunch and light refreshments throughout the conference. We strongly encourage all registered attendees to download a copy of the proceedings prior to the event for reference.
Abstract submission: All undergraduate students who wish to apply to report their research findings at the conference need to complete the online form and submit an abstract. Abstracts should be no more than 300 words. Students from all Canadian universities, as well as other faculties at the University of Toronto, are welcome. Once the submitted abstract has been reviewed and accepted, registration will be completed. 
Conference attendee registration: This registration option is for any individual who wishes to attend the conference and sit in on the various student presentations and keynote address, but not present a report themselves. 
2022 Keynote speaker
Fiona Moola
Assistant Professor, Early Childhood Studies, Ryerson University
Dr. Fiona J. Moola is a racialized woman and second generation Canadian with ancestral roots from apartheid South Africa. She is an Assistant Professor in the School of Early Childhood Studies at X (Ryerson) University and an Adjunct Scientist at the Holland Bloorview Kids Rehabilitation Hospital. She is also an Assistant Professor at the Dalla Lana School of Public Health and Rehabilitation Sciences Institute at the University of Toronto and a Psychotherapist Under Supervision at the Gestalt Institute of Toronto where she has a small psychotherapy practice. Over the past several years, Dr. Moola has left a substantive impact on the global pediatric disability and chronic illness peer reviewed qualitative literature. Dr. Moola's scholarship is strongly underpinned by principles from critical health psychology, the sociology of childhood, equity, diversity, and inclusion, and social justice. Dr. Moola is currently funded by CIHR project scheme grant, SSHRC Connection, and SSHRC Insight.
2022 Presentation AWARD WINNERS
1. Investigating modulations in afferent inhibition following training on a novel sensorimotor finger maze task  
By: Maria Salman 
Co-Author(s): Jacob Pickersgill 
Faculty Advisor: Dr. Aimee Nelson 
McMaster University
2. How Systemic Oppression and Discrimination is (Re)Produced in Canadian University Kinesiology Curriculum  
By: Erin Sullivan 
Faculty Advisor: Dr. Adam Ali 
University of Toronto
3. Moderating Factors of the Relationship between Personal Standards Perfectionism and Evaluative Concerns Perfectionism in Cross-Country Skiers  
By: Conor McGovern 
Faculty Advisor: Dr. John Gotwals 
Lakehead University 
2022 Conference proGRAMME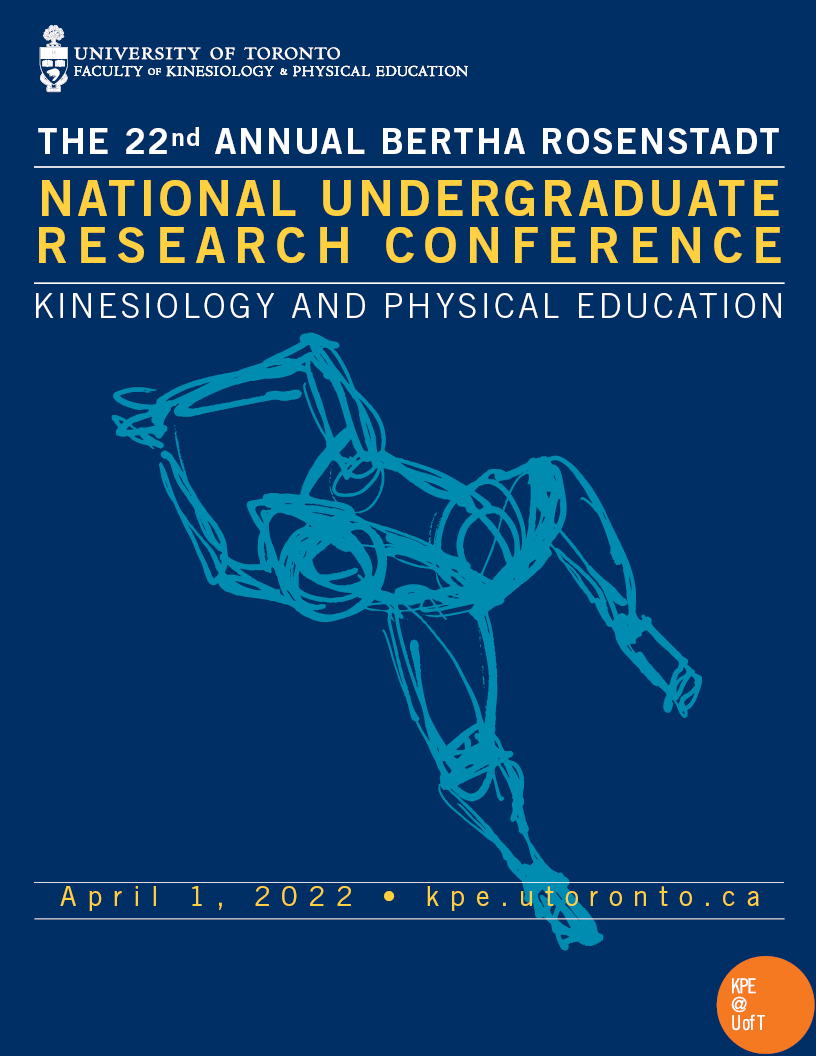 Contact Us
For more information about this event, contact: undergrad.kpe@utoronto.ca
Conference History
Founded in 1999, the National Undergraduate Research Conference has been hosted annually by the Faculty of Kinesiology and Physical Education at the University of Toronto. In 2020, the conference was cancelled due to COVID-19.