Recreational Swim Information
Please scroll to the bottom of the webpage to view the Accessible Format, and pdf. Format Schedules. 
Sign up for the
aquatics listserv
to stay informed about schedule changes.
Non-members can access the Fun Swim for $18.00 (+HST) with the Family Pass.  Check on-line or at the Main office for details. See our Family Programs page for details on swimming with children. Sign up for the aquatics listserv to stay informed about schedule changes.
Springboard diving is permitted in the 50m Pool only (on the 1m boards only) on Mondays, Wednesdays and Sundays from 12:10-2:55pm and Fridays from 11:10am-12:10pm and 1:30-2:55pm. 
Drop-in lane swimming is available in the 50 metre pool and 25 yard pool. Please see the schedule pdf. above for available times. The teach pool is also available for use during most times when lane swimming is scheduled in the 50m pool. NOTE: Not all lanes are available for lane swimming.  Swims may be reduced to a minimum of 4 lanes.
For members and their children, for play and diving in half of the pool.  Teach Pool open.  Fun Swim is unavailable on holiday weekends, during special events and Sundays during exam periods.
Women-only drop-in lane swimming is available in the 25 yard pool during specified times.
During women-only swimming hours:
Windows and doors are completely covered.
Only female staff members are on deck.
An enclosed shower space is available immediately outside the pool.
Women can change into bathing attire in accessible, private washrooms adjacent to the pool deck so that they do not need to go through public spaces in bathing attire.
Trans-Positive drop-in lane swimming is available in the 25 yard pool during specified times. An inclusive swim time for trans, gender non-conforming, non-binary and 2-spirit students and members. Anyone willing to participate in creating a positive space for trans folks is welcome. Privacy change spaces are available and blinds are drawn for privacy. For more information about our NEW* Trans-Positive Swim hours, please visit our Trans-Positive Swim page by clicking here.
The 50m and 25yd pools are fully accessible. The 25yd pool is located on the main floor of the Athletic Centre. The 50m pool is accessible by elevator and located in the basement of the Athletic Centre.
A waterproof wheelchair is available at the 50m pool office for use on the pool deck, and in our shower spaces. An automated lift is available to assist with entry and exit from the pools as well. Please ask a lifeguard for assistance.
Clean swimming attire and towel. Swim caps and goggles can also be worn if preferred.
Kickboards and pull bouys are available during recreational swims. 
If you are using equipment (boards, paddles, fins) please be cautious. The lifeguards may ask you to remove your equipment if the swim is too crowded or you are swimming in an unsafe manner.
Recreational Swims at the Athletic Centre are becoming increasingly busy.  In an attempt to keep the environment safe, positive and enjoyable for all our patrons we would like you to follow our pool etiquette guidelines. Obey the lifeguards and staff at all times.
Pool Emergencies: When you hear one long whistle blast please exit the pool immediately at the closest side. One long whistle blast is a signal for a pool clear which is used at the end of swims and also in emergencies and therefore it is extremely important that patrons exit as quickly as possible.
Lane Speed and Direction
Please select a lane appropriate to your own speed. If you are continually passing others or being passed please move to a different lane. You may be asked to move for your own safety and the safety of other patrons.
Remember that lane speed is relative. You may be a fast lane swimmer one day and a medium lane swimmer the next.
Be aware of all your surroundings and other swimmers at all times.
Follow the swim pattern as outlined in the image below and on lane signs.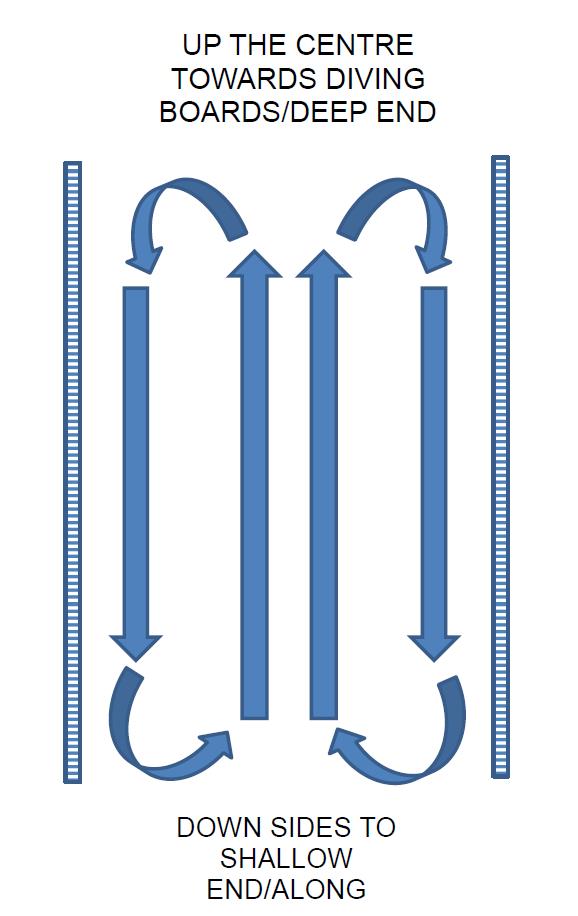 Passing
Passing should occur only at the ends of the lane.
If you must pass mid lap do so only if you have a clear and safe path.
If someone is attempting to pass you please allow them to do so.
Please do not pass or swim in a manner that is aggressive or dangerous to other patrons, or that may block their way.
Do not hit or clip other patrons to encourage them to get out of your way; wait until it is safe and then pass. Ask the lifeguard if you require assistance.
Turning
Flip turn carefully towards the centre of the wall; do not flip turn if the wall is particularly crowded.
Resting
If you are resting at the wall beside the lane ropes – please be courteous to other swimmers and make room for their turns.
Avoid hanging off of lane ropes as this causes them to loosen and break.
Please do not swim or rest in groups, it makes turning very difficult for other swimmers when the wall is congested.
Swim Start Times
Read the swim schedule carefully. All swims except for 7-9 am begin at 10 minutes past the hour. If you arrive early and the doors are locked please do not bang on the doors or try to force them open as this damages the doors. Guards will only open the doors at the scheduled time.
Water Jogging
Water jogging is only permitted in the slow lane. Water joggers must jog in single file and are asked to use the loop adjacent to the wall.
Children
Children are not permitted in the pool area except during Fun Swims and swimming lessons.
Children five and under may use either change room (men's or women's) under adult supervision. Children six and over must use gender specific change rooms or privacy change rooms. All children under 12 must be supervised by adults in change rooms. The family change room is located across from the 50m Varsity Pool lifeguard office. We also have a gender-neutral privacy change stall located outside the main entrance to the 25 yard pool.
Ontario Health Regulations and Pool Rules
Please shower with soap and warm water before swimming.
There is no food other than water permitted on deck.
Outdoor shoes are not permitted on the pool deck.
Please do not spit in the pools. Water and spit fountains are available on both pool decks.
Diving is not permitted in the North end of the 50m pool or the shallow end of the 25 yard pool.
The use of starting blocks is not permitted during recreational swim.
Please do not chew gum in the pool or the pool area.
Listen to the lifeguards at all times.
Please note: If you encounter problems with another patron please inform a lifeguard of the problem rather than confronting the problem yourself.
If you have a medical condition, notify the lifeguard or swim with someone who is knowledgeable about your condition. Swimming when ill with diarrhea can contaminate the pool water. Those who have experienced diarrhea should not swim until symptoms have cleared.
No glass is permitted on the pool deck, in change rooms or in the pool gallery.
50 metre Pool: The Olympic-sized (50 metre) Varsity pool has eight lanes with a moveable bulkhead and is between 2.3 metres and 4.2 metres deep. The pool has one- and three-metre springboards, three- and five-metre platforms. The water temperature is 80-81°F. It is used for swimming, diving, water polo, synchronized swimming and Varsity events.
Teach Pool: The teach pool adjacent to the Varsity Pool is 0.8-0.9 metres deep and kept at 84°F. It is generally available for children's swim classes, and during most 50m recreational swims for non-swimmers and those doing injury rehabilitation.
25 yard Pool: The six-lane, 25 yard Benson pool is 1.2 metres shallow to 3.0 metres deep with a water temperature of 84°F. It is used primarily for lane swimming, swim classes and women-only lane swimming and classes.
Recreational Swim Schedules
Accessible Format Schedules 
  

Recreational Swimming Schedule – September 8 - December 8, 2018
MONDAY

7:00 AM – 8:55 AM

Lane Swim

25 yard

10:35 AM – 11:50 AM

Women-Only

25 yard

12:10 PM – 2:55 PM

Lane Swim

50 metre short

1:30 PM – 2:55 PM

Fun Swim

50 metre short

4:10 PM – 8:55 PM

Lane Swim

50 metre short

9:10 PM – 10:55 PM

Lane Swim

50 metre short

TUESDAY

7:00 AM – 8:55 AM

Lane Swim

25 yard

11:10 AM – 2:55 PM

Lane Swim

50 metre long

4:10 PM – 6:25 PM

Lane Swim

25 yard

6:30 PM – 7:25 PM

Women Only

25 yard

9:10 PM – 10:55 PM

Lane Swim

50 metre short

WEDNESDAY

7:00 AM – 8:55 AM

Lane Swim

25 yard

10:35 AM – 11:50 AM

Women Only

25 yard

12:10 PM – 2:55 PM

Lane Swim

50 metre short

4:10 PM – 6:55 PM

Lane Swim

50 metre short

6:00 PM – 6:55 PM

Fun Swim

Lane 1 and 2, Teach pool

9:10 PM – 10:55 PM

Lane Swim

50 metre short

THURSDAY

7:00 AM – 8:55 AM

Lane Swim

25 yard

11:10 AM – 2:55 PM

Lane Swim

50 metre long

4:10 PM – 6:00 PM

Lane Swim

25 yard

6:00 PM – 5:55 PM

Trans Positive Swim

25 yard

9:10 PM – 10:55 PM

Lane Swim

50 metre long

FRIDAY

7:00 AM – 8:55 AM

Lane Swim

50 metre long

9:50 AM – 10:55 AM

Women Only

25 yard

11:10 PM – 2:55 PM

Lane Swim

50 metre short

1:30 PM – 2:55 PM

Fun Swim

50 metre short

4:10 PM – 6:55 PM

Lane Swim

50 metre short

SATURDAY

12:10 PM – 4:55 PM

Lane Swim

25 yard

SUNDAY

10:35 AM – 11:50 AM

Women Only

25 yard

12:00 PM – 2:55 PM

Lane Swim

50 metre short

12:00 PM – 2:55 PM

Fun Swim

50 metre short

 
 
 

CHANGES/CANCELLATIONS

 

Tuesday November 20 – 9:10pm – 10:55pm lane swim could be delayed to begin until 9:25pm.

Sunday November 25 – 12:10-2:55pm moved to the 25yd pool due to a swim meet, fun swim cancelled. 

Friday November 30 – 6-6:55pm is cancelled due to a water polo tournament.

Sunday December 2 – 12:10-2:55pm is moved to the 25yd pool due to a swim meet, fun swim cancelled.

Friday December 7 – 11:10am-12:10pm is cancelled due to a swim meet.  12:10-2:55pm is moved to the 25yd pool, fun swim is cancelled.

DIVING

 
 
CANCELLATIONS:

 Nov 18, Nov 25

AQUAFIT

 
 
Aquafit

classes are offered in the drop-in group fitness program. Classes are free for all members.

CANCELLATIONS:

 Dec 7

 
 
 
---
Recreational Swimming Schedule – December 9 - December 21, 2018
| | | | |
| --- | --- | --- | --- |
| Day | Time | Program | Location |
| Monday |   |   |   |
|   | 7:00 – 8:55am |   Lane Swim | 25yd |
|   | 10:35 – 11:50am | Women Only Swim | 25yd |
|   | 12:10 – 2:55pm |   Lane Swim | 50m short |
|   | 1:30 – 2:55pm | Fun Swim | 50m short |
|   | 4:10 – 6:55pm |   Lane Swim | 50m short |
|   | 7:10 – 8:55pm |   Lane Swim | 50m short |
| Tuesday |   |   |   |
|   | 7:00 – 8:55am |   Lane Swim | 25yd |
|   | 11:10am – 2:55pm |   Lane Swim | 50m long |
|   | 4:10 – 6:25pm |   Lane Swim | 25yd |
|   | 6:30 – 7:25pm | Women Only Swim | 25yd |
|   | 7:30 – 8:55pm |   Lane Swim | 25yd |
| | | | |
| --- | --- | --- | --- |
|   | 7:00 – 8:55am |   Lane Swim | 25yd |
|   | 10:35 – 11:50am | Women Only Swim | 25yd |
|   | 12:10 – 2:55pm |   Lane Swim | 50m short |
|   | 4:10 – 6:55pm |   Lane Swim | 50m short |
| Lanes 1&2 No diving. | 6:00 – 6:55pm | Fun Swim | 50m short |
|   | 9:10 –10:55pm |   Lane Swim | 50m short |
| | | | |
| --- | --- | --- | --- |
|   | 7:00 – 8:55am |   Lane Swim | 25yd |
|   | 11:10am – 2:55pm |   Lane Swim | 50m long |
|   | 4:10 – 5:55pm |   Lane Swim | 25yd |
|   | 6:00 – 6:55pm | Trans Positive Swim | 25yd |
|   | 7:10 – 10:55pm |   Lane Swim | 50m short |
| | | | |
| --- | --- | --- | --- |
|   | 7:00 – 8:55am |   Lane Swim | 25yd |
|   | 10:35 – 11:50am | Women Only Swim | 25yd |
|   | 11:10 – 2:55pm | Lane Swim | 50m short |
|   | 1:30 – 2:55pm | Fun Swim | 50m short |
|   | 4:10 – 6:55pm |   Lane Swim | 50m short |
| | | | |
| --- | --- | --- | --- |
| Saturday |   |   |   |
|   | 12:10 – 5:00pm |   Lane Swim | 25yd |
| | | | |
| --- | --- | --- | --- |
|   | 10:35 – 11:50am | Women Only Swim | 25yd |
|   | 12:10 – 2:55pm |   Lane Swim | 50m long |
---
Recreational Swimming Schedule – December 22, 2018 - January 4, 2019
The regular programmed trans-positive and fun swims are not available during this period. All adults are welcome during the recreational lane swim times noted below. There are no aquafit classes and no diving available during this period.

Day 

Time

Location

Saturday, December 22, 2018

12:10 – 4:55pm

25yd Pool

Sunday, December 23, 2018

12:10 – 4:55pm

25yd Pool

Monday, December 24, 2018

BUILDING CLOSED

NO SWIM

Tuesday, December 25, 2018

BUILDING CLOSED

NO SWIM

Wednesday, December 26, 2018

BUILDING CLOSED

NO SWIM

Thursday, December 27, 2018

12:10 – 6:55pm

25yd Pool

Friday, December 28, 2018

12:10 – 6:55pm

25yd Pool

Saturday, December 29, 2018

12:10 – 4:55pm

25yd Pool

Sunday, December 30, 2018

12:10 – 4:55pm

25yd Pool

Monday, December 31, 2018

BUILDING CLOSED

NO SWIM

Tuesday, January 1, 2019

BUILDING CLOSED

NO SWIM

Wednesday, January 2, 2019

12:10 – 6:55pm

25yd Pool

Thursday, January 3, 2019

12:10 – 6:55pm

25yd Pool

Friday, January 4, 2019

12:10 – 6:55pm

25yd Pool

Please note: Athletic Centre members may purchase guest passes for $16.00 plus HST (towel service included) to access Hart House on days the Athletic Centre is closed. Hart House is open 11am-4pm on Monday, December 24, Tuesday, December 25, Wednesday, December 26, Monday, December 31 and Tuesday, January 1. Please bring your own lock, and show your Athletic Centre membership card at the HUB to purchase the pass.  

Students may purchase towel service on a per use basis at the HUB for $2.50 cash payment only.

For more information visit the

Hart House website