Come and join a group fitness workout!
Sport & Rec offers a wide selection of group workouts that cater to all skill levels from beginner to advanced. Group workouts are suitable for all and our expert instructors will be able to adapt to all levels within the class. From group fitness workouts like HIIT to dance and movement-based ones like Cardio Dance Party and Yoga, these workouts are easy to fit an active lifestyle into your busy schedule.
Let us plan the workouts, you just have to register and show up! Note: Online bookings open 48hrs ahead of scheduled workout time.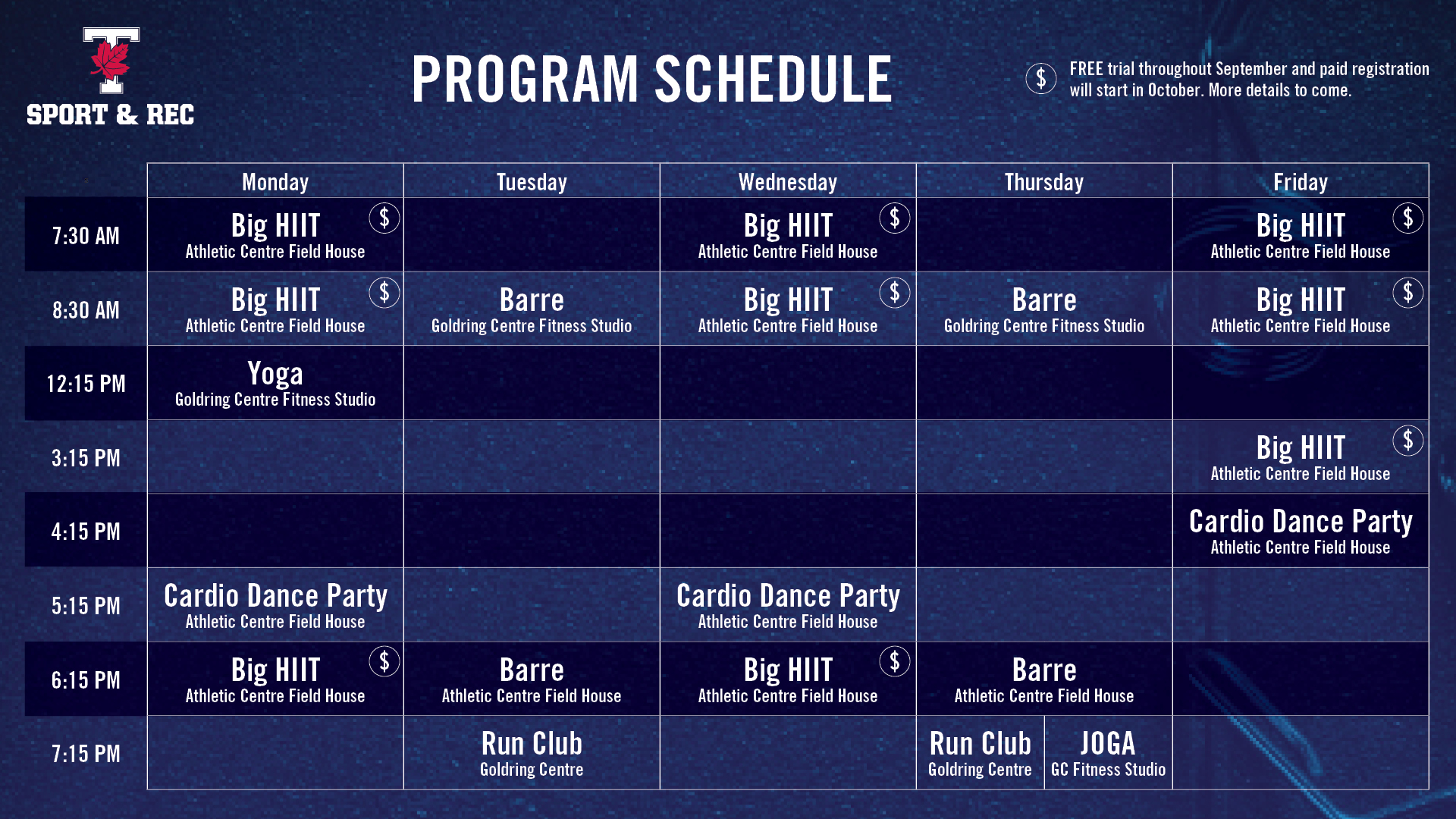 Explore our group fitness workouts below:
 

 

 

Barre

A low-impact, high-intensity workout that features a combination of elements of ballet, yoga, and Pilates for a full-body sculpting workout.

Weekly Vogue Dance Class

Werk it and practice the 5 elements of Vogue dance in this class where you can find your fierce and let it shine!

Cardio Dance Party

A dynamic dance fitness workout that combines elements of dance and to give you an energizing cardio workout that feels like a fitness party and celebration!

Coming soon!

Coming soon!
 

 

 

JOGA®

JOGA is a three dimensional movement system that hybrids the science of yoga with the biomechanics of sports movement. 

 

Yoga

Be more calm, confident and centred with a class that supports core strength, flexibility and mind-body connection.

Run Club

Want to achieve your running goals like running your first 5K or beating your personal best? Join this fun social environment for runners of all levels!

 

 

 
 

 

Big HIIT

Get ready to sweat! HIIT alternates short periods of intense anaerobic exercise with recovery periods. Push yourself with this high-intensity workout.

FREE Trial all throughout September!

Virtual Fitness Studio

Can't make it to the gym? Sign up to join the Virtual Fitness Studio (fees vary) to get workouts streamed live and on-demand 7 days a week so you can work out where you are!