---
READ THE LATEST UPDATE ON OUR HEALTH & SAFETY MEASURES
---
Group Fitness Workout Mid-Year Survey Access Link
HERE
. Thank you & see you in Winter 2023! 
Sport & Rec offers a wide selection of group workouts that cater to all skill levels from beginner to advanced. Group workouts are suitable for all and our expert instructors will be able to adapt to all levels within the class. 
From group fitness workouts like HIIT to dance and movement-based ones like Cardio Dance Party and Yoga, these workouts are easy to fit an active lifestyle into your busy schedule
Fall 2022 Group Fitness Schedule
Effective September 12, 2022 until December 17, 2022.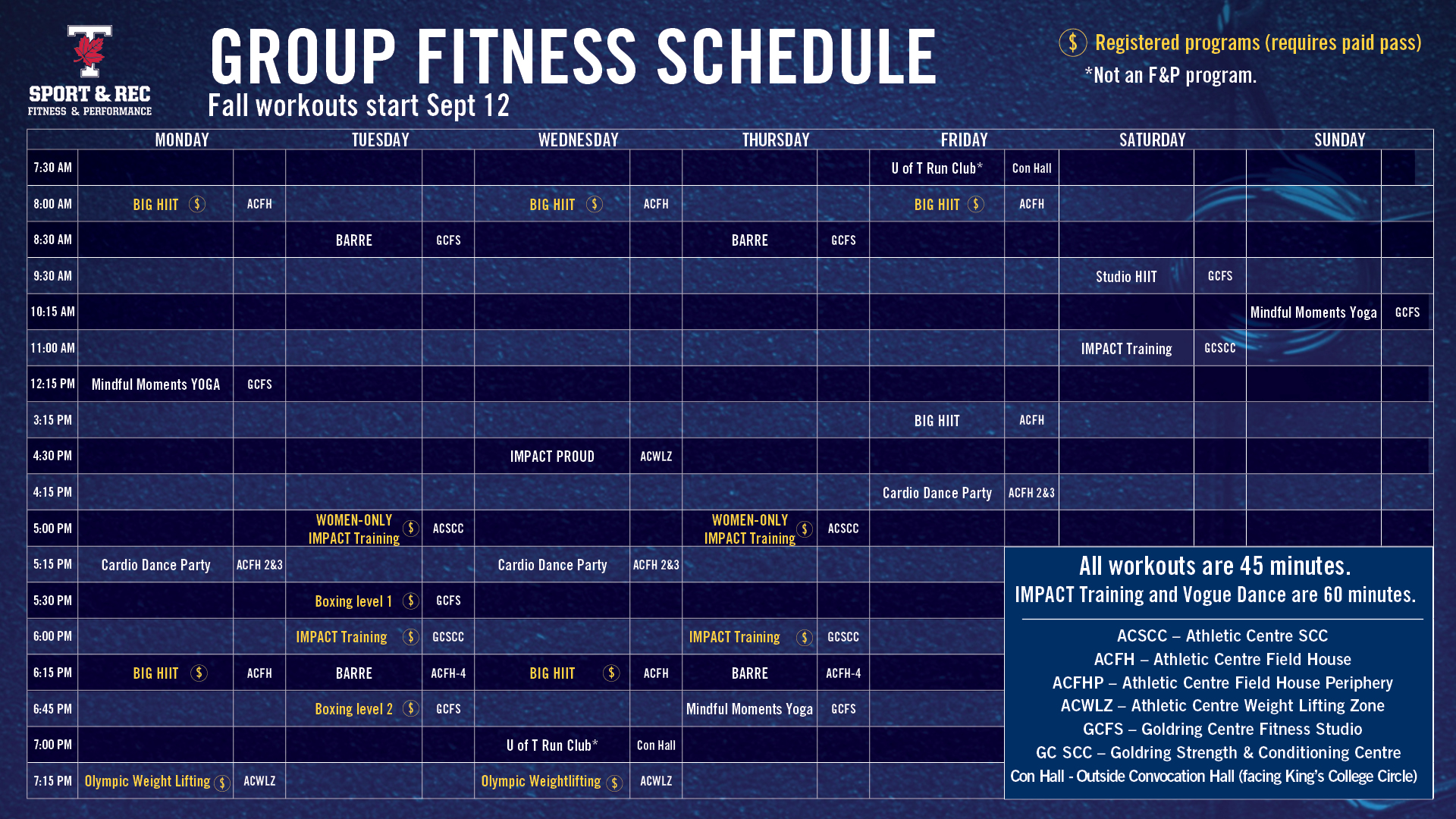 Any upcoming adjustments to the group fitness schedule will be listed below by program:
Barre:
Big HIIT: 
Boxing: 
Cardio Dance Party: 
​​IMPACT Training: 
Olympic Weightlifting: 
​​​​Mindful Moments Yoga:
---
Come and join a group fitness workout!
 

 

Barre

A low-impact, high-intensity workout that features a combination of elements of ballet, yoga, and Pilates for a full-body sculpting workout.

Mindful Moments Yoga

Be more calm, confident and centered with a class that supports core strength, flexibility and mind-body connection.

Cardio Dance Party

A dynamic dance fitness workout that combines elements of dance and to give you an energizing cardio workout that feels like a fitness party and celebration!
---
Learn about other great programs!
 

Boxing

Looking to boost your confidence? This 8-week non-contact boxing program packs a serious punch! Learn boxing techniques remixed with F&P training to feel strong, empowered, and motivated. All equipment provided. No experience required. 

Run Club

Are you interested in running? Check out the U of T Run Club. All paces welcome, no registration required. Click pic above or link below for more info!

Vogue Dance Class

Werk it and practice the 5 elements of Vogue dance in this class where you can find your fierce and let it shine!
Build strength with our signature programs & coaching:
 

 

 

Big HIIT 

Get ready to sweat! HIIT alternates short periods of intense anaerobic exercise with recovery periods. Push yourself with this high-intensity workout.

 

IMPACT Training 

Train like an athlete even if you aren't one! 

IMPACT stands for Integrated Movement, Performance, Agility and Conditioning Team. Detailed programming and a personalized coaching experience, combined with the comradery of a team will have you training like a pro in no time.

 

Whether your goals are related to performance for sport or performance for life, IMPACT Training is for you!

Olympic Weightlifting 

Learn, develop or fine-tune your lifting technique as you build the strength to move barbells like a champion. 

Personal Training

Crush your personal fitness goals with 1 on 1 coaching with our expert trainers. Whether you want to learn the basics, improve you aerobic capacity, build strength or train for a specific goal, we are here for you with personalized plans and coaching!