---
---
HIIT stands for high intensity interval training. It's all about challenging yourself for short intervals, with recovery periods in between. Join our Big HIIT workouts and get a full body boot camp-style circuit class that will have you feeling stronger, more confident, energized and happy.
SIGN-UP REQUIRED
This program requires registration to participate, please sign up in advance to reserve your time slot.  
---
Location(s)
Athletic Centre (55 Harbord St.)  - Field House 1, 2, 3 & Periphery
---
Eligibility
Students: Current students paying incidental fees can access this program for an additional fee.. 
Members: Anyone who has a current Sport and Rec membership can access this programming for an additional fee.
Current Programming
Try out our open Friday HIIT workout! 
Current Capacity = 45 participants/ session
Try out our open Studio HIIT workout - same BIG energy!
Current Capacity = 24 participants/ session
We are all about Big HIIT with BIG energy! Come and join the party - do a Big HIIT workout with music from a live DJ. Open to all students to attend - just sign up!
Coming soon! Please check back for more details!
Schedule & Important Information
Fall 2022 Schedule: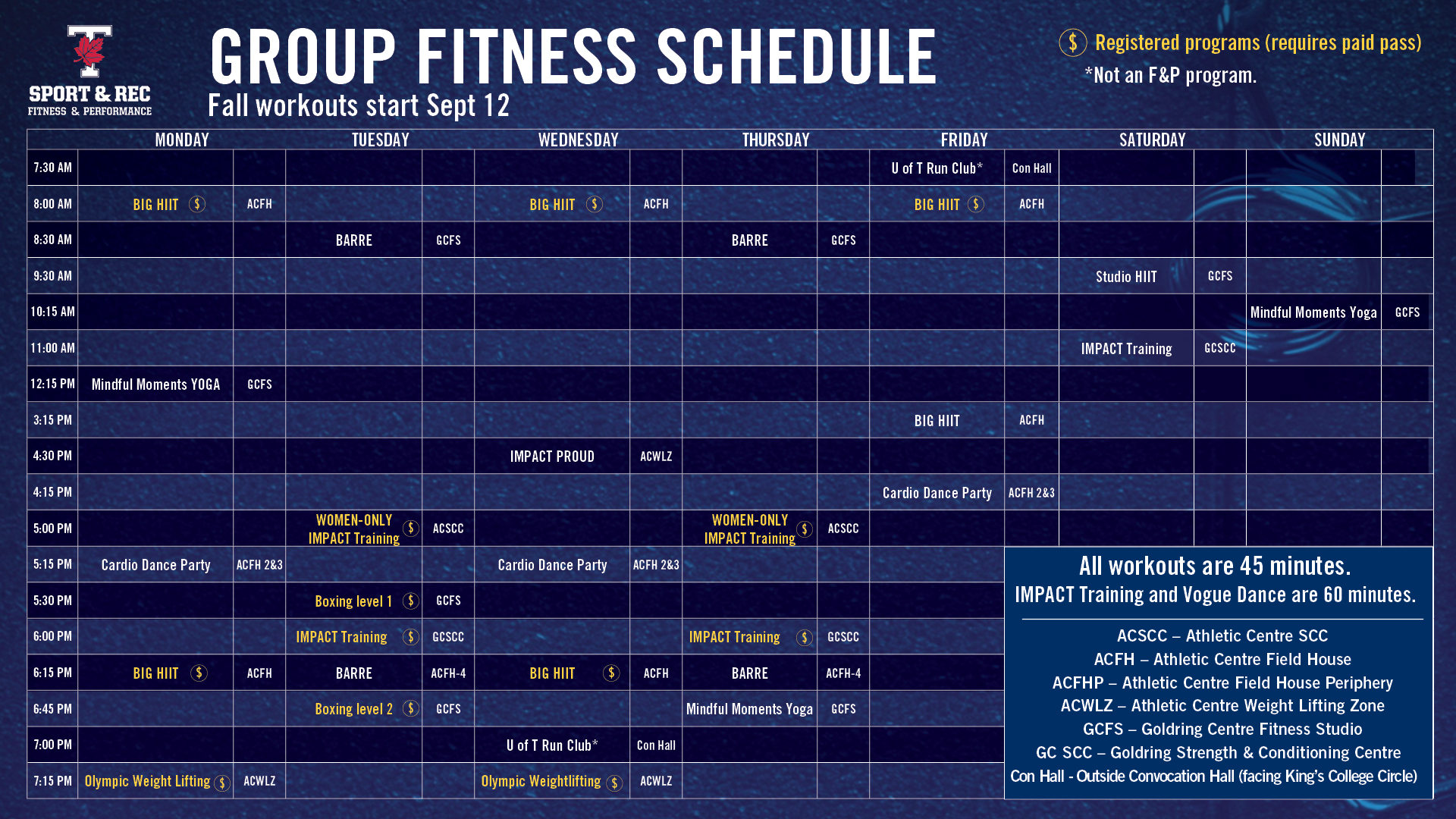 Monday
Tuesday
Wednesday
Thursday
Friday
Saturday

 

 

 

 

 

 

8:00-8:45am

(AC FH & Periphery)

 

8:00-8:45am

(AC FH & Periphery)

 

8:00-8:45am

(AC FH & Periphery)

 
 
 
 
 
 

9:00-9:30am Studio HIIT

(GR FS)

 
 
 
 
 
 
 
 
 
 

3:15-4:00pm

(AC FH & Periphery)***

 
 
 
 
 
 
 

6:15-7:00pm

(AC FH & Periphery)

 

6:15-7:00pm

(AC FH & Periphery)

 
 
 
***Big HIIT OPEN 
Upcoming adjustments to this group fitness schedule will be listed below:
Participants are asked to wear comfortable and appropriate attire and footwear that's suitable for fitness and gym activities