Sport & Rec is the division of the Faculty of Kinesiology & Physical Education that provides sport and physical activity programs for U of T students, staff, faculty, alumni and community members at St. George Campus. 
---
---

---
UPDATES & ANNOUNCEMENTS
Drop-in Badminton court booking changes take effect on January 23:

Each individual will be limited to a single booking per day to avoid multiple or consecutive court bookings.
Each court can accommodate a 2x2 game with an additional 2 individuals sitting on the bench waiting to sub in. There should not be additional people in the activity space while the courts are booked.

No show policy in effect for tennis and badminton:

You must check in at the AC turnstiles when you arrive for your court booking each time. Please let the staff member know you are there for a court booking and then scan your Tcard or membership card at the turnstile.
Our staff will manually check you in for the court you have booked – this does not occur automatically so please ensure you check in with our staff each time.
*Please note that individuals who do not check in for their court will be counted as a no-show. Three "no-shows" may result in loss of booking privileges for a period of time. Another no-show after a booking ban will result in longer suspension time periods.
program schedule changes or cancellations
Drop-in skating on Thursdays begins at 1 p.m. 
March 28, 29, and 30 - No drop-in Volleyball in Goldring
March 28, 29 - No drop-in Basketball in Goldring
March 28 - No drop-in Soccer, Cricket or Ultimate
March 28 - No drop-in Women Only Field Sports
April 1 - No drop-in Tennis from 3-5 p.m.
---
WHAT IS THE BEST FIT FOR YOU? 
---
| | |
| --- | --- |
| featured programs | upcoming events |
| | |
| |   |
---
Quick Links:
MEMBERSHIP NEWS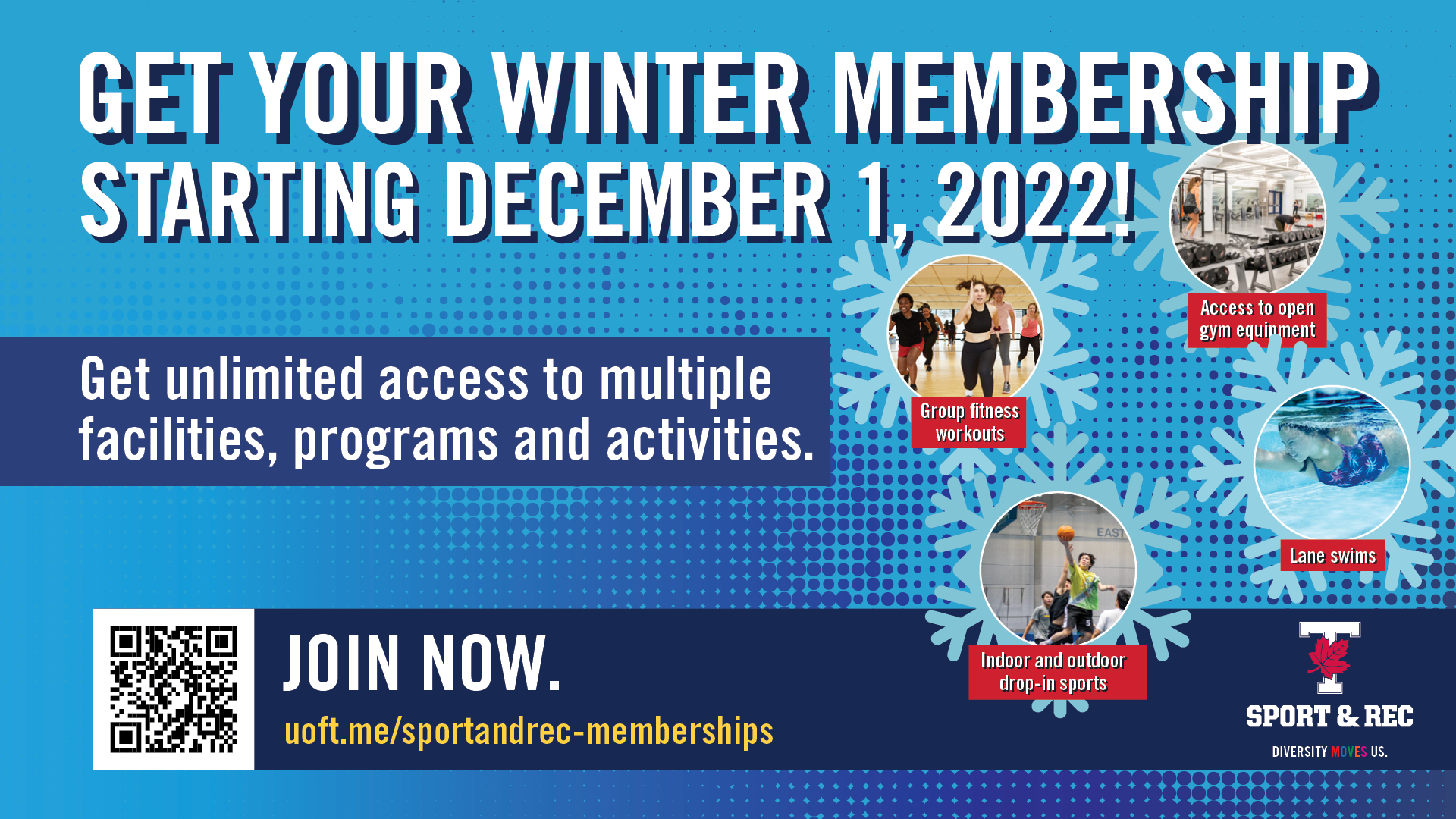 Learn more about Sport & Rec memberships here.
DID YOU KNOW? If you're a registered student who is paying ancillary fees, you already have access to many of Sport & Rec facilities, programs and services - just show your Tcard and register online with your UTORid!
---
building access & Locker use
U of T students and Sport & Rec members may access our facilities. For each visit, TCards or membership cards must be scanned to gain entrance into facilities and you will be required to:
Day lockers are available to all registered program participants. Please check with the facility for the latest information on day locker access. 
---
Explore Sport & Rec Programs and Activities
Mental and physical wellness is crucial to having a healthy life and supporting academic success, and we are here to help you develop and maintain an active lifestyle. Let's get started!
 

 

Our range of workout classes are great opportunities to schedule movement into your day and take a break from your desk! From the flexible scheduling and super-value of our Big HIIT All-Access Pass to the meditative calm of our Yoga sessions - this is your chance to have fun with others and get some movement into your day! 

 

Quick links:

...and more!

 

Just you and the weights! Come in to work out independently and take advantage of our world class strength and conditioning centres and use squat racks, weights, cardio machines and the latest equipment.

 

Locations & Hours (Fall 2022 hours effective September 6):

 

Athletic Centre (55 Harbord) SCC: 

Mon–Fri: 7 a.m. – 9 p.m.
Sat & Sun: 9 a.m. – 5 p.m.

 

Athletic Centre Weightlifting Zone (WLZ) @ AC:

Mon-Fri: 7 a.m. – 9 p.m.

Sat & Sun: 9 a.m. – 5 p.m.

 

Women-Only Hours @ AC:

Sun, Mon & Wed: 12–1 p.m.
Tues & Thurs: 5–6 p.m.
Fri: 1–2 p.m. 
Sat: 9-10 a.m.

 

Athletic Centre Fieldhouse:

Mon–Fri: 7 a.m. – 11 p.m.

Sat–Sun: 9 a.m. – 5 p.m.

 

Goldring Centre (100 Devonshire Place) SCC:

Mon–Fri: 7 a.m. – 11 p.m. 

Sat & Sun: 9 a.m. – 9 p.m.

 

 

Grab your friends or your team and come out to play your favourite sports and activities in a casual and fun environment. From badminton to soccer.

 

Quick links:

...and more!

 

We have a variety of options to participate in competitive sports. From intramurals and intercollegiate athletics, there are a variety of opportunities to play the sports you love at the level of skill and commitment you want.

 

Quick links:

 

 

Find your glide! Swimming is a great way to get a full body workout, develop cardiorespiratory fitness, and burn calories — all without putting too much strain on your joints. Sign up for a time slot to book your swim!

 

Quick links:

 

 

Adult instruction programs are specific programs/lessons to develop an existing skill or teach you something new. Always wanted to try gymnastics or parkour or want to get better at tennis? These fee-based programs will be a great option for you!

 

Quick links:

Aquatics instruction & certification

...and more!

 

We offer programming in our rich teaching and learning environments, where research and degree programs are conducted alongside our co-curricular programs. This gives child & youth program participants access to faculty and staff who have the latest knowledge about the science of physical activity.

 

Quick links:

 

 

 

Building our community is an important aspect to what we do and we offer lots of unique social opportunities to do just that. With events and conferences focused around diversity, equity and inclusion as well as accessibility, everyone is welcome to participate and hopefully learn or experience something new!

 

Keep an eye out for:

SheMoves Conference

 
Personal training packages available!

Experience personalized coaching centered around you and your fitness needs. You'll leave every session feeling inspired and closer to achieving your goals. Tightly integrated with U of T's Faculty of Kinesiology & Physical Education, our coaching team is at the forefront of evidence-based practice and cutting edge research. Through extensive professional development, we keep our coaches equipped with the knowledge and drive to help you maximize your fitness and performance…for life.

 

 
---
Job Opportunities @ Sport & Rec
Sport & Rec is one of the largest employers on campus, hiring students each year to work in a variety of areas and gain valuable skills by assisting in the planning, delivery, and evaluation of our programs. Explore current student job opportunities
---
Don't forget to follow us on Instagram @uoftsportandrec for the latest news and content!