---
---
About Sport & Recreation's EDIB team
We are a group of undergraduate and graduate students from across campus who plan, motivate and implement positive student-led initiatives that promote equity, diversity, inclusion, and belonging (EDIB), and physical/mental health. The team develops and implements events and projects related to sport and physical activity through student-staff partnerships. 
---
Upcoming Events
Mark your Calendars and Join Us! News & Announcements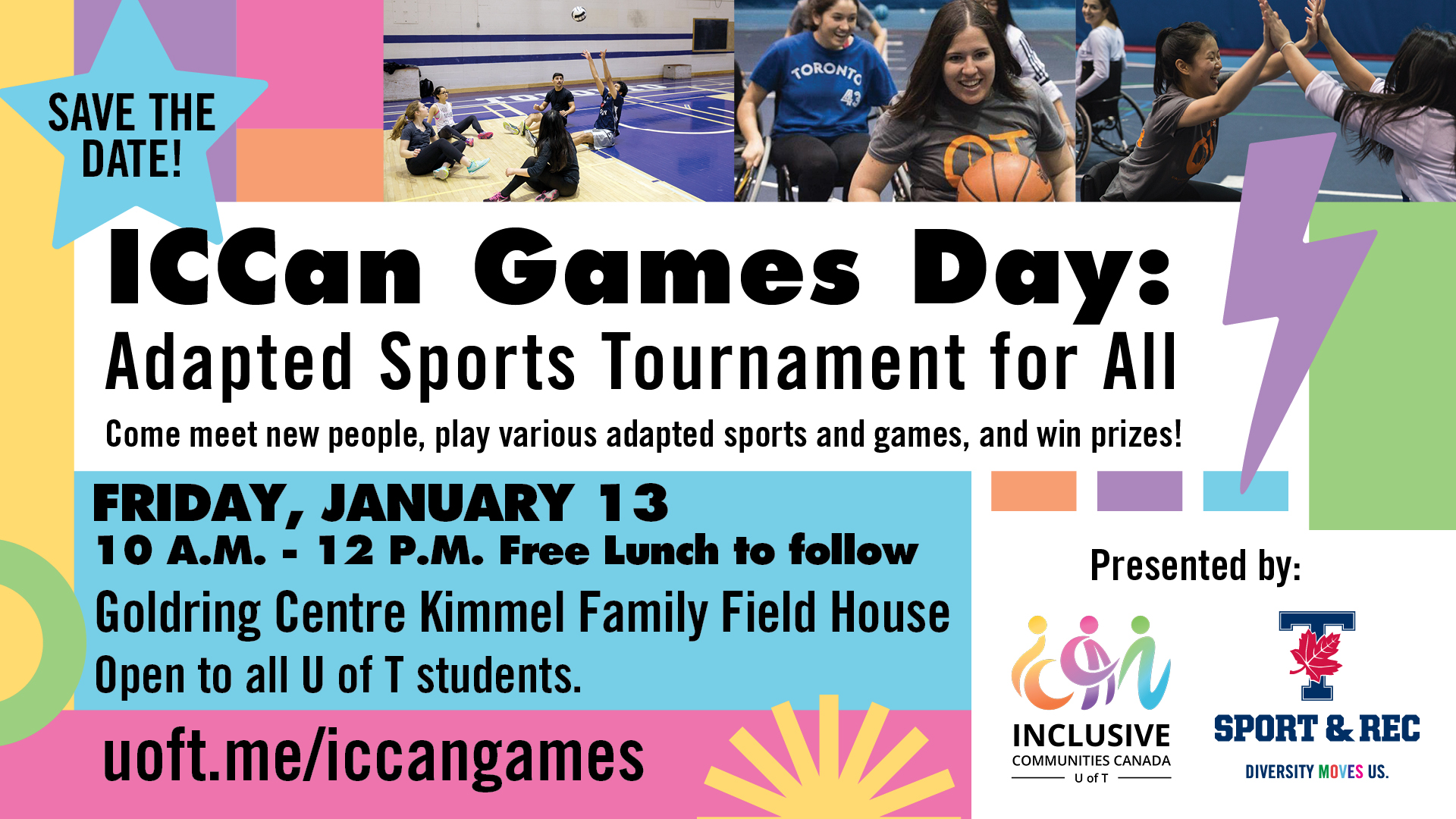 Friday, January 17, 10-12 P.M.
Location: GR Kimmel Family Field House
Join us in January for the ICCan Games Tournament! A morning of adaptive and inclusive sports in friendly competition. This event is presented by Inclusive Communities Canada in partnership with UofT Sport & Rec. Register for one or six open teams and enjoy the challenge and fun of adaptive and inclusive sports and activities. All U of T students are welcome. Free pizza lunch for participants following the tournament, served from 12-1:30 p.m. 
Adaptive games include indoor sledge hockey, wheelchair basketball, boccia ball, goal ball, and more!
Registration open January 2, 2023 to January 10, 2023. Teams are limited to 10 people each, so make sure to register early if you'd like to be on the same team as your friends! 
Register at recreation.utoronto.ca! Registration opens January 2.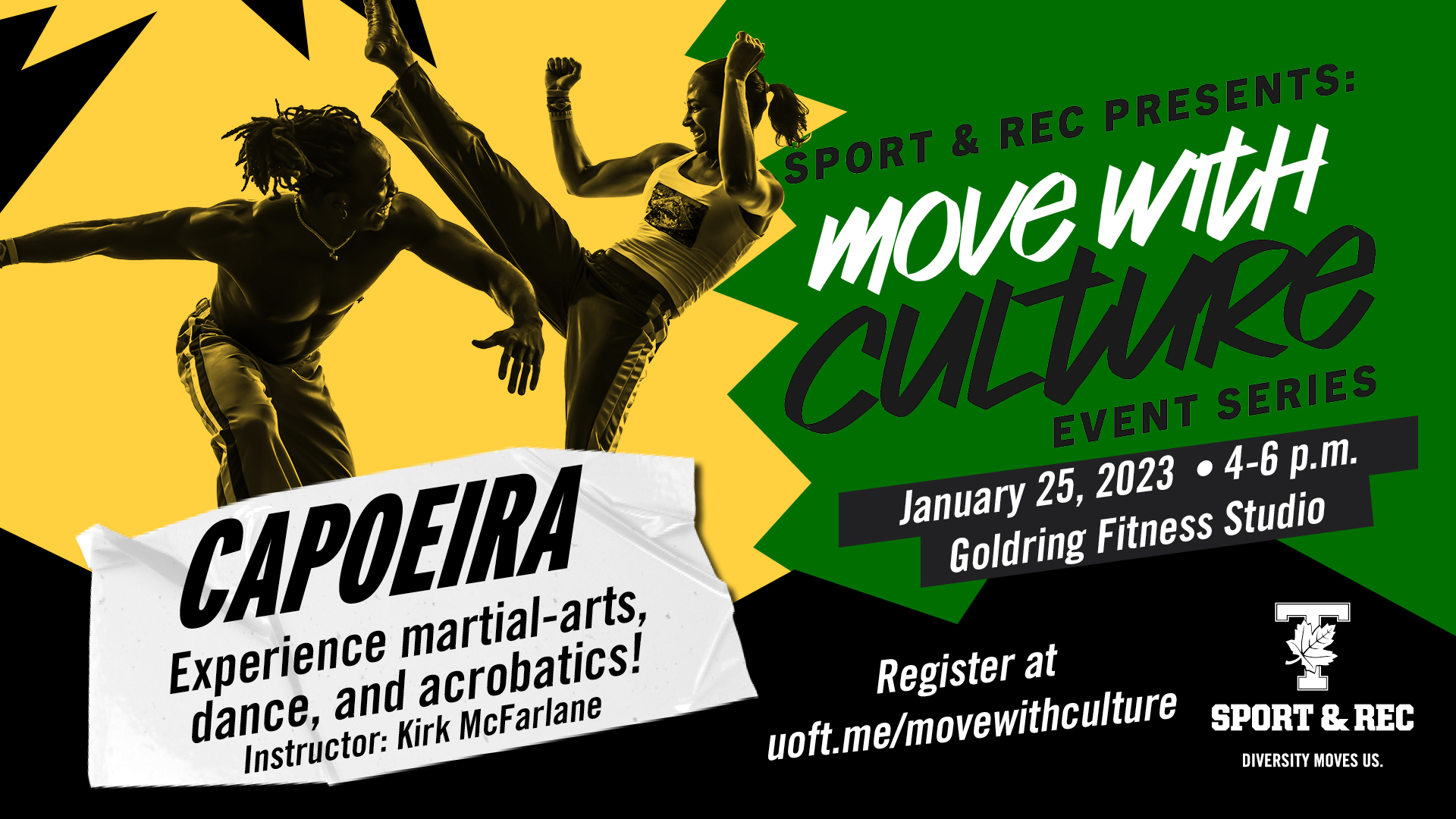 Wednesday, January 25, 4-6 P.M.
Location: GR Fitness Studio
This beginner friendly Capoeira workshop combines martial arts, dance, rhythm and culture!
In the 16th century, African slaves in Brazil disguised Capoeira as a dance in order to hide combat and self-defence training among the slave population. Contra Mestre Falcao - Kirk McFarlane will introduce you to this traditional Afro-Brazilian movement, and challenge your body in new ways - focusing on strength, coordination, flexibly and endurance.
Want to learn more? Register for the workshop and experience Capoeira yourself!  
Register at recreation.utoronto.ca! Registration opens January 11.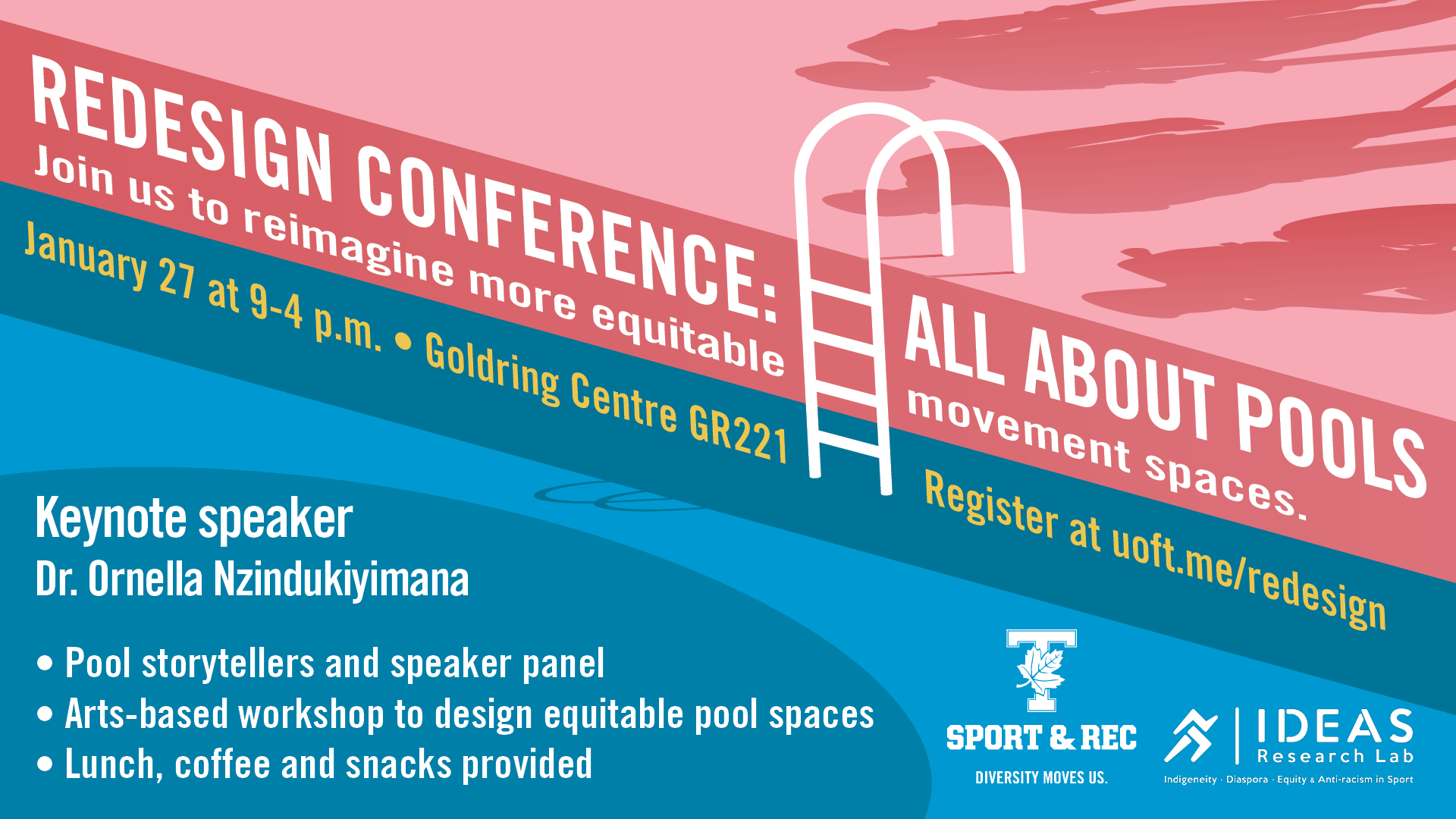 Redesign Conference: All About the Pool
Friday, January 27, 9-4 P.M. *NEW DATE*
Location: GR221
This year's conference will be All About the Pool, surrounding issues of equity, diversity, inclusion and belonging in our pool spaces. Help us redesign these spaces together!
Participants will have the opportunity to ask questions and engage in thoughtful discussion with: 
Re-Imagining Movement Spaces Inaugural Distinguished Keynote Address speaker, Dr. Ornella Nzindukiyimana, speaking on, "What Does the Social History of Swimming Mean for Black People in the 21st Century?"
Panelist storytellers, Vanessa Treasure and Alex Jung from the University of Toronto 
Robert Hampson from Variety Village
Discussions will be followed by a creative, arts-based workshop focusing on redesigning more equitable pool spaces.
Lunch, coffee, tea and snacks will be provided. This conference is FREE for students, and open to faculty, staff, and community members with a $10.00 registration fee.   
Register at recreation.utoronto.ca! Registration opens January 9. 
---
About our Workshops & Programs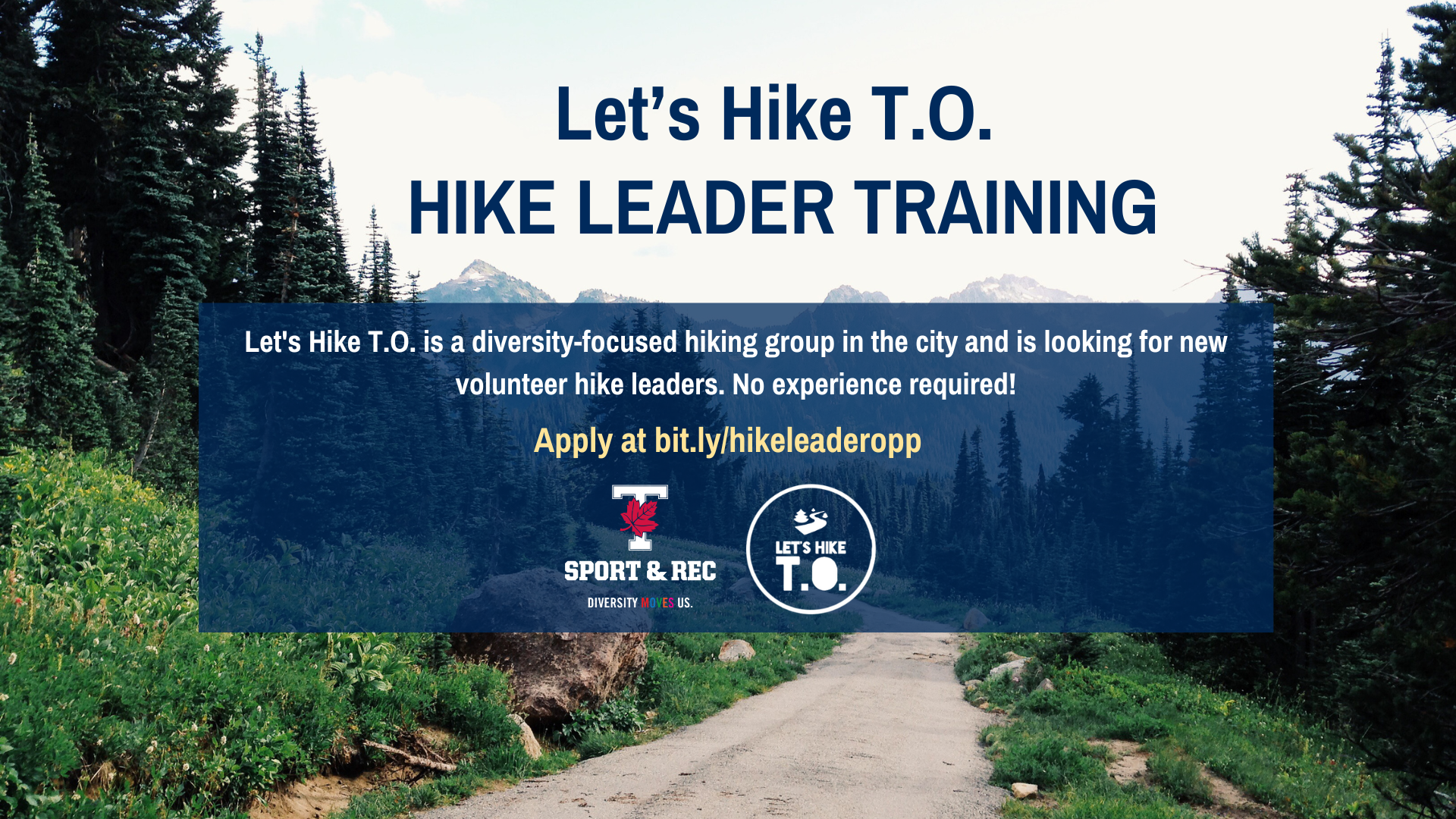 Let's Hike TO Hike Leaders
Last summer, Sport & Rec partnered with, and continues to partner with, Let's Hike T.O. to run hikes for our students during the warmer months. Become a hike leader yourself and run some hikes for Let's Hike T.O.!
Do you enjoy walking outdoor and meeting new people? Let's Hike T.O. is a diversity-focused hiking group in the city and is looking for new volunteer hike leaders. You don't need any experience and will go through full training including first aid to ensure you are ready and prepared to lead groups of people on hikes around Toronto.
Open to all UofT students! Find more details and apply at bit.ly/hikeleaderapp.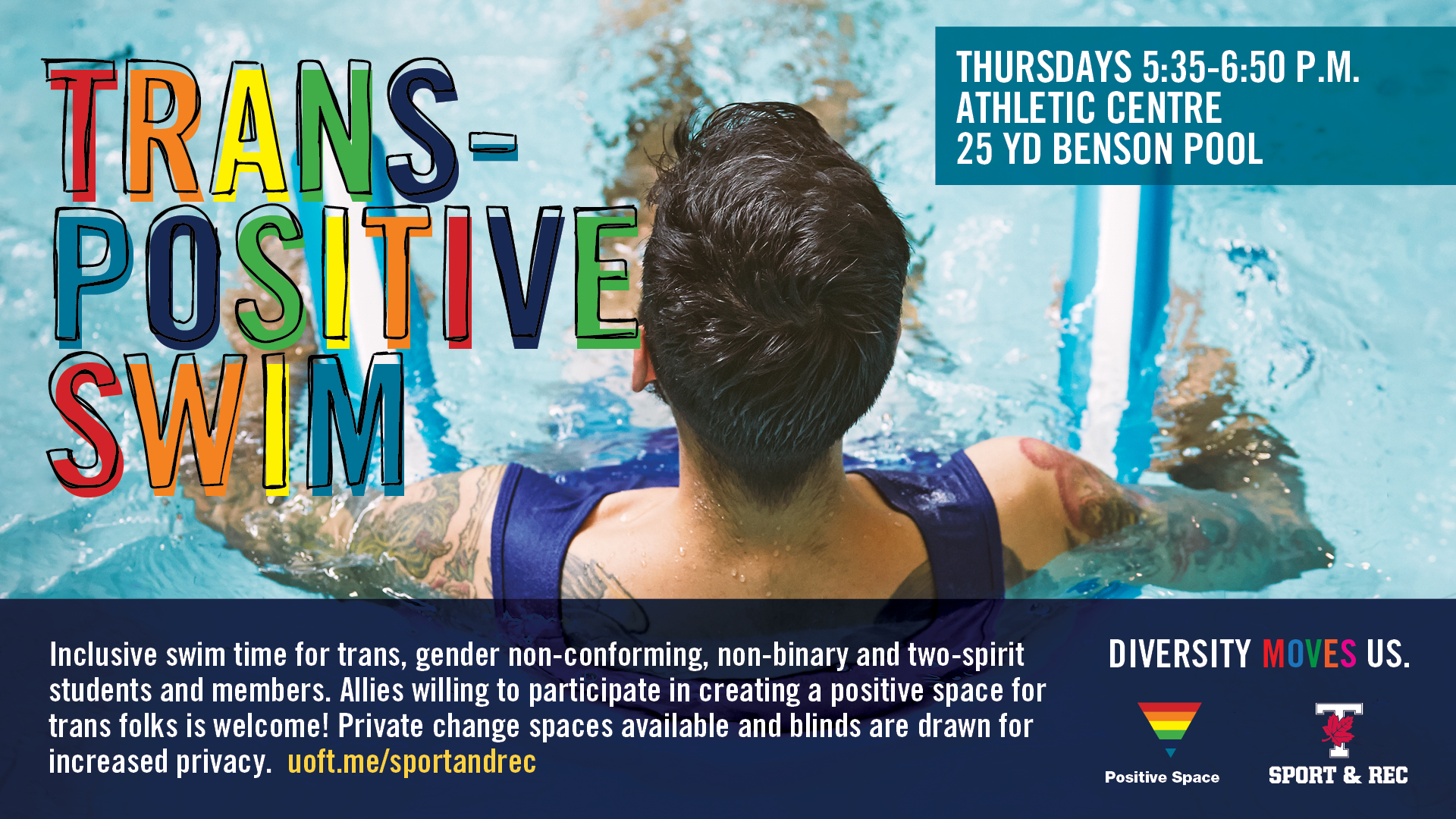 Thursdays from 5:35 to 6:50 p.m.
Location: Benson 25yd Pool
An inclusive swim time for trans, gender non-conforming, non-binary and two-spirit students and members and their friends/allies.
Free for U of T students & Sport & Rec members!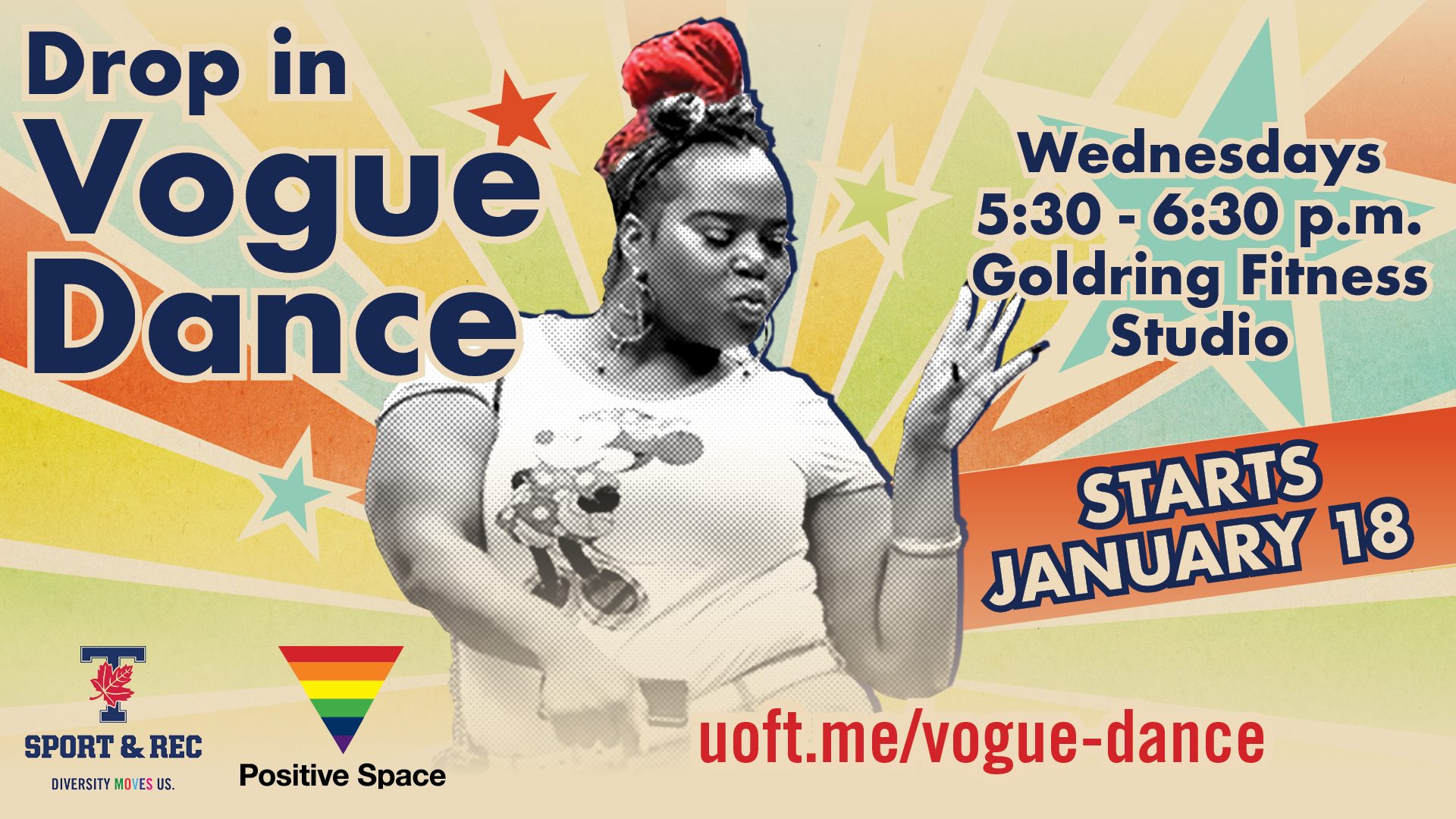 January 18 - March 3
Wednesdays* from 5:30p.m. - 6:30 p.m.
Location: Goldring Fitness Studio
Tell your story through the legendary movement of vogueing. In these beginner friendly drop-in sessions with Vogue dancer Snoopy, you will learn and practice the 5 elements of vogue dance - cat walk, duck-walk, hand performance, floor performance, and spins and dips. Feel the beat, werq the runway, and drop with ferocity - 10's! 10's! 10's! across the board!  
Classes are free for U of T students & Sport & Rec members!
*There will be no drop-in vogue on Wednesday, January 25. Instead, join us for a Capoeira workshop!
Check our our Past Event Videos & Highlights!
See video highlights from our past yearly events such as the 2018 and 2019 Diversity & Equity Conferences, and the 2019 and 2020 Black Excellence Kiki Balls at our NEW YouTube Page. 
---
Funding Student-Led Diversity & Equity Initiatives Since 2021

The EDIB team also oversees the Equity Ideas Fund. Student groups can apply for up to $500 in funding for initiatives related to equity, diversity, inclusion, and belonging, which are then considered within the scope and parameters of the Faculty's Equity Ideas Fund approval process. 
Apply here for the 2022/23 school year!  Any questions can be directed to equityideasfund.kpe@utoronto.ca
The rubric used to evaluate and award project funding is available for reference, along with the follow up report all awarded groups must hand in to receive reimbursement for the agreed upon funding total. 
For questions, or more information about the fund, please e-mail equityideasfund.kpe@utoronto.ca
 (PDF)
Please note, all applications must be submitted 30-90 days before the event/initiative. 
---
Contact Us
Stay Connected with our team - Find us on Instagram