---
---
About Sport & Recreation's EDIB team
We are a group of undergraduate and graduate students from across campus who plan, motivate and implement positive student-led initiatives that promote equity, diversity, inclusion, and belonging (EDIB), and physical/mental health. The team develops and implements events and projects related to sport and physical activity through student-staff partnerships. 
---
Upcoming Events
Mark your Calendars and Join Us!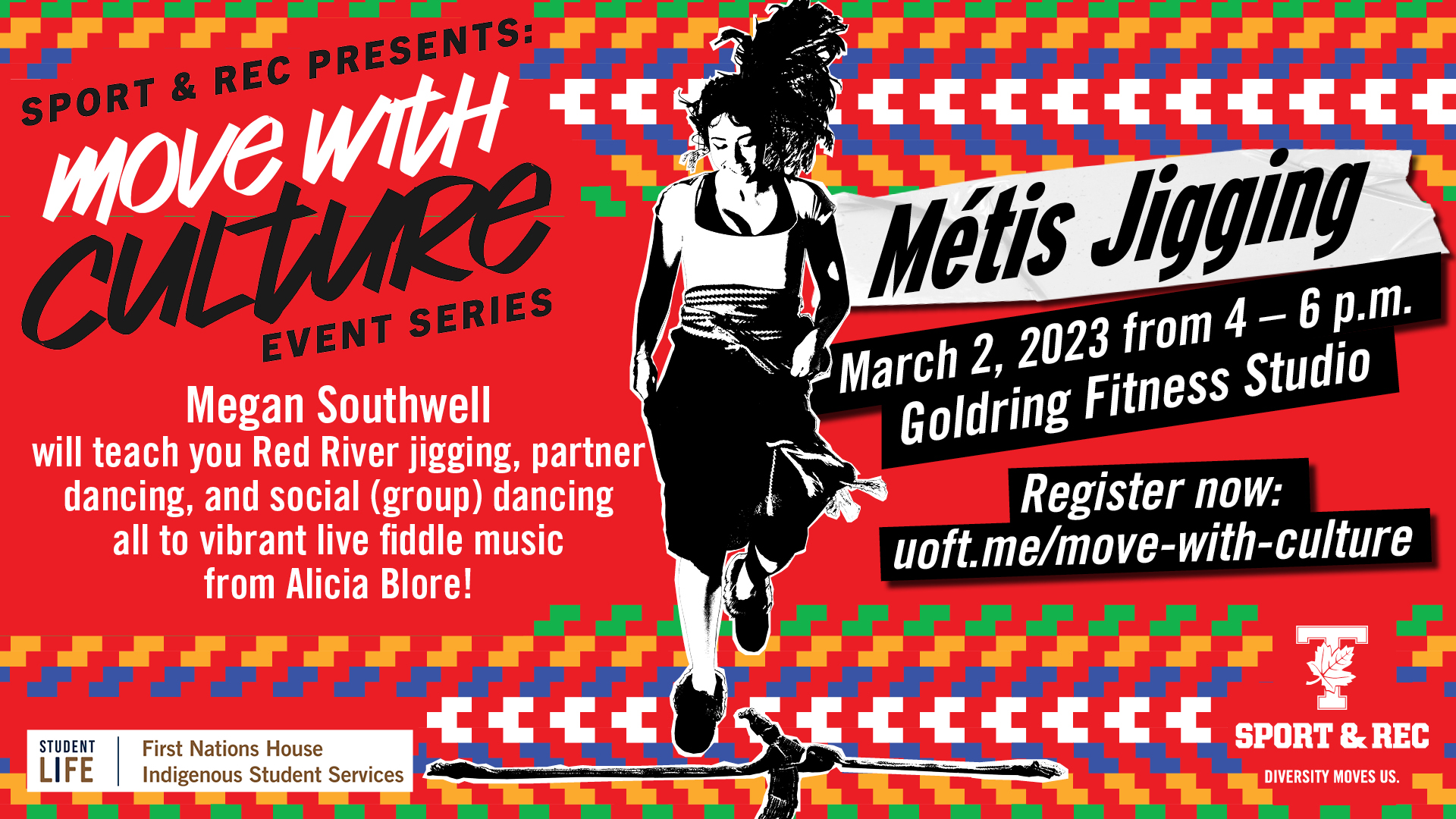 Wednesday, March 2, 4-6 p.m.
Location: GR Fitness Studio
Join Alicia Blore (Métis Strings) and Megan Southwell (Toronto Métis Jiggers) in Métis jigging! Métis jigging is an upbeat and energetic style of dance that fuses First Nations footwork and rhythm with European step dancing. It is a socially centred style of dance done to Métis fiddle music and proudly shared by Métis communities across the Homelands. Come dance Red River jigging, partner dancing, and social (group) dancing all to Alicia's vibrant live fiddle music!
Register now at recreation.utoronto.ca. Open to ALL UofT students.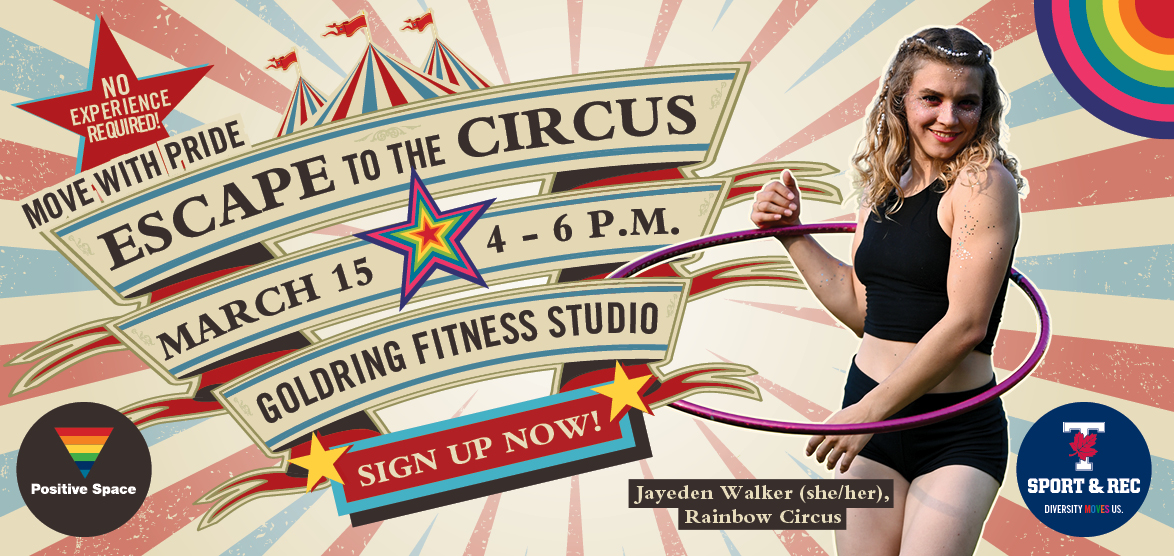 Wednesday, March 15, 4-6 p.m.
Location: GR Fitness Studio
Suitable for those with no or some circus experience this workshop will explore ground-based circus disciplines and expressive movement using props like juggling balls, spinning plates, hula hoops, and more! With inclusivity at the forefront, this workshop aims to show that circus is for every body and human who wants to try it, with a specific focus on creating a disability-informed, body celebratory, space that supports LGBTQ2S+ folks. 
This workshop will run for 1.5 hours, with an additional half hour at the end for questions and socialization. 
Register at recreation.uotoronto.ca. Registration opens March 1.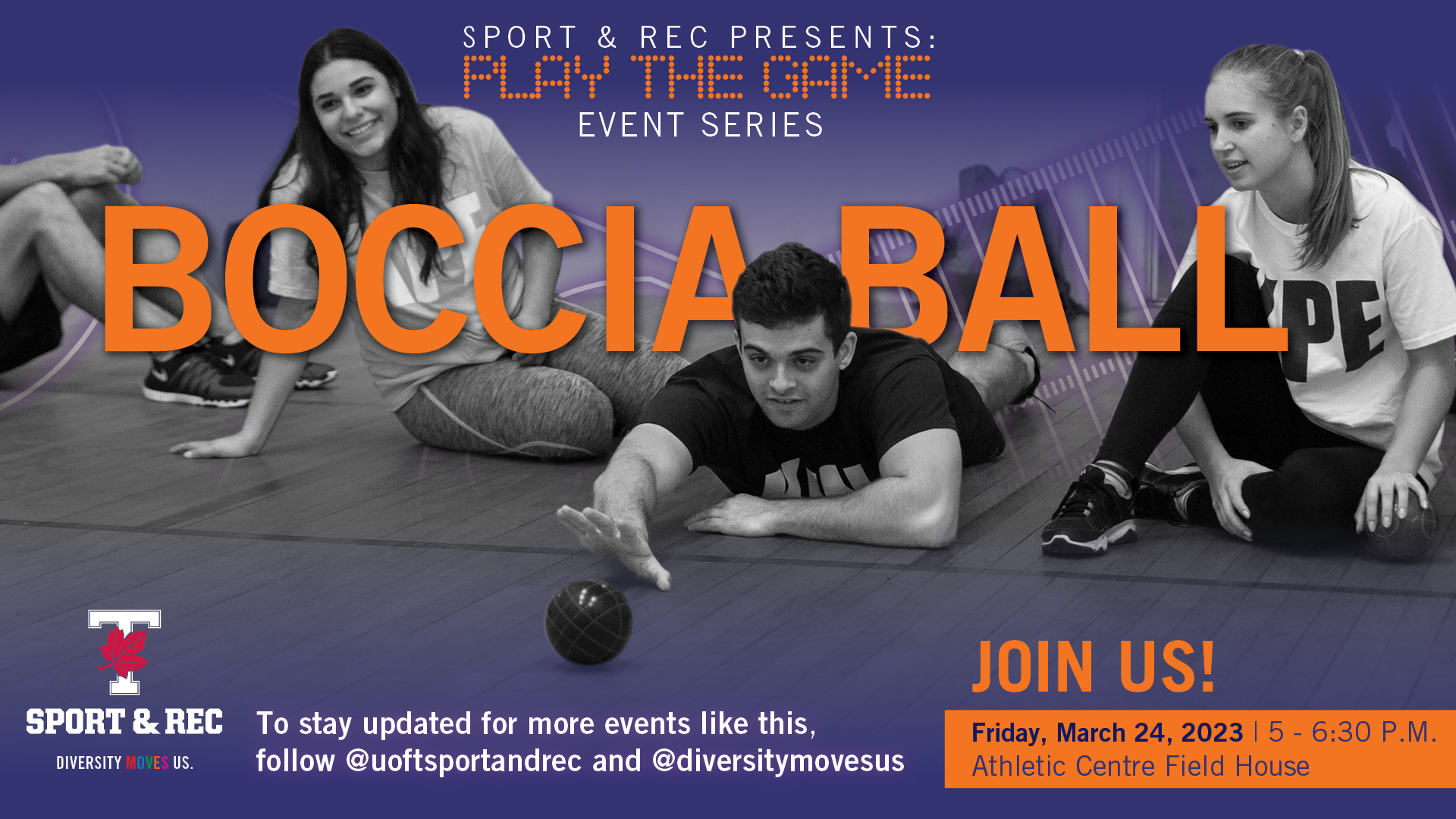 Friday, March 24, 6-6:30 p.m.
Location: AC Field House
Boccia Ball is a fully accessible Paralympic sport, it's easy to learn, and requires no previous experience. We'll have staff on site to facilitate a game, and if you're new, we'll help you learn! Not sure where the Field House is? We'll have staff in the main lobby to greet you when you arrive and show you the way.
Drop-ins only, no registration required. See you there!
---
About our Workshops & Programs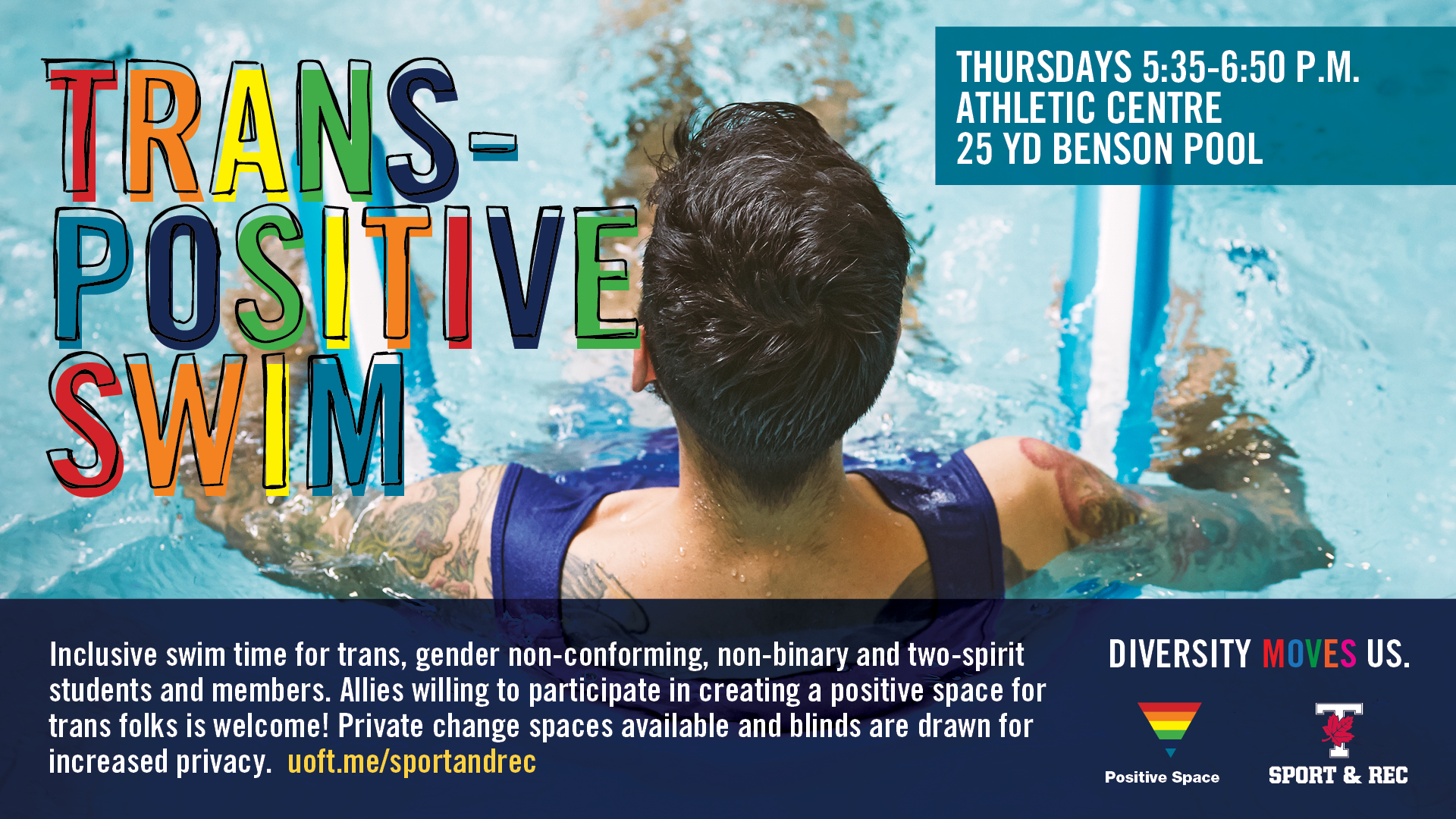 Thursdays from 5:35 - 6:50 p.m.
Location: Benson 25yd Pool
An inclusive swim time for trans, gender non-conforming, non-binary and two-spirit students and members and their friends/allies.
Free for U of T students & Sport & Rec members!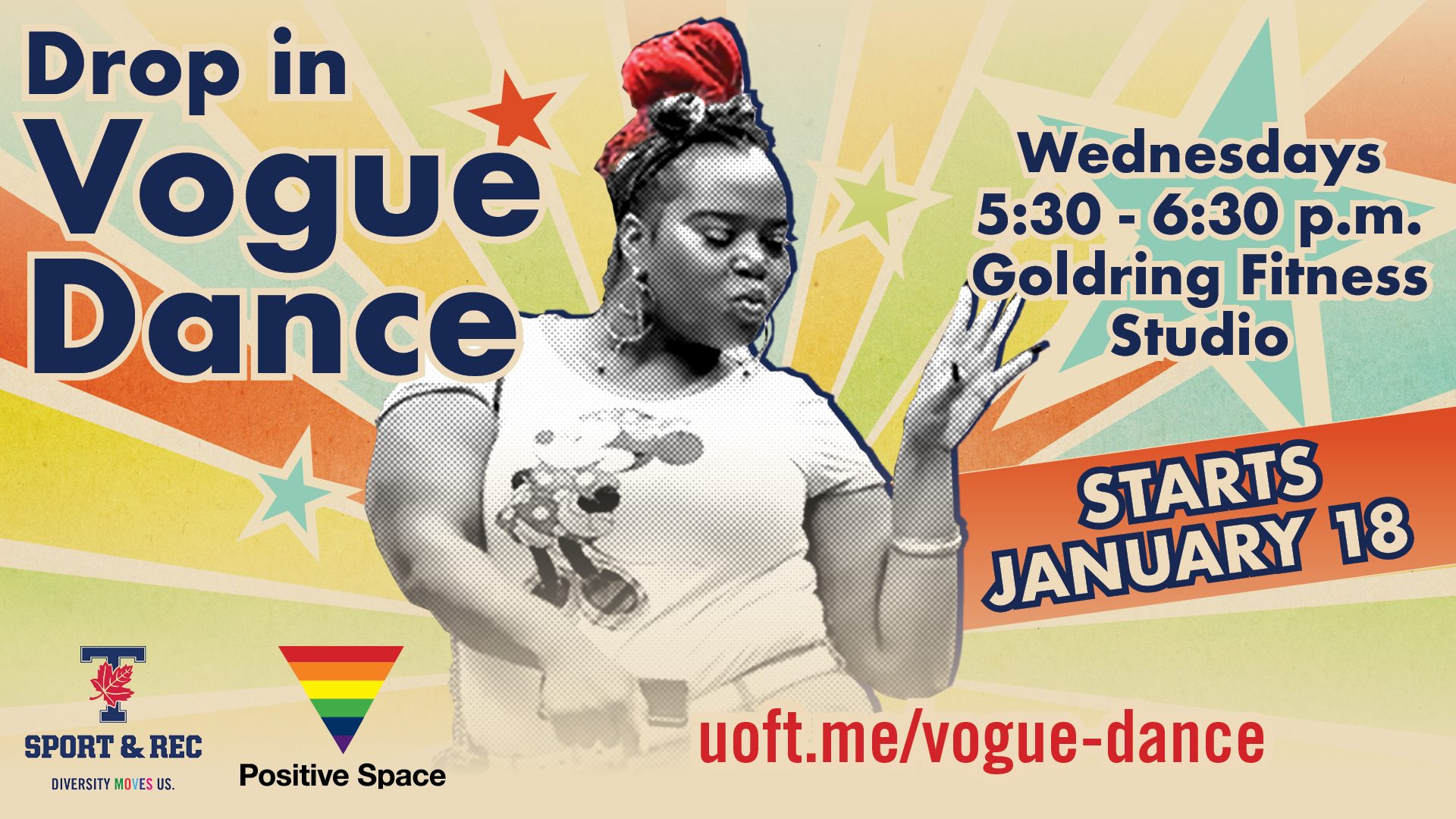 January 18 - March 3
Wednesdays* from 5:30 - 6:30 p.m.
Location: Goldring Fitness Studio
Tell your story through the legendary movement of vogueing. In these beginner friendly drop-in sessions with Vogue dancer Snoopy, you will learn and practice the 5 elements of vogue dance - cat walk, duck-walk, hand performance, floor performance, and spins and dips. Feel the beat, werq the runway, and drop with ferocity - 10's! 10's! 10's! across the board!  
Classes are free for U of T students & Sport & Rec members!
*There will be no drop-in vogue on Wednesday, January 25. Instead, join us for a Capoeira workshop!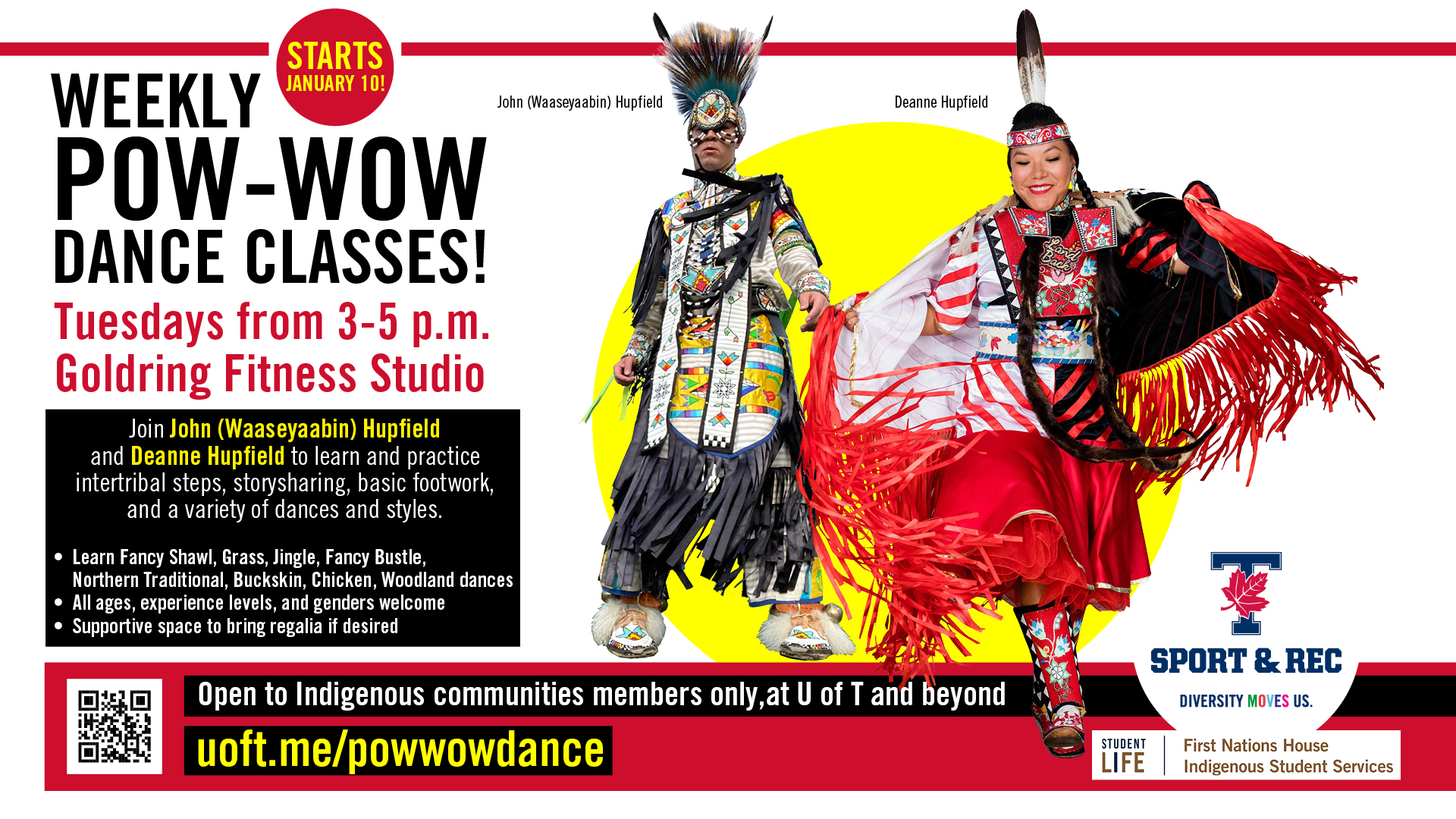 Drop-in Pow Wow Dance
January 10 - March 28
Tuesdays from 3:00 - 5:00 p.m.
Location: Goldring Fitness Studio
Join John (Waaseyaabin) Hupfield and Deanne Hupfield along with special guest instructors in a welcoming space to learn and practice pow wow dance. This weekly class is open to all levels and has the goal of nurturing dancers, whether this is your first or hundredth time dancing. This is a great and supportive space to bring regalia, or just something to move in! Over the course of the semester, participants can get excited to learn and practice intertribal steps, storysharing, basic footwork, Fancy Shawl, Grass dance, Traditional bustle, Jingle, Traditional cloth and buckskin, Fancy Bustle, Chicken Dance, and Woodland styles. All ages, skill and experience levels, and genders are welcome.
This drop-in class is open to Indigenous community members only, at U of T and beyond (free-of-charge).
Presented in partnership with First Nations House. 
Check our our Past Event Videos & Highlights!
See video highlights from our past yearly events such as the 2018 and 2019 Diversity & Equity Conferences, and the 2019 and 2020 Black Excellence Kiki Balls at our NEW YouTube Page. 
---
Funding Student-Led Diversity & Equity Initiatives Since 2021

The EDIB team also oversees the Equity Ideas Fund. Student groups can apply for up to $500 in funding for initiatives related to equity, diversity, inclusion, and belonging, which are then considered within the scope and parameters of the Faculty's Equity Ideas Fund approval process. 
Apply here for the 2022/23 school year!  Any questions can be directed to equityideasfund.kpe@utoronto.ca
The rubric used to evaluate and award project funding is available for reference, along with the follow up report all awarded groups must hand in to receive reimbursement for the agreed upon funding total. 
For questions, or more information about the fund, please e-mail equityideasfund.kpe@utoronto.ca
 (PDF)
Please note, all applications must be submitted 30-90 days before the event/initiative. 
---
Contact Us
Stay Connected with our team - Find us on Instagram