MoveU is a tri-campus initiative at the University of Toronto with teams on the St. George, Scarborough and Mississauga campuses.
At MoveU, our goal is to encourage physical activity and promote a healthy active lifestyle while allowing students to explore their environment and interact with their peers. MoveU teams on St. George, Scarborough and Mississauga campuses hold special events, give away fitness focused swag and can point you in the right direction to the find the class or activity that's best for you.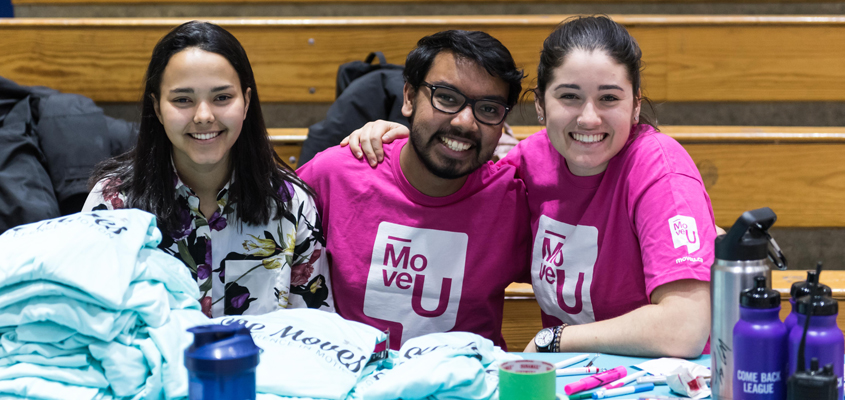 ---
Services
Want to add some physically active fun to your event? MoveU has an amazing crew ready to improve your students' experience!
Fill out the MoveU request form to book MoveU for your next campus event.
MoveU has an amazing crew standing by to help you incorporate some fun and physical activity into your events! 
Programs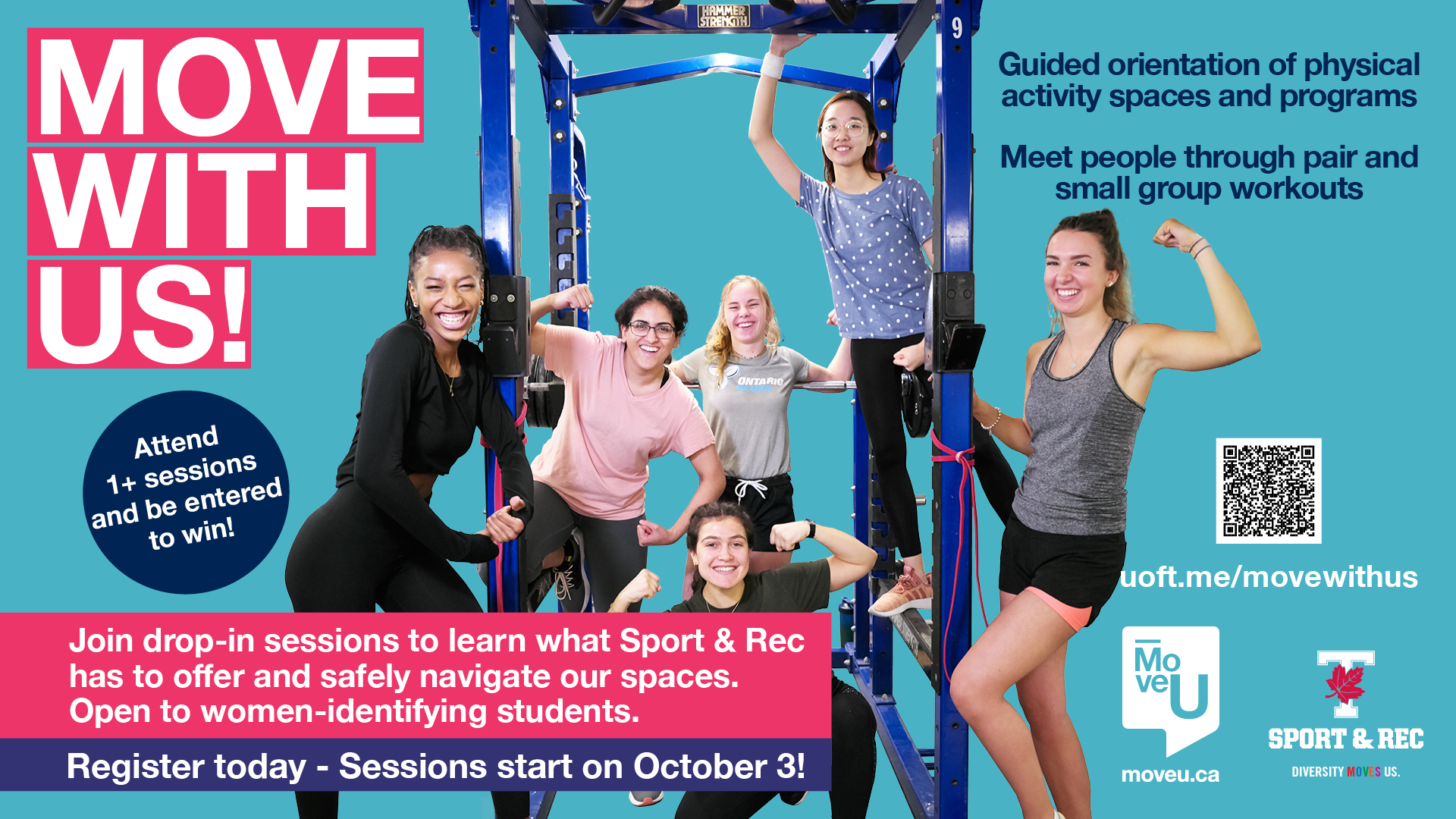 Move with us is a new 6-week program for women which introduces students to our physical activity spaces at Sport & Rec! We'll take you on  tour of our facilities and physical activity spaces, and then pair you up with a new work-out buddy for the duration of the session to work-out and explore the space with. Participants who complete at least one of each session during a program period will receive a "Welcome to Sport & Rec" prize sponsored by Under Armour!
Register at uoft.me/movewithus.
Looking to reduce symptoms of stress, depression and anxiety? MoveU.HappyU is the program for you! This free 6 week program offers behaviour change coaching and exercise training to students for mental health support.
Events and Activities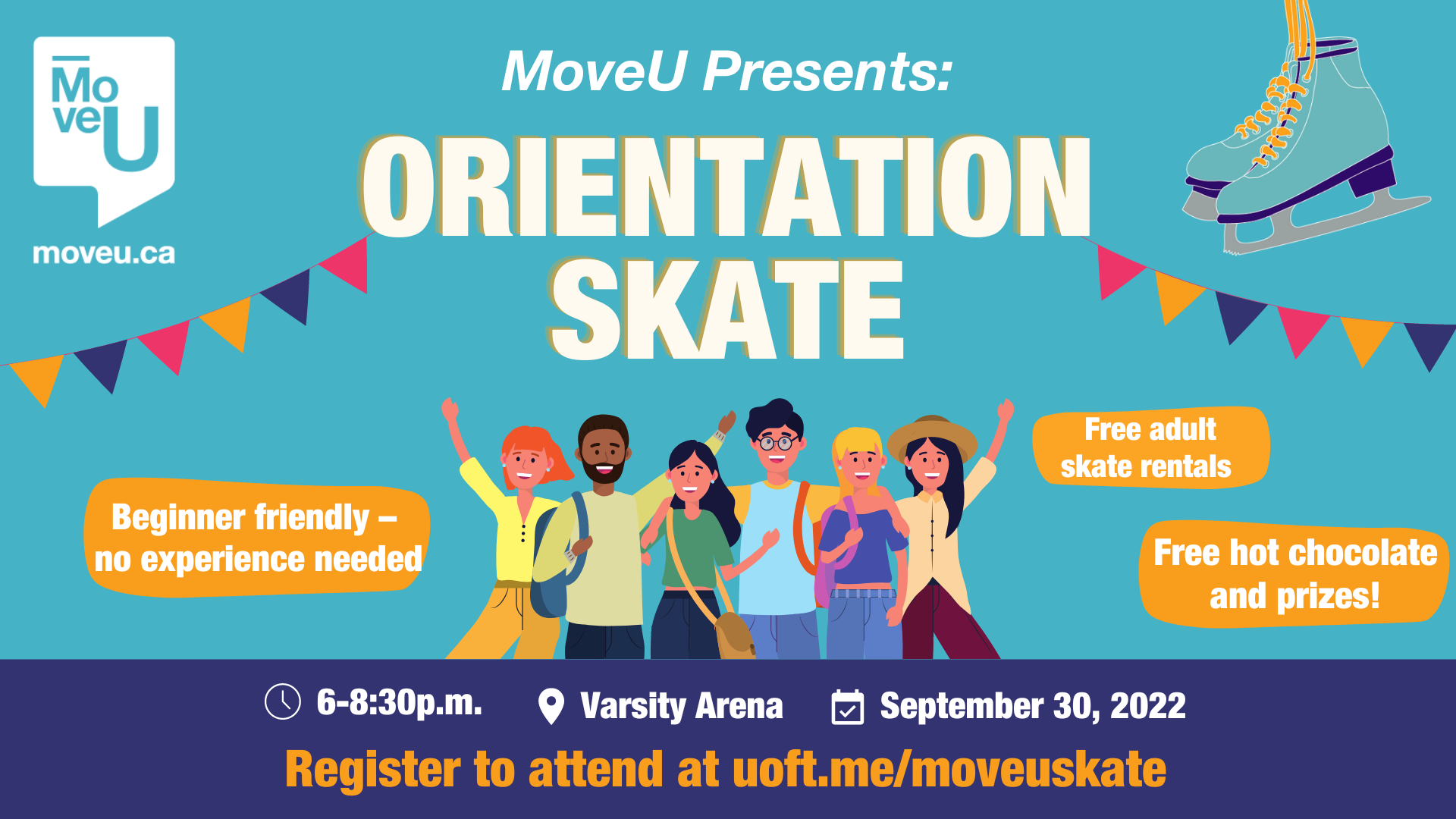 Date: September 30
Time: 6:00 p.m. - 8:30 p.m.
Location: Varsity Arena
Kick off the school year with some skating! We've got free hot chocolate, skate rentals, and a killer playlist - what more could you ask for?
Register in advance for a chance to win an Under Armour prize, for early access and priority skate rentals starting at 6:00pm! Limited spots available for drop-ins starting at 6:45pm. Skate rentals operate on a first-come first-serve basis.
Adaptive skating equipment is available by request! If you require adaptive skate equipment, or have any other accessibility needs, please email edib.sportandrec@utoronto.ca.
For skate night updates and info on more fun events and activities, follow us on socials @moveuoft. Questions? Reach us at moveucrew@utoronto.ca.
Register at uoft.me/moveuskate. 
For more MoveU events, visit moveu.ca/utsgevents for our full calendar!
Want to get to know our spaces a bit better? We'll take you on a tour of our facilities and tell you all about the programs we offer. 
Add some physical activity to your event or workshop! We'll connect you with our partners at Sport & Rec or Hart House to host a physical activity class for your group! Choose from a variety of different activities, including dance (Zumba, Cardio Dance Party, Bollywood X, Barre, and K-pop), strength training (e.g. Big HIIT), mindfulness and yoga.
No matter where you are, we hope you're staying safe and getting some daily physical activity! Need inspiration for your movement breaks? Check out MoveU Anywhere, our series of practical workout videos that you can do in your own spaces, no matter how small. 
Having an event? We'd love to come! We'll set up an information booth to promote physical activity programming, events and activities on campus brought to you by MoveU and our partners at Sport & Rec, Hart House, and Diversity Moves Us.
Incorporate a MoveU Movement Break video into your classes or workshops to reactivate the mind and body. These 3-minute videos encourage students to take a break from sitting and get active to re-energize. Students who participate in movement breaks are better able to focus and primed for academic success!
Can't find what you're looking for? Contact the MoveU crew at moveucrew@utoronto.ca and we'll work with you to create a unique experience for you and a group of friends/your student group!