MoveU is a tri-campus initiative at the University of Toronto with teams on the St. George, Scarborough and Mississauga campuses.
At MoveU, our goal is to encourage physical activity and promote a healthy active lifestyle while allowing students to explore their environment and interact with their peers. MoveU teams on St. George, Scarborough and Mississauga campuses hold special events, give away fitness focused swag and can point you in the right direction to the find the class or activity that's best for you.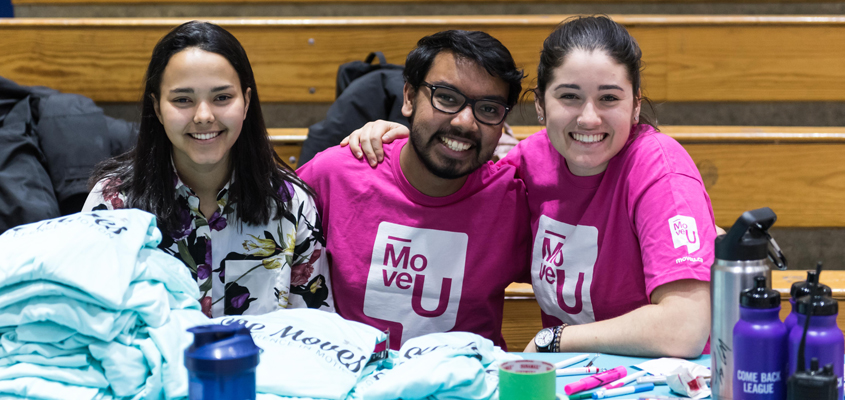 ---
Services
Want to add some physically active fun to your event? MoveU has an amazing crew ready to improve your students' experience!
Fill out the MoveU request form to book MoveU for your next campus event.
MoveU has an amazing crew standing by to help you incorporate some fun and physical activity into your events! Due to COVID-19, we're providing our services virtually. Check out the available options below.
Virtual Movement Breaks
Incorporate a MoveU Movement Break into your online classes to reactivate the mind and body. These 5 to 15 minute sessions encourage students to take a break from sitting and get active to re-energize. Students who participate in movement breaks are better able to focus and primed for academic success. Movement Breaks can be delivered live or prerecorded!
Virtual Activity Sessions
Add a physical activity session to your online event or workshop! Choose from 6 different activities, including dance, strength training, mindfulness and yoga.
#UTRAIN Residence Edition
For students still living in residence, this is a fantastic opportunity to connect virtually with other students living on campus during the pandemic. Move your body and work up a sweat together in a private workout on Zoom! Exercises are designed to engage people of all ability levels. Friendly coaches will lead you through a fun, heart-pumping session that will bring a smile to your face and put some pep in your step.
MoveU Anywhere
No matter where you are, we hope you're staying safe and getting some daily physical activity! Need inspiration for your movement breaks? Check out MoveU Anywhere, our series of practical workout videos that you can do in your own spaces. 
MoveU.HappyU
Looking to reduce symptoms of stress, depression and anxiety? MoveU.HappyU is the program for you! This free 6 week program offers behaviour change coaching and exercise training to students for mental health support.
MoveU Action Grants
Being physically active can help reduce your stress levels, build your confidence and social networks, and enhance your academic performance. But sometimes it may be challenging to find activities that you enjoy.That's where MoveU Action Grants come in. If you are an international student with a great idea for a physical activity initiative that can be delivered virtually, apply for a grant and you can receive up to $500 in funding. There are all kinds of ways to get active! Whether you enjoy scavenger hunts, HIIT fitness workouts or dancing, MoveU Action Grants can help you and your fellow students get moving!

Can't find what you're looking for? Contact the MoveU crew at moveucrew@utoronto.ca and we'll work with you to create a unique experience for you and a group of friends/your student group!