---
---
Learn about our Move with Pride Series!
Sport & Rec's EDIB team, Diversity Moves Us, hosts a series of workshops and events for the LGBTQ2S+ community and offer a positive and safer space to participate in physical activity. 
Check out our upcoming and previous events below.
---
Upcoming Events
Mark your Calendars and Join Us!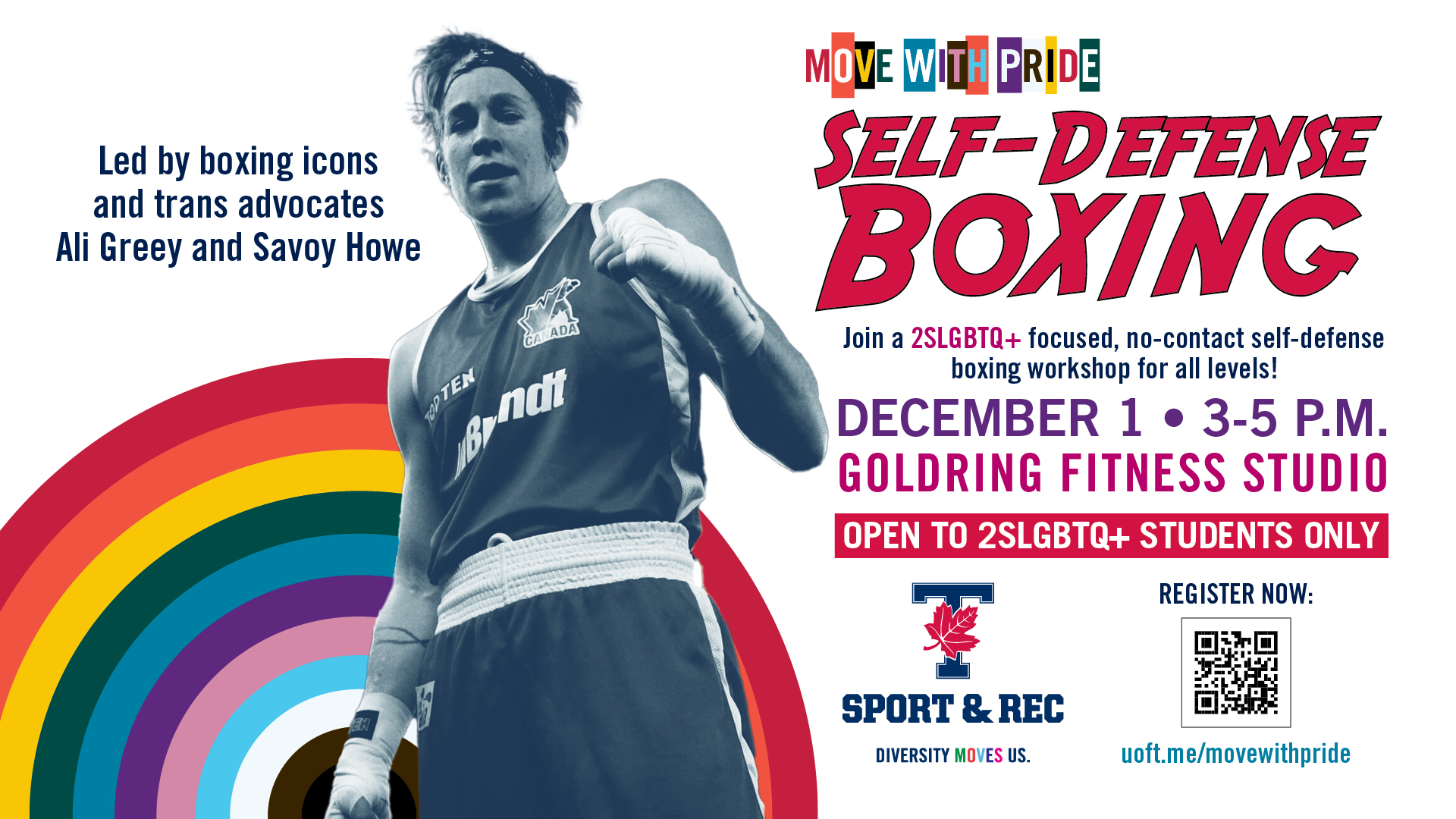 Move with Pride: Self-Defense Boxing
Friday, December 1, 3:00 - 5:00 p.m.
Location: Goldring Fitness Studio
Join the EDIB team for our second Move with Pride event of the school year! 
This a 2SLGBTQ+ focused, no contact, all levels boxing workshop. 
Learn the philosophies of hitting and self-defense, how to throw a punch, and some fun boxing footwork and strategy from boxing icons and trans advocates, Savoy Howe and Ali Greey! All you need to bring is: running shoes, comfortable clothing for movement, and a good sense of humor!
---
Previous Events
Missed it? Don't worry, they'll be back soon.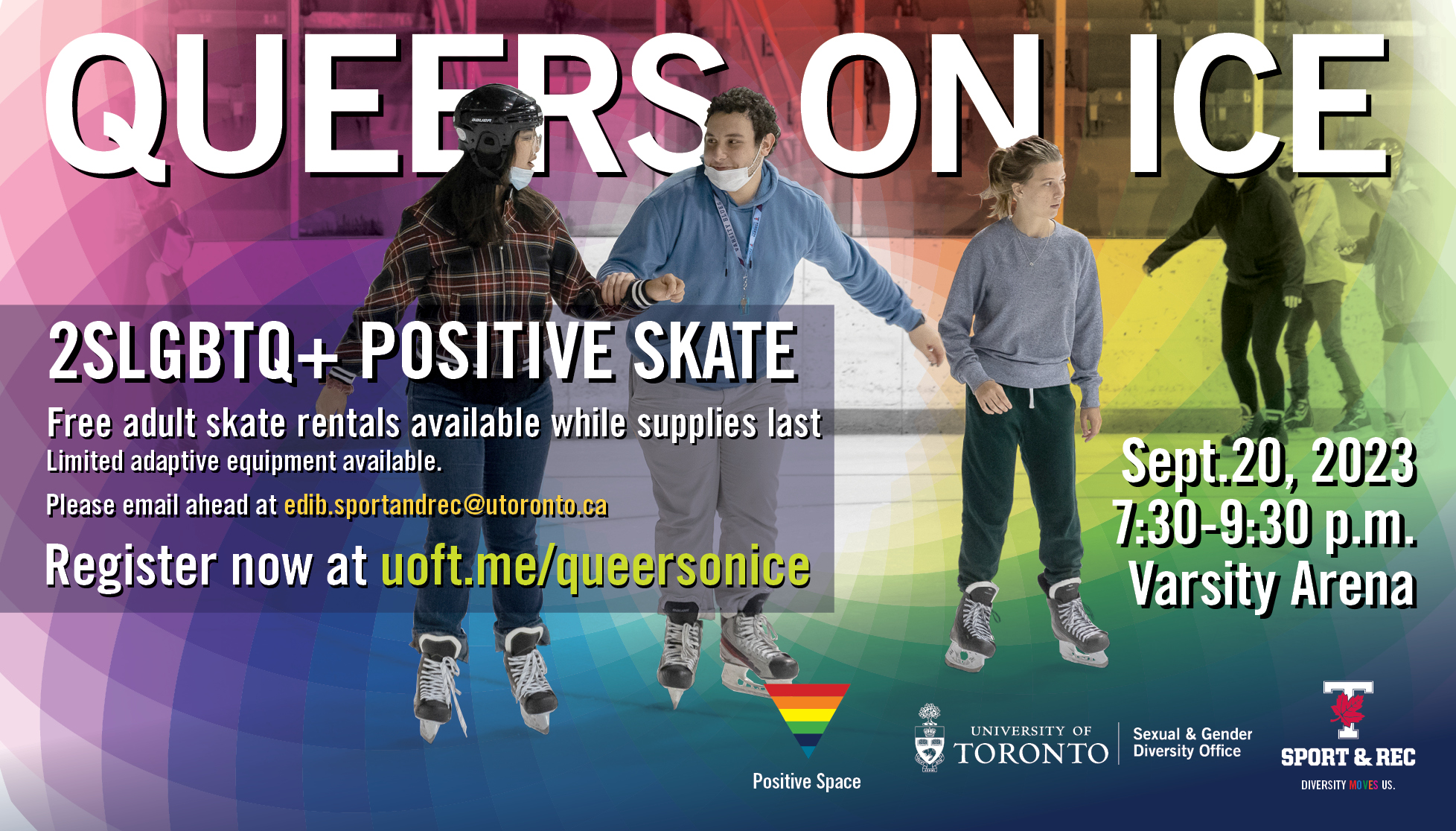 Move with Pride: Queers on Ice
Wednesday, September 20, 7:30-9:30 p.m.
Location: Varsity Arena
Join U of T Sport & Rec and the Sexual and Gender Diversity Office (SGDO) for a 2SLGBTQIA+ skate night! 
Never been on skates? No worries! We'll have a skating instructor (and a first aid person) on the ice to show you the ropes in a piloned-off area for beginners. We'll also have limited adult skate aids available to help those who need something to hold on to. 
We offer FREE skate rentals on a first-come, first-serve basis, along with some hot chocolate, a killer playlist, and cool prizes to be given away! Register at uoft.me/queersonice for first entry (7:30-8:00pm) and first pick of skate rentals. Drop-ins welcome after 8:00 p.m.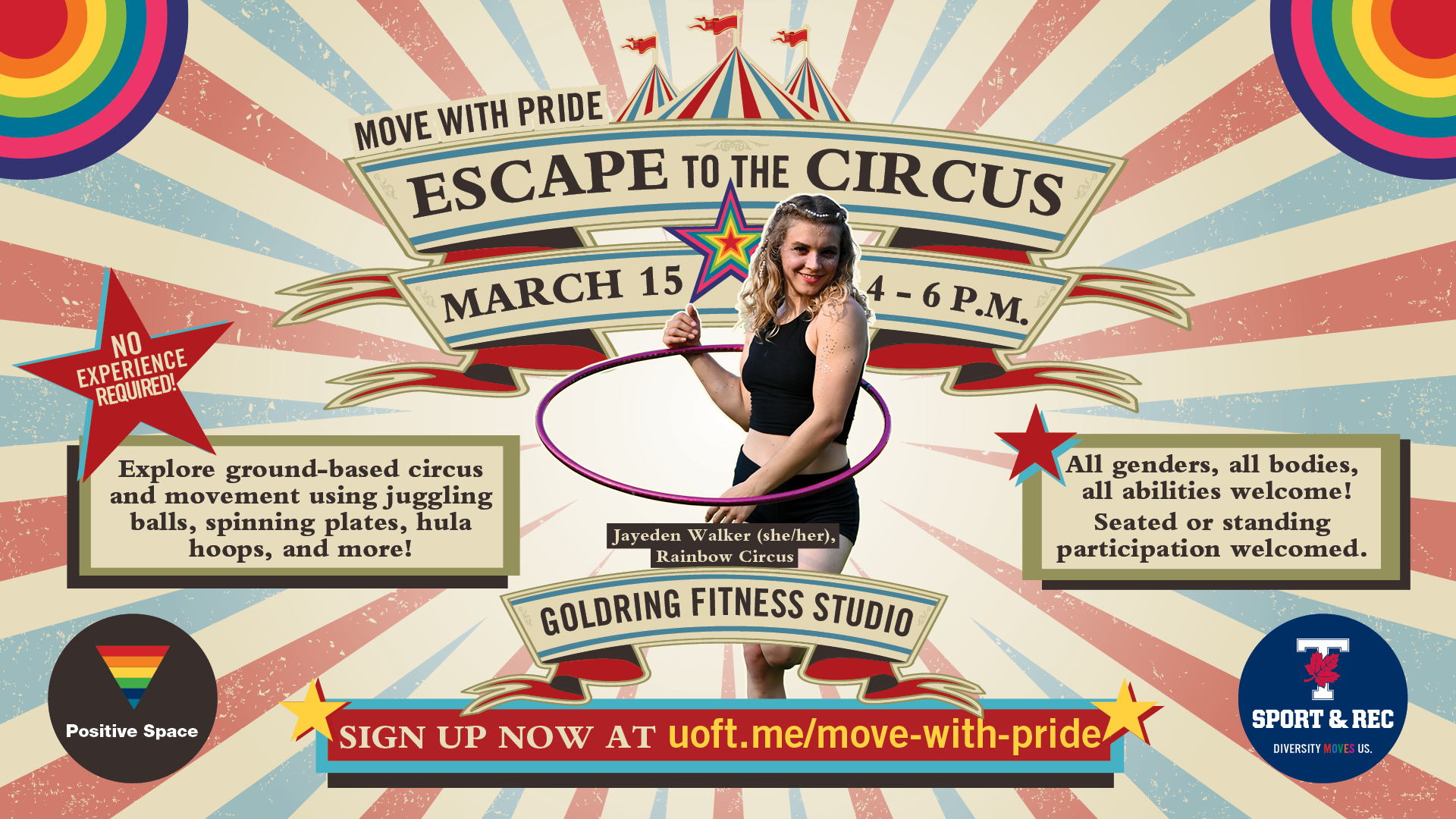 Move with Pride: Rainbow Circus
Wednesday, March 15, 4-6 p.m.
Location: GR Fitness Studio
Join us for a LGBTQ2S+ focused, beginner-friendly circus workshop as a part of our Move with Pride event series!
About the Instructor: Jayeden Walker (she/her) is a queer neurodivergent circus artist and coach. As an artist, she creates contemporary circus works, exploring gender, disability, and queerness with a focus on celebrating joy and imagining a more liberated future. As a circus coach, Jayeden aims to create inclusive, trauma-informed movement spaces that are disability informed and center the needs of Queer and Trans folks. She is the founder of Rainbow Circus, a social circus initiative that works with Queer and Trans youth. 
 
About the Workshop: Suitable for those with no or some circus experience this workshop will explore ground-based circus disciplines and expressive movement using props like juggling balls, spinning plates, hula hoops, and more! With inclusivity at the forefront, this workshop aims to show that circus is for every body and human who wants to try it, with a specific focus on creating a disability-informed, body celebratory, space that supports LGBTQ2S+ folks. 
This workshop will run for 1.5 hours, with an additional half hour at the end for questions and socialization.