Welcome to Sport & Rec! 
Sport & Rec offers sport and physical activity programs to the University of Toronto community. Our dynamic range of programs will help you get active in whatever way works best for your body, no matter your skill level or history of participation.
---
Introducing #UTrain: daily live and on-demand online workouts and classes! No special equipment needed: work with your own body weight or household items.
Sweat with us live on Instagram or join us on Zoom to take your workout to the next level with real-time coaching from our team! 
Schedule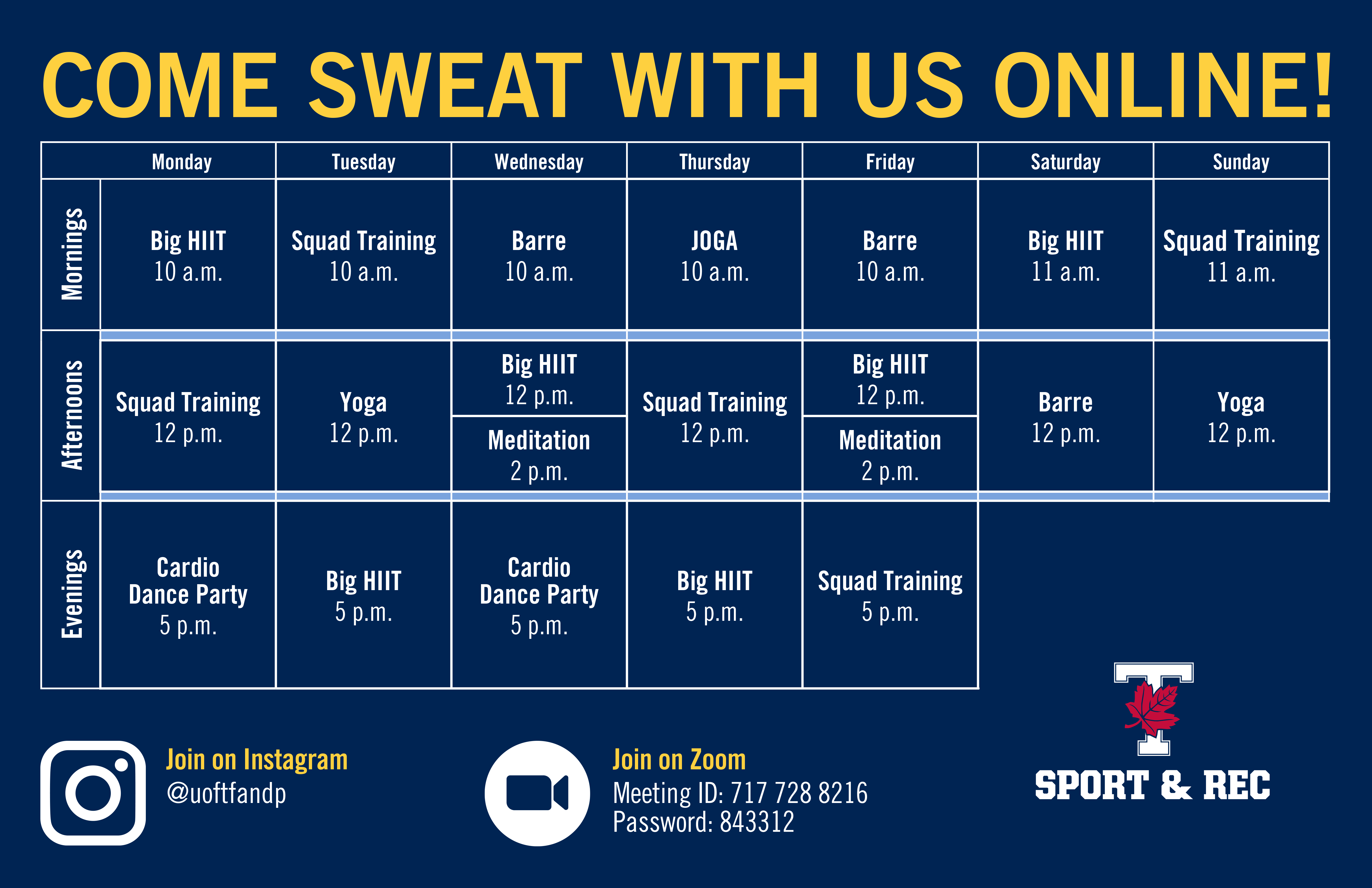 Time

Class

Coach Name

Join online

Monday

10 a.m.

Big HIIT

Beth

12 p.m.

Squad Training

Nardine

5 p.m.

Cardio Dance Party

Bailey

Tuesday

10 a.m.

Squad Training

Beth

12 p.m.

Yoga

Maddie

5 p.m.

Big HIIT

Drae

Wednesday

10 a.m.

Barre

Vanessa

12 p.m.

Big HIIT

Gabe

2 p.m.

Meditation

Robin

5 p.m.

Cardio Dance Party

Bailey

Thursday

10 a.m.

JOGA

Britt

12 p.m.

Squad Training

Gabe

5 p.m.

Big HIIT

Eddie

Friday

10 a.m.

Barre

Vanessa

12 p.m.

Big HIIT

Rachel

2 p.m.

Meditation

Robin

5 p.m.

Squad Training

Gabe

Saturday

11 a.m.

Big HIIT

Nardine

12 p.m.

Barre

Vanessa

Sunday

11 a.m.

Squad Training

Drae

12 p.m.

Yoga

Maddie
JOGA
Lengthen. Strengthen. Connect. 
JOGA is a movement system that focuses on improving mobility and stability through different postures. A more athletic style of yoga, it incorporates both dynamic and static stretching techniques and breathing exercises to increase your range of motion and improve your mind-body connection. 
Leave feeling calm, centered and refreshed, ready to conquer the rest of your day. 
Meditation
Breathe. Relax. Tune in.
This 20 - 30 minute class explores different meditation styles and techniques to help support your overall mental well-being. Whether you're a beginner wanting to develop a new routine, or a seasoned meditator looking to deepen your knowledge, this class provides a modern, informative, and accessible approach to mindfulness meditation. 
Yoga
Be more calm, confident and connected. This class supports increased relaxation, resilience, and focus. Practice to improve your core strength, flexibility and strengthen your mind-body connection. Emphasis on safety and alignment. 
Barre
Meet us at the barre! 
Stand tall and proud, with your shoulders back after dedicating time to improve your posture and alignment in this fusion of ballet, Pilates and yoga. 
Cardio Dance Party
Shake it 'till you make it! 
Rev up your energy levels and let the music take control at our cardio dance party! If you liked Zumba or BollyX, you'll LOVE Cardio Dance Party.
From K-Pop to hiphop, Latin pop to Bollywood, this class has something for every groove. Let's bust a move! 
Big HIIT
It's interval training, but…BIGGER!
HIIT stands for high intensity interval training. It's all about going as hard as you can for short intervals, with recovery periods in between. This full body boot camp-style circuit class will have you feeling stronger, more confident, energized and happy. A recipe to have you coming back for more! 
Squad Training
High performance training for everyone!
Whether your goals are related to performance for sport or performance for life, squad training is for you! Detailed programming + a personalized coaching experience + the camaraderie of a team = you training like a pro in no time. Squads are where everyone moves better, together. 
@uoftfandp

Meeting ID: 717 728 8216
Password: 843312
Click on the icons above to join a live workout on your preferred platform. 
After each workout, we'll upload the video from the Zoom session to our Youtube channel so you can still get your sweat on even if you missed the live broadcast.

 

Stay connected

moveu
Find inspiration for daily movement with MoveU Anywhere!  Our MoveU team has created a number of excellent workout videos that you can do in your own spaces. 

U of T Intramurals
The intramural program at the University of Toronto is one of the largest in Canada and offers a wide range of sports to meet the diverse interests of the student population.
Learn more about U of T Intramurals.
Please note: At this time, we're unable to confirm that summer intramural programs will proceed given the current guidance from public health authorities on COVID-19.
Tri-Campus League
The Tri-Campus League offers athletes a heightened level of competition. Athletes have the opportunity to take their game to the next level by learning from a committed coaching staff and training for possible development towards future varsity competition.