---
---
Membership Benefits
Access to the Athletic Centre, Goldring Centre for High Performance Sport, and Varsity Centre facilities and programming during building hours
Lane swims at the Athletic Centre's two pools (50m and 25yd) 
State of the art gym equipment across multiple Strength & Conditioning Centres, the Athletic Centre's Bruce Kidd Fieldhouse, and the Weightlifting Zone 
Heart-pumping group fitness workouts like barre, yoga, and cardio dance party (Virtual Fitness Studio option available too)
Over 14 different drop-in sports (free play) including basketball, squash, badminton, driving range golf, and soccer
Variety of registered instructional classes for adults (additional fees may apply), like tennis, gymnastics, skating, boxing, swimming, and more! 
Benefit from member perks at local partners!
No annual fees or initiation fees
Explore more of our programs at uoft.me/sportandrec and follow us on Instagram @uoftsportandrec
---
FALL MEMBERSHIPS 


Community Memberships
Alumni 1st/2nd Year, Seniors 65+, Student-Plus
 
| | | | | |
| --- | --- | --- | --- | --- |
| 1-Day Pass | 30 Days | 1 Term (Starting each Sep, Jan, May semester)* | Academic Year (Sep 1, 2023 to Apr 30, 2024)* | Academic Year + Summer (Sep 1, 2023 to Aug 31, 2024)* |
| $20.48  | $114.63  | $251.34 | $505.37  | $630.98 |
Alumni 3+, Staff/Faculty, U of T Affiliates, Post Docs, Co-resident
 
| | | | | |
| --- | --- | --- | --- | --- |
| 1-Day Pass | 30 Days | 1 Term (Starting each Sep, Jan, May semester)* | Academic Year (Sep 1, 2023 to Apr 30, 2024)* | Academic Year + Summer (Sep 1, 2023 to Aug 31, 2024)* |
| $20.48 | $114.63 | $293.40  | $543.69 | $783.46 |
Community 18+
 
| | | | | |
| --- | --- | --- | --- | --- |
| 1-Day Pass | 30 Days | 1 Term (Starting each Sep, Jan, May semester)* | Academic Year (Sep 1, 2023 to Apr 30, 2024)* | Academic Year + Summer (Sep 1, 2023 to Aug 31, 2024)* |
| $20.48 | $114.63 | $388.05 | $710.90 | $972.76 |
*Total fee adjusted at a daily pro-rated rate

1 Year Monthly Deduction 
 
| | |
| --- | --- |
| Eligibility  | 1 Year Term (12 Monthly Payments) |
| Alumni 1st/2nd Year, Seniors 65+, Student-Plus | $692.76 ($57.73)  |
| Alumni, Staff/ Faculty, U of T Affiliates, Post Doc, Co-resident | $845.16 ($70.43)  |
| Community 18+ | $1035 ($86.25)  |
Goldring Centre
(access only to drop-in programs and activity spaces at Goldring Centre)  
| | |
| --- | --- |
| Eligibility | 30 Days |
| Community 18+, Alumni, Senior 65+, Staff/Faculty, Post Doc, Family and Friends, Post Doc, U of T Affiliates | $61.80 |
 

Eligibility Categories:

Individuals 18 years or older with government issued photo ID.

1st & 2nd Year U of T Alumni

Those who have graduated from a U of T undergraduate or graduate program within the past 2 years. Individuals yet to graduate can present a recently dated letter on faculty or department letterhead confirming completion of requirements to graduate and expected date of convocation.

Student Plus (in-person only)

Students 18 years of age or older must present a student card with an issued date within one year or a valid future expiry date printed on the card from a Universities Canada member school or publicly funded university/college OR valid ISIC (International Student Identity Card) at the time of purchase.​​​

U of T Alumni

U of T students who have graduated from an undergraduate or graduate program or who have completed a minimum of 4 undergraduate credits or one year of graduate school. A status inquiry completed by the AC or GC main office may be required.

U of T Staff and Faculty

Current appointed U of T staff and faculty.

U of T Staff Affiliate (in-person only)

Staff of the University Health Network, U of T Affiliated Teaching Hospitals, CAMH, Jane Goodall Institute, Royal Ontario Museum, and U of T Medical Residents are eligible for this discounted membership. Available in person only; recently dated valid Letter of Employment must be presented at time of purchase.

Post Doc (in-person only)

Post-docs must present a recently dated letter on faculty or department letterhead indicating post doctoral status. Offer or Acceptance of Employment letters are valid.

Co-resident (in-person only)

Available to individuals residing with a fee paying U of T student or current Sport & Rec members. Both individuals must present a utility bill or driver's license displaying the same home address when purchasing the membership.

Photo ID must be presented with birth date on the card.

Joint Memberships have been reinstated as of April 1, 2022. Memberships will enable U of T staff and faculty to access all available services, with no usage charges save for applicable class or registered program fees. If you have any questions or would like to join the Joint Membership Plan, please contact your Divisional HR Office.

Purchase Your Membership

Sport & Rec memberships can be purchased in-person at the Athletic Centre, Goldring Centre for High Performance Sport and Varsity Centre and online on the Sport & Recreation Online Portal. 

Upon your first visit, please pick up your membership card at the Athletic Centre, Goldring Centre for High Performance Sport, or Varsity Centre.
MEMBERSHIP CANCELLATION
All membership cancellation requests, including a reason for the request, must be received in writing to sportandrec@utoronto.ca.
Within 10 days
Full refunds are given upon cancellation of memberships within 10 days of the purchase date. 
After 10 days
A pro-rated refund will be provided from the date of the email request minus a $22.12 + HST administrative fee. To request a refund for an earlier period, valid medical documentations must be provided listing the date of illness/injury.  No refunds, holds or extensions are provided due to closures, schedule changes or facility availability.
Monthly Memberships 
Cancellation requests for our monthly deduction memberships must be received 10 days before the start of the next billing month.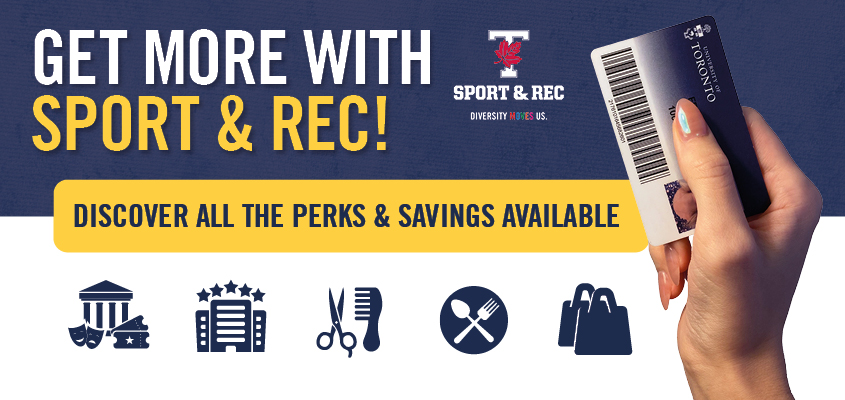 Questions?
Contact us at 416-978-3436 and press "0" to speak with a customer experience representative or email us at sportandrec@utoronto.ca.