Sport & Recreation's Diversity & Equity team is a group of undergraduate and graduate students from across campus who plan, motivate and implement positive student-led initiatives that promote diversity, equity, inclusivity and physical/mental health. The team develops and implements events and projects related to sport and physical activity through student-staff partnerships.
---
Drop-In Programs - 2019/2020
NEW* Drop-In Vogue Dance Class - every Wednesday from 7:10 p.m. - 7:55 p.m. - Athletic Centre, Dance Studio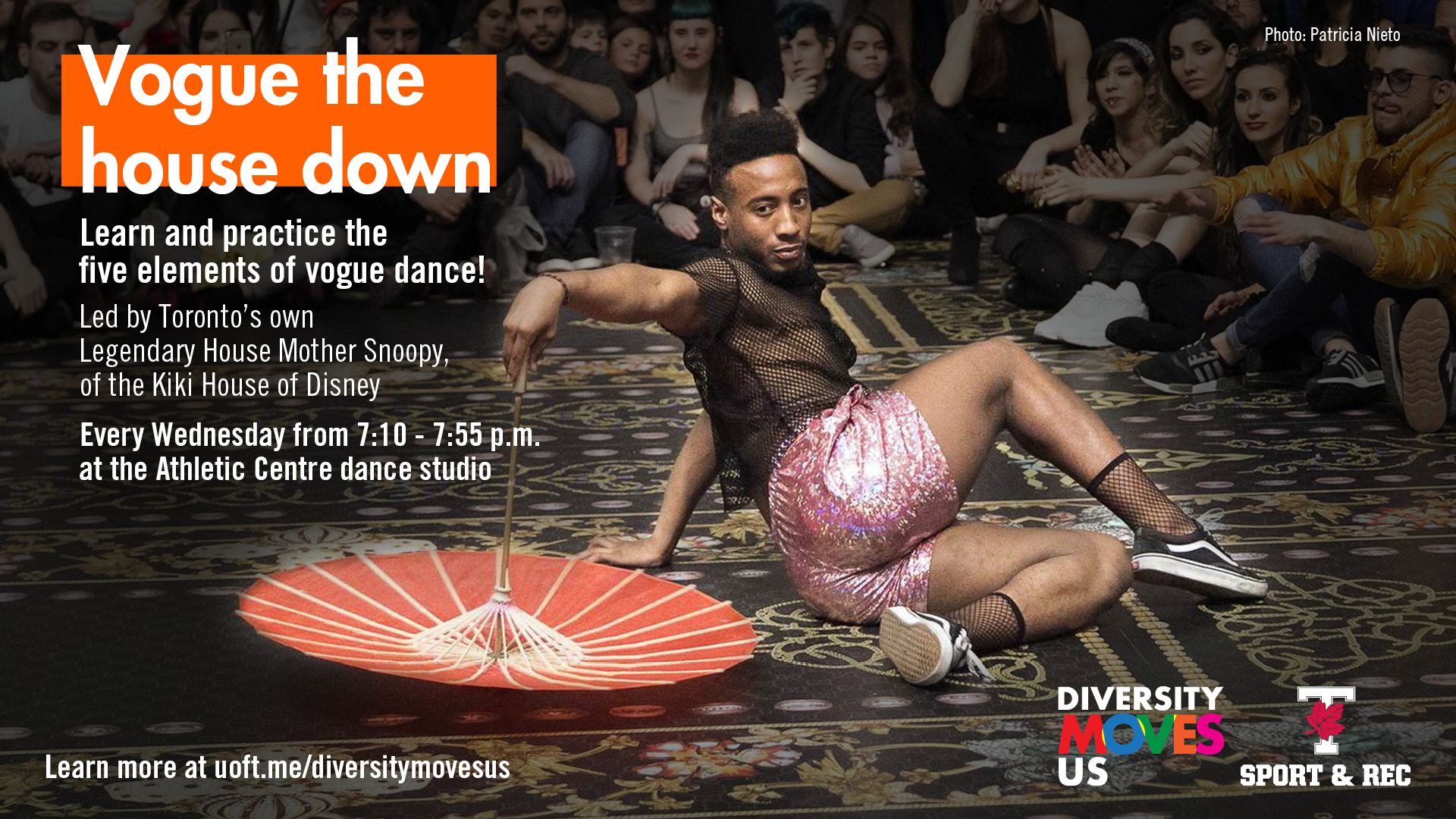 Tell your story through the legendary movement of vogueing. In this all levels dance class you will learn and practice the 5 elements of vogue dance each week - cat walk, duck walk, hand performance, floor performance, and spins and dips! Fell the beat, werq the runway, and drop with ferocity - 10s! 10s! 10s! Across the board! 
This class is led by Toronto's own Legendary House Mother Snoopy of the Kiki House of Disney!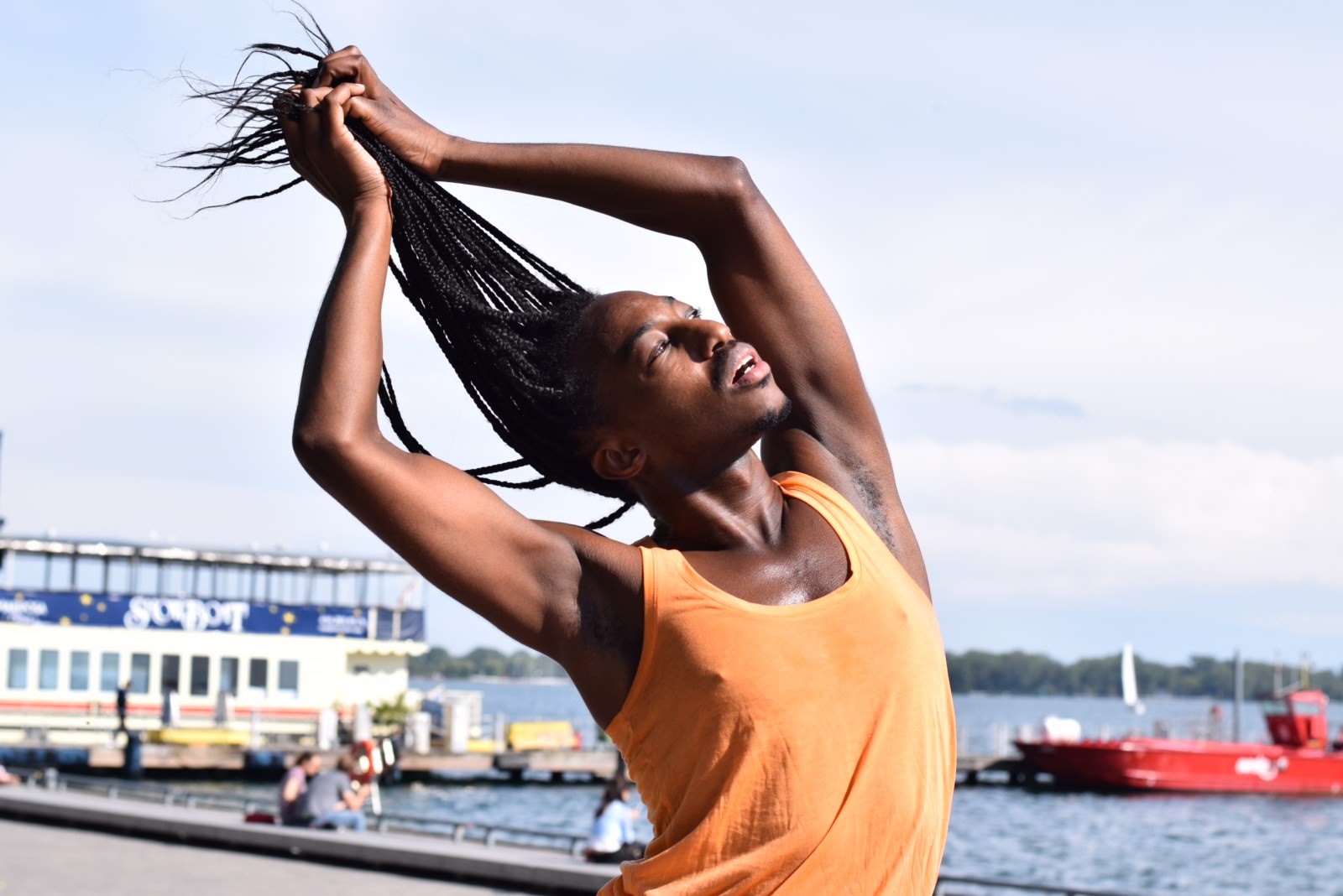 Matthew "Snoopy" Cuff has been voguing for over 7 years, and was part of Canada's first official Ballroom house - House of Monroe. Snoopy helped introduce Vogue internationally by being featured on So You Think You Can Dance Canada, and CBC Arts. Honing his skills in New York City, Snoopy also learned from, and battled some of the world's greatest Voguers! Snoopy graduated from School of Toronto Dance Theatre with a background in Hip Hop, demonstrating Voguing can be influenced and interpreted from any dance style or individual. With numerous grand prizes, Snoopy continues to participate in Toronto's thriving Ballroom scene. Through the art of Vogue, Snoopy hopes to inspire creativity while sharing his passion for dance.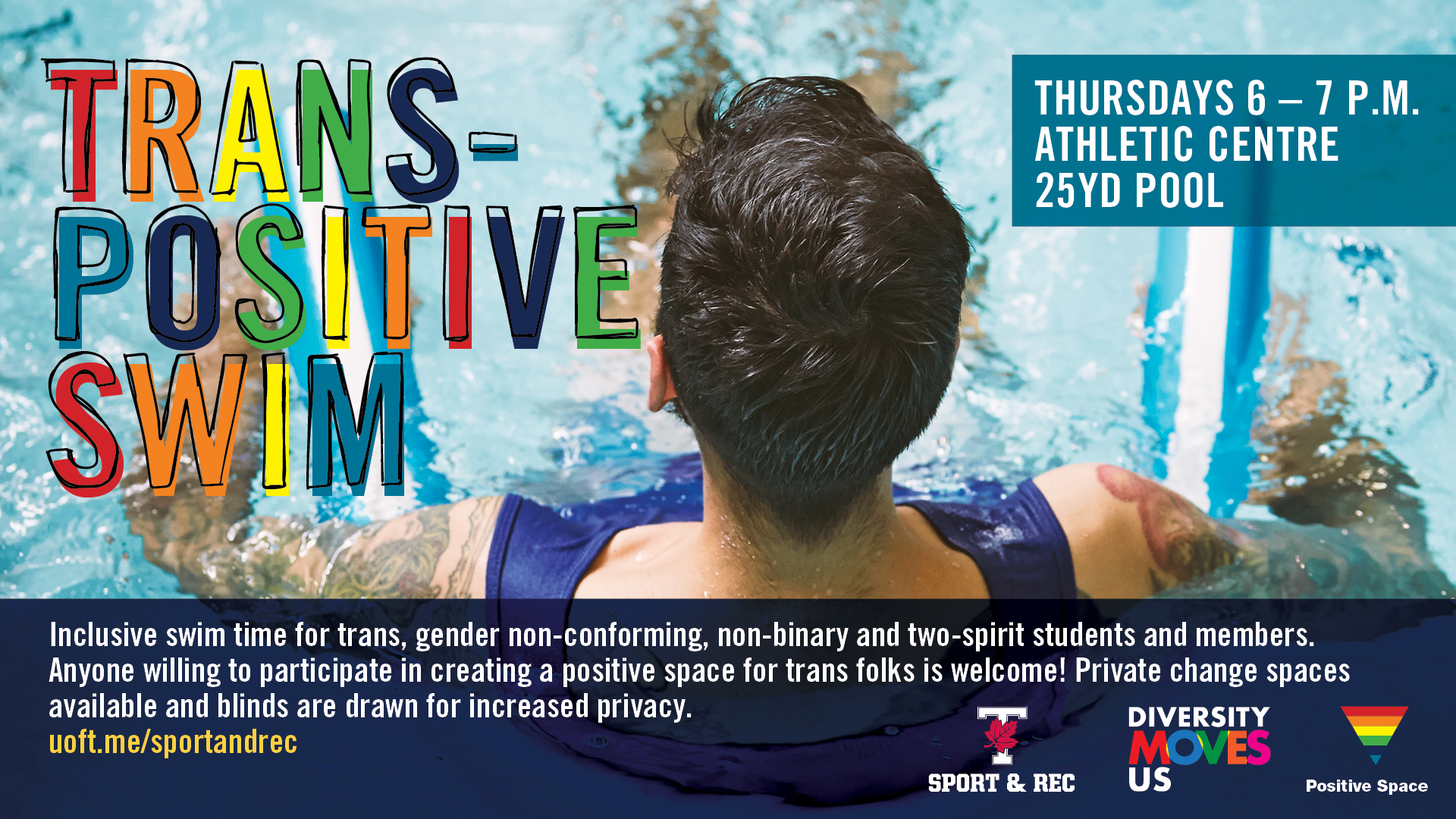 An inclusive swim time for trans, gender non-conforming, non-binary and two-spirit students and members. Anyone willing to participate in creating a positive space for trans folx is welcome.
---
Workshops - 2019/2020
These workshops are designed specifically to engage members of the LGBTQ2S+ U of T Community in physical activity. In the past, workshops in the Move with Pride series are organized by U of T Sport & Rec's Diversity & Equity Team in partnership with the Sexual and Gender Diversity Office, Hart House, and student groups on campus such as LGBTOUT.
Upcoming workshops include: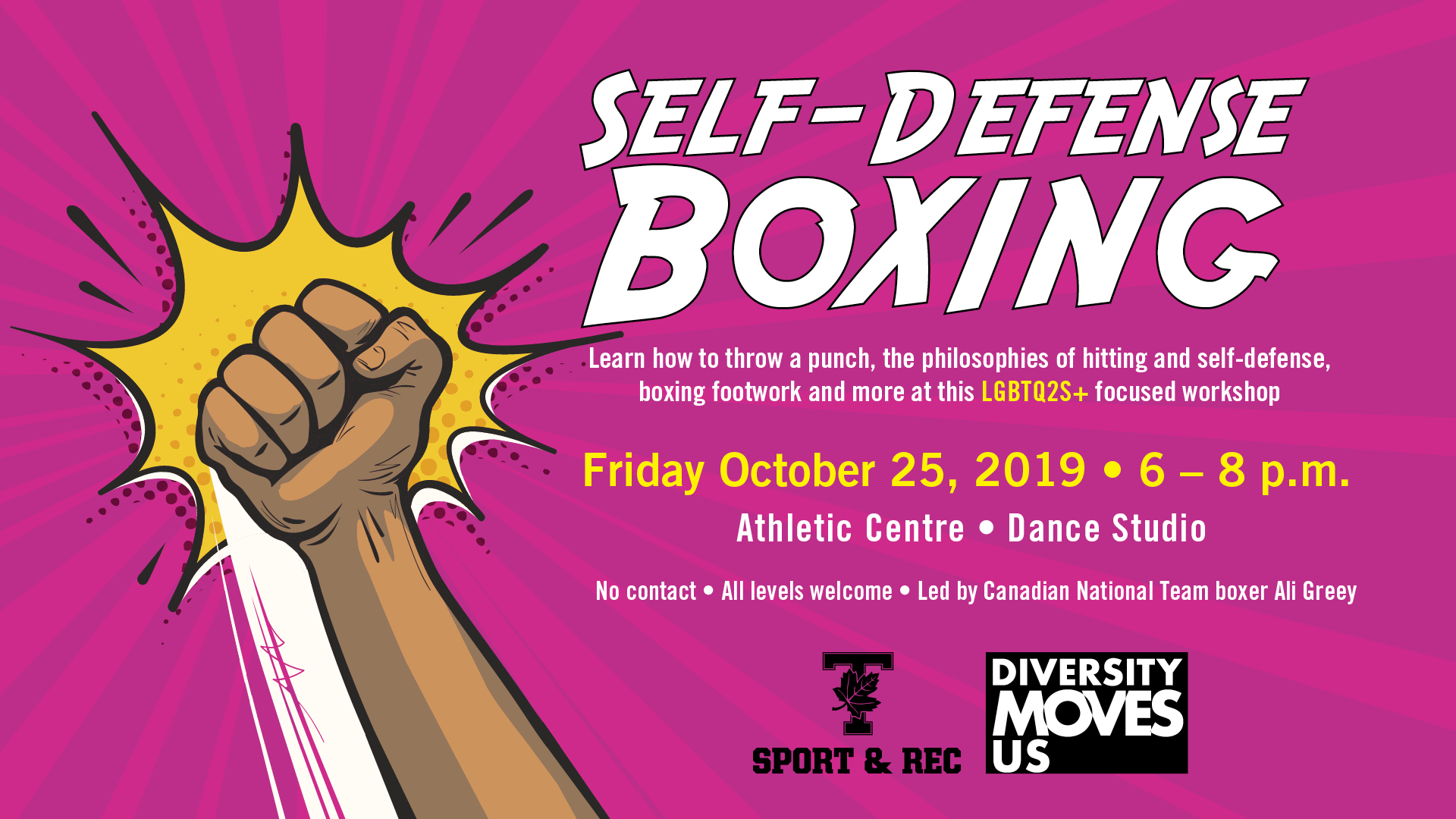 Join the Diversity & Equity team for our second Move with Pride event of the year!
This is an LGBTQ2S+ focused, no contact, all levels boxing workshop.
Learn the philosophies of hitting and self-defense, how to throw a punch, and some fun boxing footwork and strategy from Canadian National Team boxer Ali Greey! All you need to bring is: running shoes, comfortable loose or stretchy clothing, and a good sense of humor.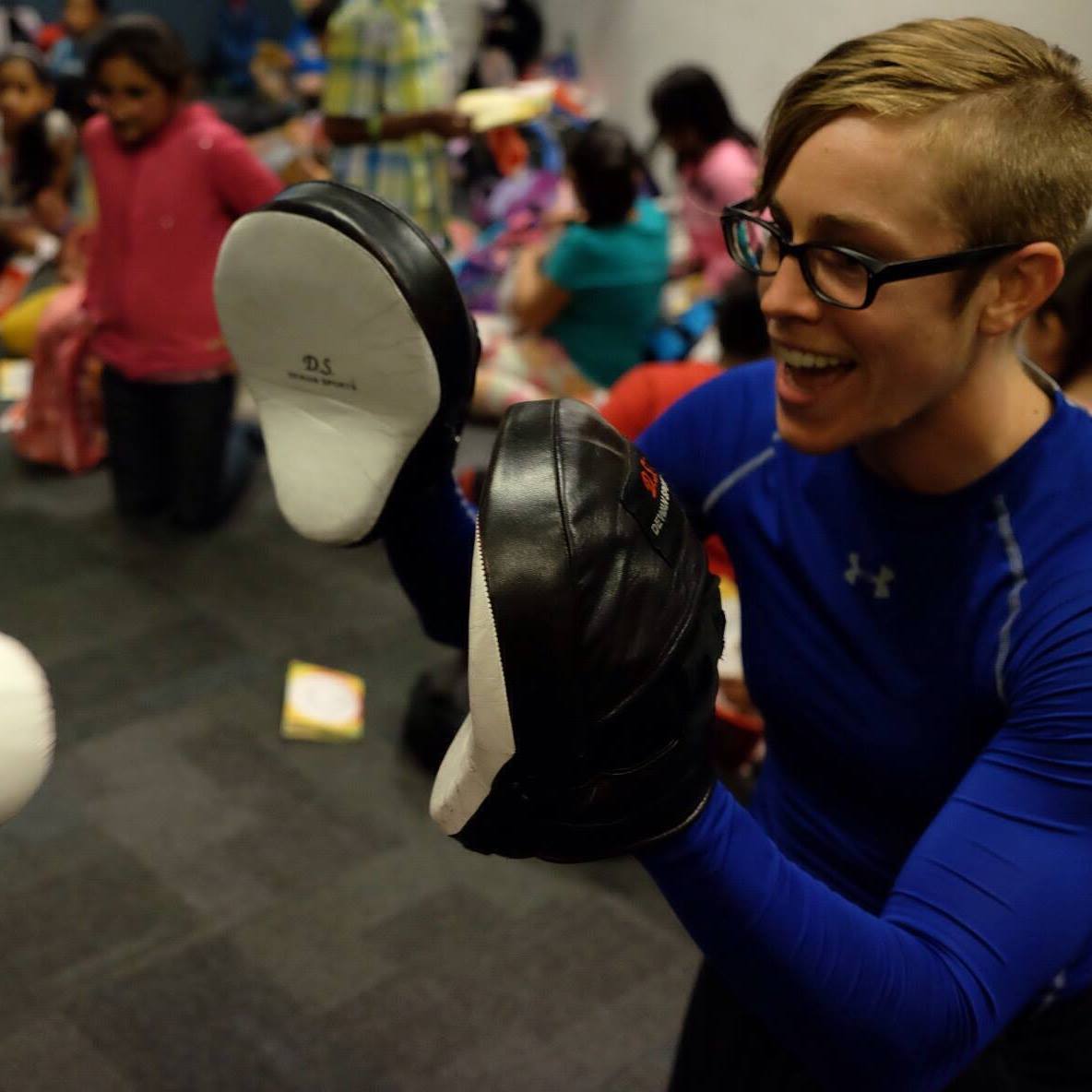 In their boxing heyday, Ali competed for Canadian National Team  in two simultaneous weight classes. Today, Ali is a volunteer coach at North America's only women-and-trans-centered boxing gym. Releasing aggression through boxing has been a method of healing and  empowerment for Ali, and they love passing this skillset on to help other folx learn about how fun, safe, and affirming the sport of boxing can be. 
You must have a valid T-Card to enter. 
If you have any questions or require accommodation(s) due to disability, please contact diversityandequity.kpe@utoronto.ca to make arrangements 
More upcoming Move with Pride workshops: 
Body Positive Yoga & Meditation - January 24, 2020 - 6:00 - 7:30pm @ Hart House 
Queers on Ice - March 26, 2020 - 4:30 -6:30pm @ Varsity Arena 
---
Events - 2019/2020
Have an impact on sport & physical activity on campus!
The 2nd annual Diversity in Motion Conference is open to all U of T students. 
This year our conference is structured as a Worlds Café, where students will discuss and unpack topics such as Indigeneity, access, racism, body positivity, disability and queerness within sport and physical activity. At each table, students will engage with a number of leaders doing meaningful equity work in these areas. 
After the World's Café, students will attend a panel discussion on Mental Health in Communities of Colour, followed by a Q&A session.
The $5.00 registration fee includes coffee and snacks throughout & a delicious vegetarian dinner after the panel.
TO REGISTER, PLEASE CLICK HERE
The Diversity in Motion Conference is organized in partnership with The 519 Church Street Community Centre, and the Toronto SAD Collective.
 
WORLD CAFÉ TABLE LEADS: 
EJ Kwandibens – Indigenous Cultural Educator & Artist  
Ali Greey – Former Canadian National Team Champion Boxer 
Bobbi-Jo Cronk - U of T Varsity Rugby Team Women's Coach 
Michelle Campbell – Former KPEUA Equity Commissioner 
More to be announced soon! 
MENTAL HEALTH IN COMMUNITIES OF COLOUR PANEL:
Meghan Yuri Young will be returning to this year's conference to moderate our panel discussion. Meghan is a correspondent at Breakfast Television Toronto and founder of The SAD Collective, an organization that provides a safe space and community for healthy conversations regarding mental health.
Panel Members are: 
Natasha Pennycooke - a psychotherapist who works with Allied Psychological Services, Millan & Associates, and Keep6ix. Natasha is also the vice-chair of the Toronto chapter of the Association of Black Psychologist (ABPsi). 
Mariyam Lightwala - a research assistant and co-investigator on The Roshni Project, an organization working in partnership with CAMH to create mental supports and resources for young South Asian women in the GTA.
Lucia Gallegos - a fluent English and Spanish registered psychotherapist and counselor who works with Mindful Maelstrom, a wellness clinic in Toronto. 
Emillie Nguyan - a mental health support worker at Hong Fook Mental Health Association:  a community organization in Toronto working with Asian communities to keep people mentally healthy and manage mental illness from recovery to wellness.  
Check out highlights from the 2018 conference in the video below! 
This event celebrates Blackness and the LGBTQ+ Black urban ballroom community! In partnership with the Toronto Kiki Ballroom Alliance, this event features a beginner vogue dance workshop, followed by the sports themed kiki ball - Welcome to the Playoffs! - This event is an electrifying extravaganza of pageantry, glamour and vogue dance where students and kiki houses compete for cash prizes on the runway! The dance workshop will be led by Toronto's own Legendary House Mother Snoopy of the House of Disney!  
Check out highlights from our last Vogue Dance Class & Kiki Ball (held on February 15, 2019) in the video below! 
---
Equity Ideas Fund

Funding student-led diversity & equity initiatives since 2012
The Diversity & Equity team also oversees the Equity Ideas Fund. Student groups can apply for up to $500 in funding for diversity and equity initiatives. Members of the Diversity & Equity team have the opportunity to prepare and review proposals, which are then considered within the scope and parameters of the Faculty's equity fund approval process. 
The Equity Ideas Fund for the 2019/2020 school year is now OPEN!
---
---
Application Evaluation Process
The rubric used to evaluate and award project funding is available for reference, along with the follow up report all awarded groups must hand in to receive reimbursement for the agreed upon funding total. 
For questions, or more information about the fund, please e-mail equityideasfund.kpe@utoronto.ca
 (PDF)
Please note, all applications must be submitted 30-90 days before the event/initiative. 
Stay Connected!
Stay connected with the Diversity & Equity team on social media!