Sport & Recreation's Diversity & Equity team is a group of undergraduate and graduate students from across campus who plan, motivate and implement positive student-led initiatives that promote diversity, equity, inclusivity and physical/mental health. The team develops and implements events and projects related to sport and physical activity through student-staff partnerships.
---
Fall Events - 2020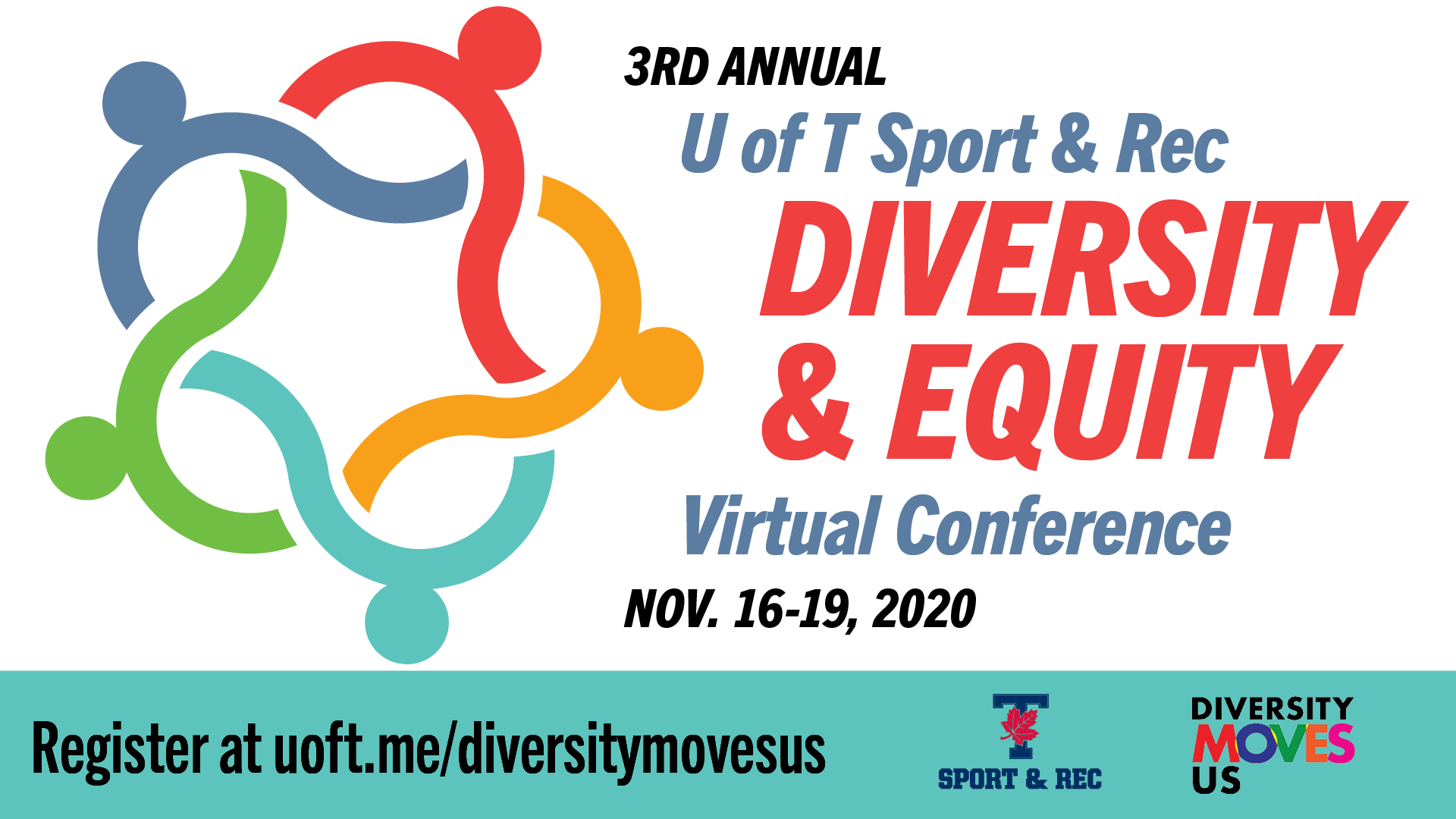 Please join us for four equity, sport, recreation and health focused education sessions for U of T students and community as part of our third annual conference.
These sessions are offered in partnership with a number of student groups and divisions on campus including The BIPOC Varsity Association, Hart House, KPEGS, Dalla Lana School of Public Health, The Faculty of Medicine, and SJE Solidarity with Wet'suwet'en. 
Please click below for more information and registration: 
1. A Table Talk on Race & Sport, with Tamara Tatham
2. The Insatiable Cult of Anti-Fat Bias, with Afro-futurist Stephanie Chrismon
3. Colonization, Sport & Recreation: Learnings from the Seige of Kanehsatà:ke
4. No Body/Mind Left Behind, with disability justice activist Alex Locust
If you have any questions, or require accommodation(s) in order to participate, please e-mail diversityandequity.kpe@utoronto.ca to inquire about making appropriate arrangements.
See highlights of the 2018 & 2019 conference in the videos section below, and check back here for more updates on this year's conference. 
---
Weekly Programs - Fall 2020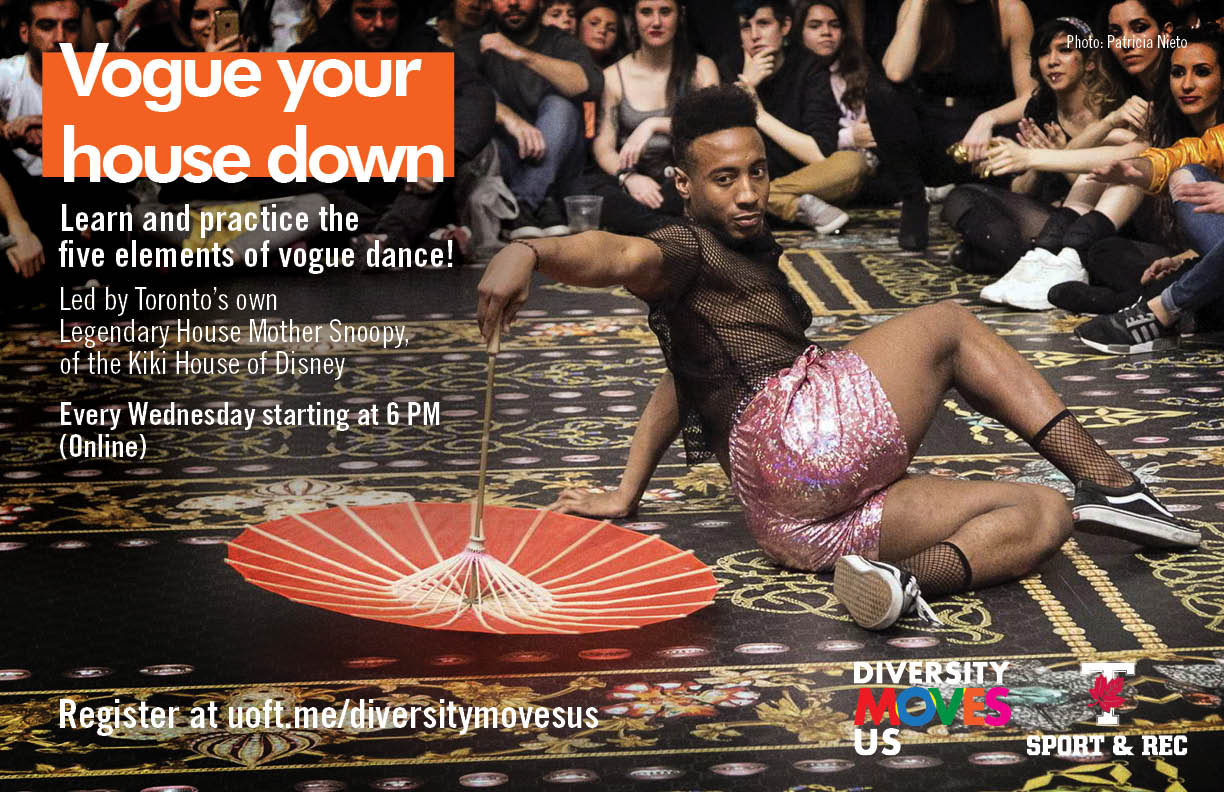 Tell your story through the legendary movement of vogueing. In this all levels dance class you will learn and practice the 5 elements of vogue dance each week - cat walk, duck walk, hand performance, floor performance, and spins and dips! Feel the beat, werq the runway, and drop with ferocity - 10s! 10s! 10s! Across the board! 
Classes are free for U of T students! Registration is required to attend. Register once for the U of T Virtual Fitness Studio and Zoom codes and passwords will be emailed to you every week to attend the included classes.
This class is led by Toronto's own Legendary Snoopy Xlusive Lanvin. 
temporarily canceled DUE TO COVID-19 SAFETY MEASURES - check back soon for times and re-opening information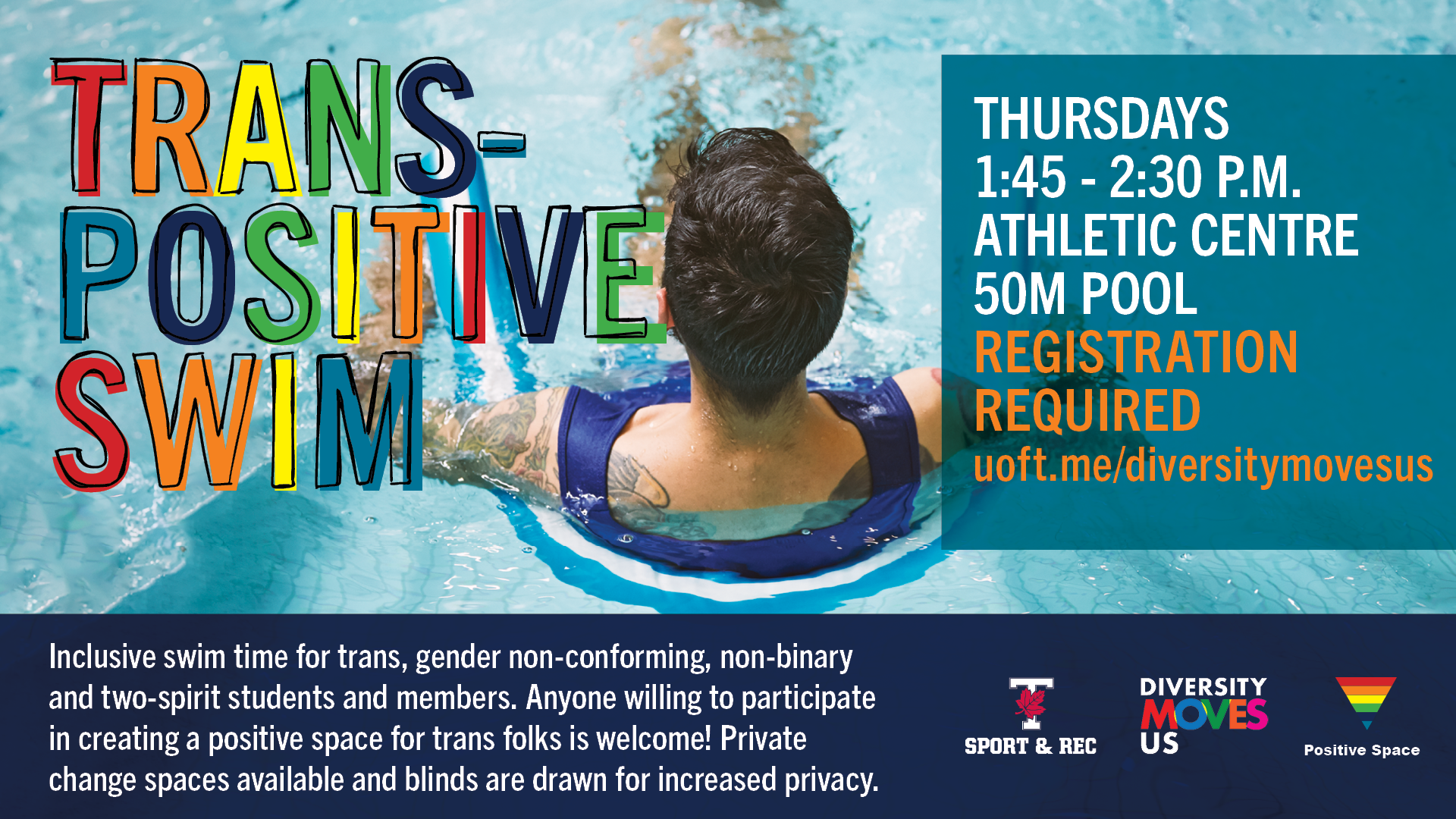 An inclusive swim time for trans, gender non-conforming, non-binary and two-spirit students and members. Anyone willing to participate in creating a positive space for trans folx is welcome.
---
Workshops - Fall 2020
These workshops are designed specifically to engage members of the LGBTQ2S+ U of T Community in physical activity. In the past, workshops in the Move with Pride series are organized by U of T Sport & Rec's Diversity & Equity Team in partnership with the Sexual and Gender Diversity Office, Hart House, and student groups on campus such as LGBTOUT.
These workshops are designed specifically to educate on, and engage students in cultural dance from racialized and Indigenous communities from around the world. Some cultural dance practices we hope to explore in 2020/2021 are pow-wow, hip-hop, capoeira, and South Asian styles. This workshop series is organized by U of T Sport & Rec's Diversity & Equity Team in partnership with the KPE's Indigeneity, Diaspora, Equity, and Anti-Racism in Sport (IDEAS) Lab.
MORE VIRTUAL WORKSHOPS WILL BE ANNOUNCED SOON!
---
Equity Ideas Fund

Funding student-led diversity & equity initiatives since 2012
The Diversity & Equity team also oversees the Equity Ideas Fund. Student groups can apply for up to $500 in funding for diversity and equity initiatives, which are then considered within the scope and parameters of the Faculty's Equity Ideas Fund approval process. 
---
---
Application Evaluation Process
The rubric used to evaluate and award project funding is available for reference, along with the follow up report all awarded groups must hand in to receive reimbursement for the agreed upon funding total. 
For questions, or more information about the fund, please e-mail equityideasfund.kpe@utoronto.ca
 (PDF)
Please note, all applications must be submitted 30-90 days before the event/initiative. 
---
Contact Us
Stay Connected with our team
---
Past Events - Videos & Highlights
Check out video highlights from our past yearly events such as the 2018 and 2019 Diversity & Equity Conferences, and the 2019 and 2020 Black Excellence Kiki Balls at our NEW YouTube Page.