---
---
About Sport & Recreation's Diversity & Equity team
We are a group of undergraduate and graduate students from across campus who plan, motivate and implement positive student-led initiatives that promote diversity, equity, inclusivity and physical/mental health. The team develops and implements events and projects related to sport and physical activity through student-staff partnerships. 
---
Upcoming Events & News
Mark your Calendars and Join Us! News & Announcements
Check back soon for upcoming events and news!
---
About our Events, Workshops & Programs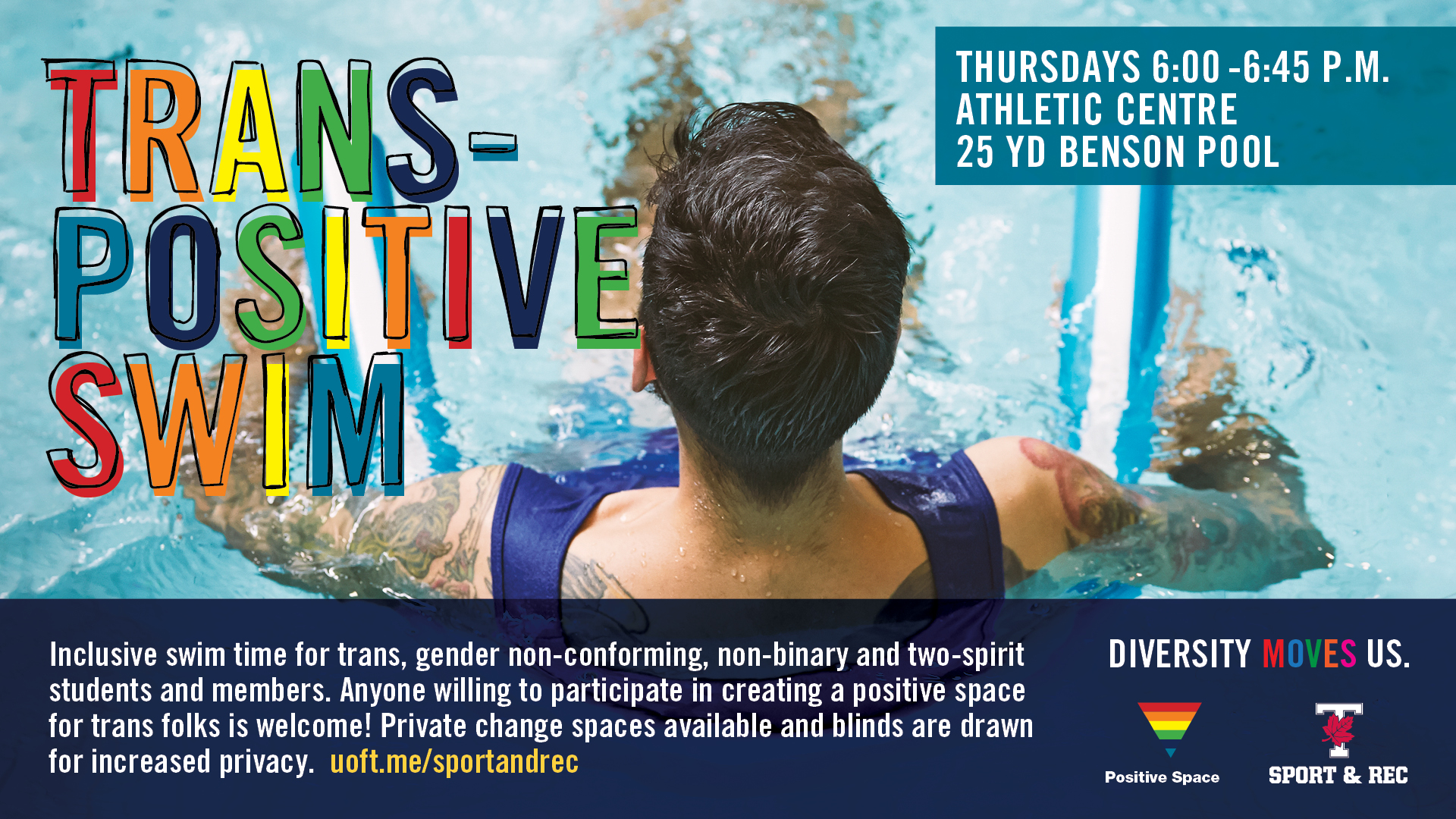 Thursdays from 6:00p.m. - 6:45 p.m.
Location: Benson 25yd Pool
An inclusive swim time for trans, gender non-conforming, non-binary and two-spirit students and members. Anyone willing to participate in creating a positive space for trans folx is welcome.
Classes are free for U of T students & Sport & Rec members!
Check our our Past Event Videos & Highlights!
See video highlights from our past yearly events such as the 2018 and 2019 Diversity & Equity Conferences, and the 2019 and 2020 Black Excellence Kiki Balls at our NEW YouTube Page. 
---
Funding Student-Led Diversity & Equity Initiatives Since 2021

The Diversity & Equity team also oversees the Equity Ideas Fund. Student groups can apply for up to $500 in funding for diversity and equity initiatives, which are then considered within the scope and parameters of the Faculty's Equity Ideas Fund approval process. 
Apply here for the 2022/23 school year!  Any questions can be directed to equityideasfund.kpe@utoronto.ca
The rubric used to evaluate and award project funding is available for reference, along with the follow up report all awarded groups must hand in to receive reimbursement for the agreed upon funding total. 
For questions, or more information about the fund, please e-mail equityideasfund.kpe@utoronto.ca
 (PDF)
Please note, all applications must be submitted 30-90 days before the event/initiative. 
---
Contact Us
Stay Connected with our team - Find us  Instagram