18/12/2017
Jelena Damjanovic
The year 2017 brought many proud moments and important accomplishments to the Faculty of Kinesiology and Physical Education. Here we reflect on some of our favourite memories from the past year.
STUDENT ATHLETES
Kylie Masse, the star of U of T's Varsity Blues women's swimming team, set a new world record and took the gold in the 100-metre backstroke at the swimming world championships in Budapest. She finished with a time of 58.10 seconds and became the first-ever female Canadian swimmer to win a world title.
Track and field standout Gabriela Stafford earned U SPORTS first team all-Canadian honours, winning both the 1500m and 3000m races. The 2016 Olympian also claimed the OUA 1500m individual gold medal and participated at the IAAF World Championship.
Decathlon specialist and reigning Varsity Blues T-Holders' male athlete of the year Rostam Turner earned bronze at the 2017 Francophone Games in Ivory Coast, 12 Blues represented Canada at the 2017 FISU Summer Universiade in Taipei and, in a first for the Blues, the swimmers battled Longborough University in a virtual swim meet.
But, it wasn't all racing and climbing podiums for the Blues. They also found time to raise funds for cancer, open doors for the community, help the environment, raise awareness about mental health and fight bullying. They hosted Canada's largest soccer coaching conference and saw record attendance for the National Strength and Conditioning Association regional conference. Talk about a busy year!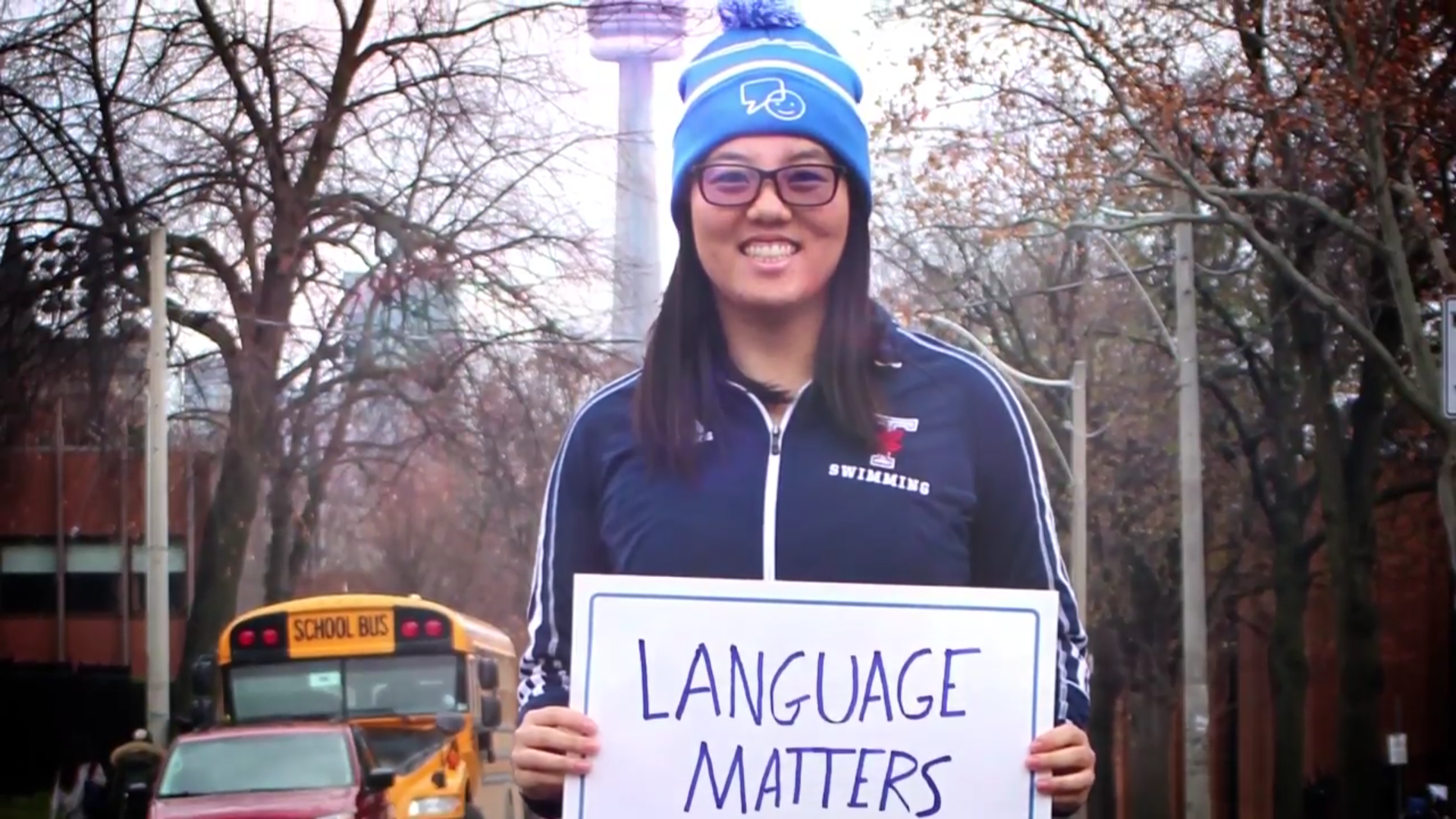 A still shot of Varsity Blues swimmer Nathalin Moy from the Bell Let's Talk video series
FACULTY MEMBERS
A report by QS World University Rankings placed U of T's programs in kinesiology, physical education and sport and exercise sciences among the top in the world. This was the first time the QS World University Rankings identified a subject category consisting of programs that are integral to our Faculty, demonstrating the growing global relevance of kinesiology, and sport and exercise sciences.  
In keeping with the rankings, KPE researchers helped to expand physical activity programs for low-income families, explained how 'microchanges' can make a major difference, shared their expertise with the public about the benefits of exercise after a cancer diagnosis, discovered post-exercise protein helps young athletes, demonstrated the importance for dietary protein requirements to be population-specific and set new research agendas. They shared tips on improving the car ride home with young athletes, showed how kids overestimate their physical abilities, opined on athleisure wear and warned even toddlers need to be more active.
Our researchers got funding, won awards (U of T Early Career Teaching Award, the Alex Leighton Award and the CSEP Honour Award) and weighed in on breaking news from homophobia in sports and NHL protests to Roy Halladay's legacy and Russia's ban from the 2018 Winter Games in South Korea. And, how about this fantastic video presented by the Centre for Sport Policy Studies, featuring some of the activities on GTActivity, a citizen science project archiving and celebrating the diversity of physical culture in the GTA?
Cleveland Browns players kneel during the national anthem before the NFL game between the Browns and Indianapolis Colts on Sunday (photo by Zach Bolinger/Icon Sportswire via Getty Images)
STUDENTS
The Faculty's undergraduate and graduate students were also hard at work. The KPE undergraduate conference grew in size, scope and impact, and the MPK students capped off another successful term, working with sixteen Toronto children aged six to 12 who have a broad range of developmental abilities through the Faculty's S.M.I.L.E program. The annual Reception for Scholars served to honour the academic achievements of undergraduate and graduate students and give public thanks to the donors for their profound impact on the students' lives and the Faculty as a whole. 
Recent PhD grad Eva Pila started to change the conversation about obesity and women's mental and physical health and Daniel West, a post-doctoral fellow working with Assistant Professor Daniel Moore in the Iovate/Muscletech Metabolism & Sports Science Lab, is looking forward to doing more on preventing and repairing ligament injuries by - recycling them. 
The Faculty was also pleased to welcome Razan Sarsour, a BKin student and winner of the Lester B. Pearson scholarship, the most prestigious and competitive scholarship for international students.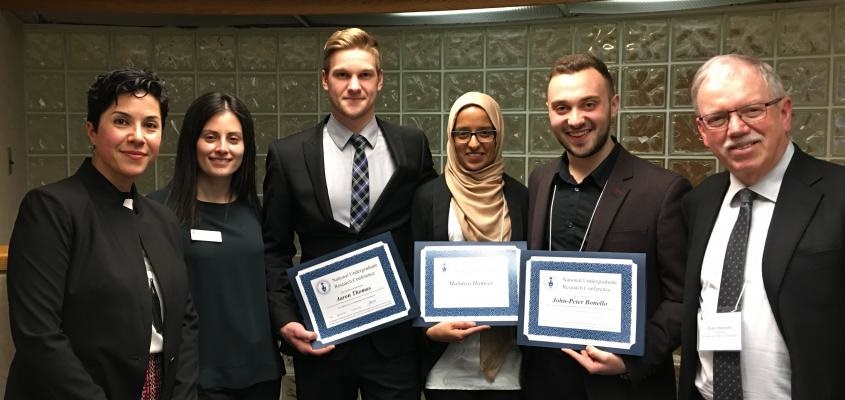 Keynote Speaker Parissa Safai, Kerstin Giannini, Aaron Thomas, Mahdiya M. Hameer, John-Peter Bonello and Professor Peter Donnelly at the KPE undergraduate conference (photo by Katie Babcock)
ALUMNI
When news broke that Canadian Maggie MacDonnell beat 20,000 applicants from around the world to win the 2017 Global Teacher Prize, it made the whole country proud. And it made our Faculty particularly proud: MacDonnell did her graduate studies at KPE, focusing her research on sport for development.
And, who can forget the tears and cheers at U of T's 30th annual Sports Hall of Fame, which saw eleven more individuals and three teams added to its already impressive group of inductees.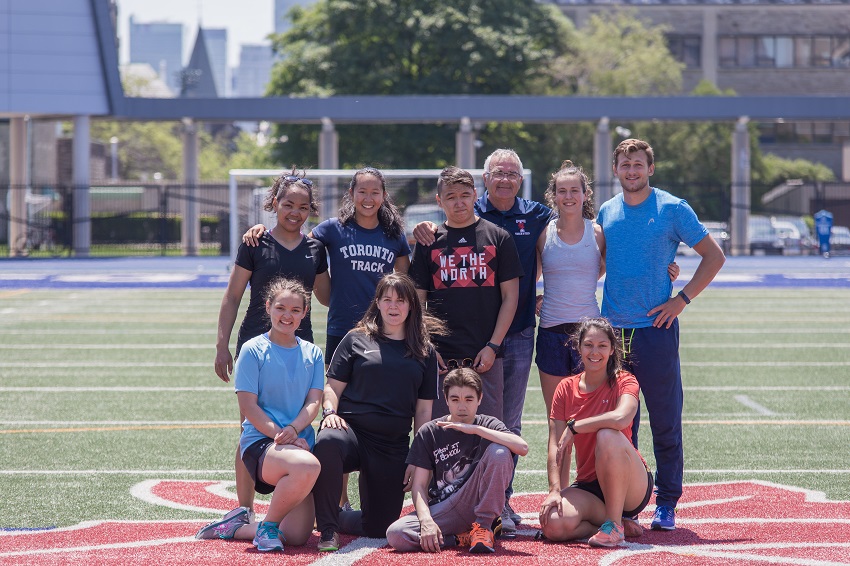 Best teacher in the world Maggie MacDonnell and her runners met with Varsity Blues Track and Field Head Coach Carl Georgevski and his athletes (photo by Arnold Lan)
STAFF
When U of T's Truth & Reconciliation Commission put forth a call to action, the Faculty answered by launching the Race and Indigeneity Task Force, which got over 90 applications for the working groups from students and staff to tenured faculty, inside and outside the institution. A true testament to the Faculty's quest for equity and the many programs born from it, from SOAR to She Talks.
Over 13,000 students took part in U of T's tri-campus intramural program, one of the biggest in Canada. The program ran four Fun Friday events for over 200 students, 30 weekend tournaments for over 800 students, 766 teams in intramural leagues and 2000 league games, all running smoothly thanks to 150 hired staff, the majority of whom were students and recent graduates. Impressive numbers!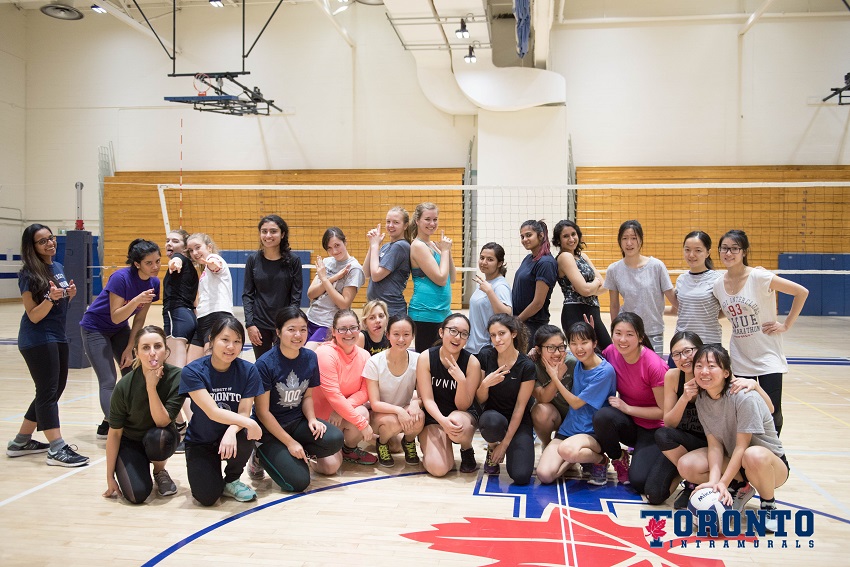 The intramural program added the Just for Fun league last year
The Faculty welcomed a new Registrar and Director of Student Services, a new Assistant Director of Physical Activity, Equity and Client Service, and an Assistant Director of Athletics.
The True Blue Award honouring faculty and staff who make invaluable contributions to the University of Toronto went to five KPE members this year: Luc Tremblay, Beth Ali, Sherry Ing, Sophie Harding and Joel Jackson. Congratulations!
No award? No problem! The Faculty's approximately 750 casual staff, and 200 appointed staff and faculty members were all celebrated in the second annual Recognizing U event.
Happy holidays, KPE! You've earned it.