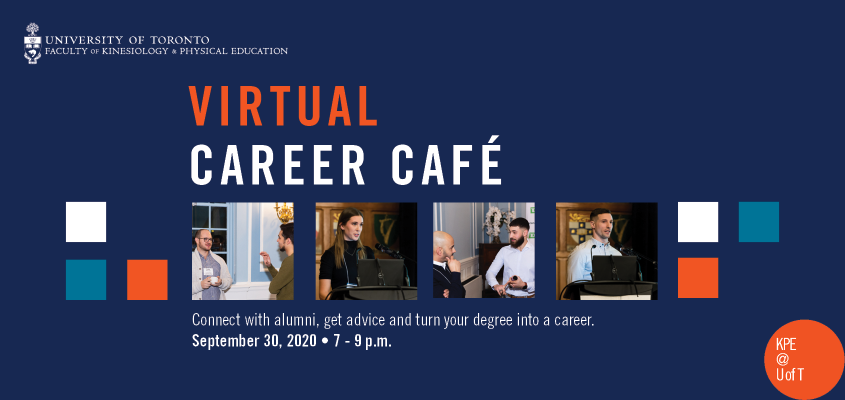 Open to All KPE Students
Open to KPE Graduate
Open to KPE Undergraduate
KINections presents: Career Café: Virtual Edition!
Join us Wednesday September 30 from 7 – 9 p.m. for an evening of career development and networking.

Meet Career Educator Mary McAuliffe to learn how you can plan your future career while still a student. You'll also have the opportunity to connect with prominent KPE alumni and ask your career questions.
We'll be joined by:
Dr. Karim Riskallah, BPHE, CSCS, ART®, FR® , FRA® D. Ac, DC, Chiropractor and Clinic Director at Infinity Health Centre

Katja Bergin, Physiotherapist / Pelvic Health Physiotherapist at Foundation Physiotherapy

Peter Mastorakos, Occupational Therapist at CAMH

Anthony De Giorgio, Physical and Health Education & Sports, Exercise and Health Science Teacher at Upper Canada College, MPK, CSCS and CrossFit L1 & Kids Trainer
How to participate
Register for Career Café online
This event will take place on Zoom. Please register with the email address associated with your Zoom account to facilitate breakout rooms.

Space is limited for this event so don't wait to secure your spot on what will prove to be a fascinating and helpful evening!

For any questions about this event or for accessibility needs, please contact kinections@utoronto.ca.