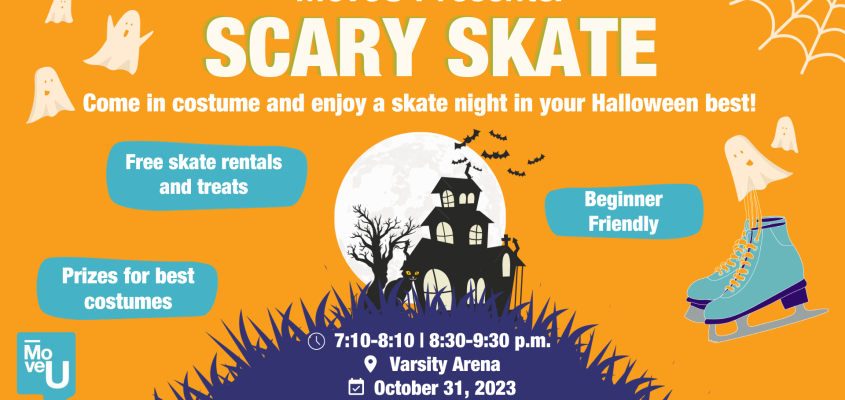 Get into costume with MoveU's Scary Skate!
We offer FREE skate rentals, hot chocolate, and a chance to win fun prizes! New to skating? We've got an instructor on site, a piloned-off area for beginners, and limited adult-sized ice aids if you need something to hold onto. 
This special haloween skate will also host a costume contest! Winners will be chosen by our MoveU crew judges with two categories; individual and small group (max. 3 people group-size). Category winners will be judged by overall awesomeness, so come dressed in your scary, funny, adorable or just plain awesome costumes! Winners will be announced each skate. 
Our next skate, Scary Skate, will have two skate times to register for (7:10-8:10 p.m. or 8:30-9:30 p.m.). Registrants who do not arrive by the 15-minute mark (i.e. by 7:25 p.m. or 8:45 p.m.) may forfeit their spot for drop-in participants. Registration opens October 24 at 10:00 a.m.
Please note, skate rentals operate on a first-come, first-serve basis. Students may only register for one skate time.