BleedBlue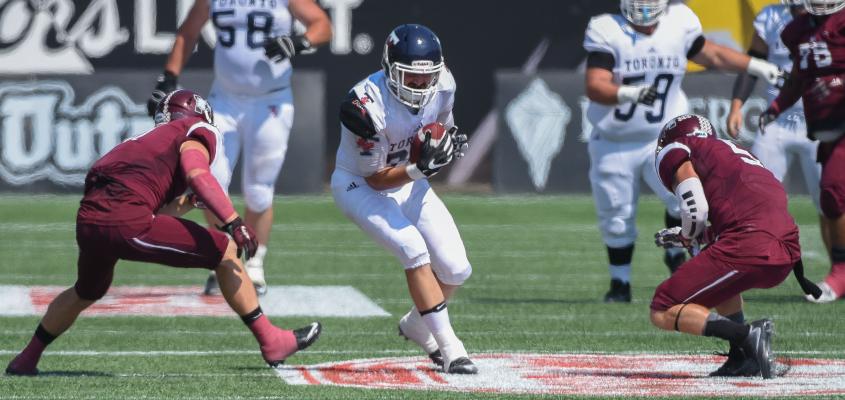 Open to the public
Open to U of T community
Open to U of T students
The University of Toronto Varsity Blues football team takes on the No. 6 McMaster Marauders under the lights on Thursday, October 5 at Varsity Stadium.
 
Kickoff is scheduled for 7 p.m.
Advanced tickets are on sale here. 
The game will also be streamed live on OUA.tv.
 
Activities surrounding the game will be aplenty, creating a perfect atmosphere for a Thursday night football showdown.
 
SGRT/UTSU homecoming pre-game festivities will take place from 4-7 p.m. at the University College Quad. The first 200 students at the pre-game rally will receive a special VIP pass for a chance to win great prizes at the game, including a $400 Merit Travel Voucher at halftime!
 
The University of Toronto Book Store will be holding an exclusive sale, offering Varsity Blues fan gear for all in attendance to rock the Blue and White.
 
As well, the Varsity Blues will be honouring Dr. John Cameron in a special halftime presentation. Dr. Cameron began his service with the Faculty and University in the 1970's working at the Hart House Surgery, the predecessor of the now known David L. MacIntosh Sport Medicine Clinic, eventually assuming the role of sole orthpaedic surgeon in the clinic. Dr. Cameron dedicated 32 years to the Faculty, as well as the Varsity Blues intercollegiate athletics program, additionally serving as team physician to the football team and attending nearly every game from 1978 to 2010. His legacy remains one of dedication and inspiration at the University of Toronto.