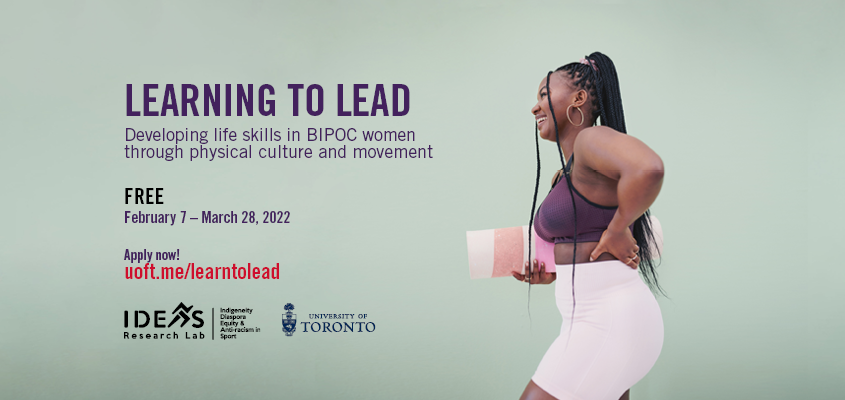 Open to All KPE Students
Open to U of T students
Explore your exercise creativity, initiative, and teamwork through movement and discussion with Learning to Lead!
Learning To Lead is a movement experience program centered around the health and wellness of students who identify as BIPOC (Black, Indigenous, People of Colour) women at U of T, presented by KPE's Indigeneity, Diaspora, Equity and Anti-racism in Sport (IDEAS) Research Lab.
Integrating physical activity and reflective dialogue, Learning to Lead is a FREE 7-week program that will teach life skills including leadership, self-care and communication, through philosophies of movement.
The Learning to Lead program will run at the Goldring Fitness Studio every Monday from 4 - 5 p.m. ET, from February 7 - March 28, 2022. It consists of weekly 60-minute group sessions:
30 minutes of beginner-friendly movement, with opportunities to strengthen, dance, move
30 minutes of instructor-led discussion, with opportunities to explore confidence, impostor phenomenon, sensuality and more
If you are an undergraduate or graduate student at the University of Toronto who identifies as a racialized woman, you're invited to join Learning to Lead!
Space is limited, so early registration is encouraged.
---
Looking for more information on Learning to Lead? Visit the Learning to Lead website or e-mail program coordinator Jasmine Lew.