05/12/2018
Jelena Damjanovic
The Faculty of Kinesiology and Physical Education will launch a series of initiatives to enhance the graduate student experience, including an immediate increase in PhD minimum base funding and an expansion of graduate student support programs, such as professional skills development and peer-mentorship.
"The quality of graduate education, both practice and research-based, is one of our strengths that we continue to be committed to advancing. The increase in PhD funding is a first step in a list of initiatives that are underway to further advance graduate education in the Faculty," said Associate Professor Ashley Stirling, vice-dean of academic affairs at KPE. 

PhD students in the funded cohort will receive over $1,000 more in their minimum base funding, going from $24,460 to $25,490 for the guaranteed minimum funding in 2018-19. The change will take place immediately and current PhD students will see this top up in their accounts by the end of the term.

"Students will really appreciate the additional financial support. It shows the Faculty recognizes and cares about the financial burden of its PhD students.  This increased financial support further demonstrates a commitment to students, who already benefit from great faculty supervisors, student life and opportunities in the city," said Jessica Caterini, president of the KPE graduate society (KPEGS).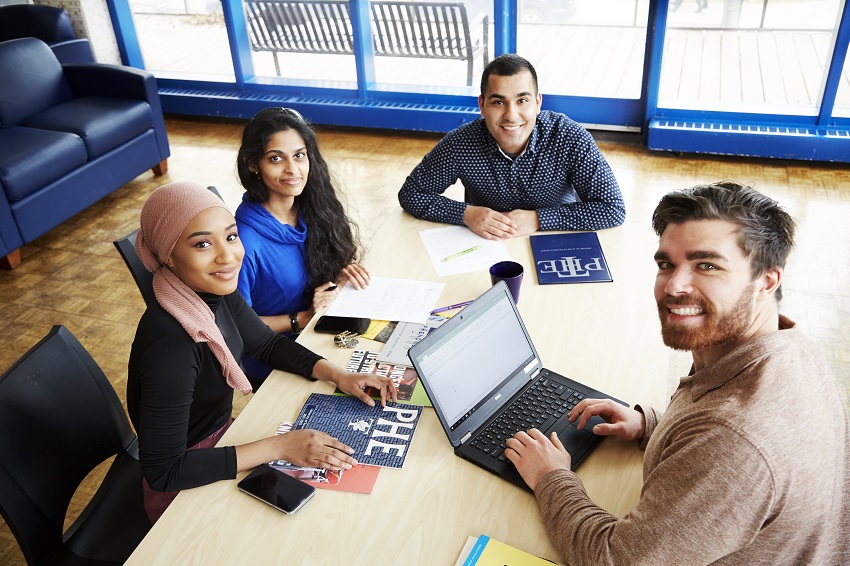 KPE graduate students enjoying a moment together (photo by Seed9)

In addition to the increased financial support going directly to students, KPE is investing more broadly in graduate student education and support through the expansion of student counselling across all graduate programs. 

"We continually seek additional ways to support the academic success of our graduate students," said Wendy Pais, director of student services at KPE. "In the near future, this will include the provision of peer mentorship and professional skills development through embedded learning strategists, career educators, accessibility advisors and health and wellness counsellors."

The planning of these initiatives is underway and has been constructively influenced by feedback received from graduate students and representatives of the KPEGS.

"While many of our PhD graduates find themselves employed and engaged in academic positions in North America and internationally, our graduates are also looking to apply their graduate education to careers in non-academic fields," said Stirling.

"Recognizing the diverse and successful career trajectories of our graduates, we are looking to accentuate graduate student professional skills development and the students' understanding of the invaluable knowledge, skills and experience they bring to any endeavor they pursue post-graduation."

The peer-mentorship program will be tapping into the leadership skills of current graduate students at KPE to help build a diverse, inclusive and welcoming community for incoming graduate students, introduce new graduate students to various resources at KPE and U of T and support them as they transition to graduate studies at the University of Toronto.

"We understand how important PhD student success is to our Faculty's research goals and objectives," said Associate Professor Luc Tremblay, associate dean of research at KPE. "These initiatives are priorities that align with the strategic objectives in our Faculty's academic plan to educate and graduate a diverse student body who will go on to become productive leaders and contributors in their fields, and to strengthen recognition and productivity in research, scholarship, innovation and creative activity." 

"The growing global relevance of kinesiology and sport and exercise sciences is reflected in the QS World University Rankings by Subject, which ranked U of T sport-related disciplines 6th in the world for the second time in a row this year," said Professor John Cairney, director of graduate studies at KPE. "We are proud to be able to recognize the education of graduate students across a breadth of disciplinary areas in the field of exercise sciences as a strength of our Faculty, and we look forward to seeing the significant improvements these investments will make in their graduate school experience."