20/11/2022
Jelena Damjanovic
FIFA's World Cup, the greatest show in soccer and one of the biggest sporting events on the planet, kicked off Sunday in Qatar.
Yet, before it even started, Qatar 2022 was engulfed by controversy, with human rights groups criticizing the country for its treatment of migrant workers – who built the infrastructure for the event – and laws prohibiting homosexuality.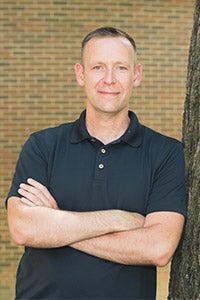 Simon Darnell
Earlier this month, FIFA's president Gianni Infantino wrote to all competing nations asking them to "focus on football," but that hasn't stopped some teams, players, fans and human rights groups from speaking up.
We recently spoke with Simon Darnell, associate professor at the University of Toronto's Faculty of Kinesiology & Physical Education (KPE) and director of the KPE Centre for Sport Policy Studies, about the tournament and the debates it has sparked in the sporting world and beyond.
---
Former FIFA president Sepp Blatter has said the Qatar World Cup was a mistake. What's your take?

Blatter seemed to be basing that claim on Qatar being too small a country to host an event of this size, while also suggesting that the original process of awarding the World Cup to Qatar was compromised, which it surely was. I'm not so sure that Qatar is a mistake so much as [it is highlighting the] tensions, and even hypocrisies, of hosting sports mega-events, which are starker in this case. There are routinely human rights abuses when sports mega-events are staged, including the displacement of poor people or the repression of political activists. But in this case, the human rights abuses are clearer and harder to ignore.  
 
Given all the controversary, how did FIFA decide to award Qatar with hosting rights for the World Cup this year? 

There were clearly some backroom dealings that led to the awarding of this event to Qatar in 2010. There seems to be little doubt that bribery and other corrupt political machinations took place. And those that were responsible for that decision and benefited from it – like former FIFA president Blatter and former UEFA [Union of European Football Associations] President Michel Platini – are no longer in charge now that the actual event is being staged. 

I also think it's important here to acknowledge Qatar's motivations. Hosting sports mega-events has long offered nation states a means of building an international reputation and securing some prestige on a global scale. In the case of Qatar, the stakes are even higher. The best analysis I have seen is that Qatar wanted the World Cup in order to increase its regional security, particularly as a small country with a small permanent population. If one looks at neighboring Yemen, which has been the site of a devastating and ongoing proxy war, it makes sense that Qatar looked to an association with the FIFA brand as a way to secure its geo-political standing. In other words, a country with the prestige of hosting a World Cup is a country that is less likely to be invaded. Such is the political significance of international sport and hosting sports mega-events.    
What are your thoughts about the ideas of allowing more closed, authoritarian societies to host international sporting competitions in an effort to nudge them towards a democratic future?

I think there is more going on here than simply encouraging democracy. That said, I do think it's possible that having the eyes of the world on a host nation can – at least in theory – encourage or stimulate democracy. The case of the 1988 Seoul Olympics is often put forward as an example. But recent examples are less encouraging. It's hard to conclude that China (Beijing 2008, 2022) or Russia (Sochi 2010, World Cup 2018) are somehow more open and democratic having hosted sports mega-events. If anything, the opposite has happened. 

Further, it doesn't really seem like the organizing bodies of these events are interested in pursuing democracy in any meaningful way. The International Olympic Committee has made it difficult for athletes to speak out on political issues, for example. And, last week, current FIFA president Gianni Infantino called out European critics of Qatar's human rights record for being hypocrites, which doesn't indicate a strong human rights commitment on the part of FIFA.

I should add that I think Infantino is correct that the human rights record of many European countries is dubious, both historically and in relation to contemporary issues like the treatment of refugees and migrants. But using that to claim that there's "nothing to see here" when it comes to the Qatar World Cup is unethical – and a bad look for FIFA.
 
Critics of Qatar have also focused on the environmental implications of the tournament. Can these mega sport events ever be environmentally (and economically) sustainable?

The environmental toll of hosting sports mega events is something we still don't really want to confront. We still seem to be asking questions about whether this model of international sport is sustainable, or whether we can absorb or justify the environmental costs of hosting sports events like this. I think the questions need to change. Better questions would be: can we think of sport in a circular economy and what would this look like? And is there a role for sport in environmental regeneration? The answers to these questions are probably no if the current form of hosting the World Cup continues. So maybe the time is now for a new model of international football. 

What role, if any, do teams and players have to draw attention to some of these issues?

There seems to be a growing desire on the part of the global soccer community to comment on the human rights issues associated with this World Cup, and to demonstrate some displeasure with it. I think this is significant. We haven't seen national teams put forth unified political statements like this very often in recent years. But let's keep it in perspective. The event is going ahead regardless of how many workers died and there is still an overall narrative that the athletes should be allowed to play regardless of the political issues and injustices going on around them. And if I was an athlete, I might feel the same way. But as a scholar and analyst, I do think we need to acknowledge that our love of sport still seems to make it possible for us to pay a big price – in human and environmental terms – in order to make sure that the games go ahead. 
With Canada qualifying for the 2022 World Cup only for the second time in the nation's history, Canadians will have an opportunity to cheer for Canada in addition to other nations. How might that impact the country?
We should remember that fan consumption of the World Cup is a big deal in Canada regardless of which teams qualify. So, it's not like the Canadian team qualifying for the World Cup will somehow kick off interest in the sport in this country. Same on the participation side, where soccer is one of the strongest sports for youth participation. But that said, I do think it will be very interesting to have a team that might actually unify Canadian soccer fans – at least to a degree. And the racial and ethnic diversity of this team offers a chance, I would say, to celebrate the diversity that is contemporary Canada in a way that we aren't usually offered by, for example, a Canadian hockey team.    
---
Interested in continuing the conversation? Join Associate Professors Simon Darnell and Caroline Fusco for an interactive online discussion on sport as a means for political and environmental change. Moderated by Professor Emeritus Bruce Kidd, the free panel discussion is scheduled for November 24 at 6:00 p.m.