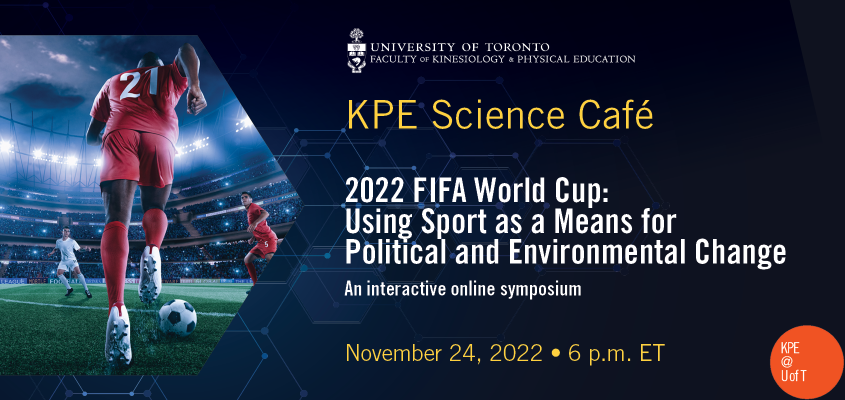 Open to All KPE Students
Open to Alumni
Open to U of T community
Open to U of T students
Sport has long been used as a platform for activism and as a means for global change. With FIFA—one of the most prominent international sports organizations—taking a stance by banning Russia from this year's competition, political themes are clearly emerging.
Are we seeing a shift in sporting organizations willing to take a stand for justice? What is being done to minimize the harmful environmental effects of significant sporting events, and what measures can be taken? Can sport be used to drive real political and environmental change?
Tune in on November 24 for a free, interactive online discussion with experts from U of T's Faculty of Kinesiology and Physical Education. Moderated by Professor Bruce Kidd, the panel will delve into how sport can and have been used to drive global change.
Panelists include: 
Simon Darnell, Associate Professor and Director of the Centre for Sport Policy Studies
Professor Darnell's research focuses on the relationships between sport, international development and peacebuilding; environmental sustainability in sport-for-development, and the place of social activism in the culture of sport.
Caroline Fusco, Associate Professor
Professor Fusco's research interests are wide-ranging and include the socio-cultural landscapes and 'healthification of play', urban youth recreation, gender/sexuality and sport and more recently, questions of ecological sustainability, animal justice, supply chains and pollution as they pertain to sports stadiums and events.
Registrants will receive a link to access the online symposium a few days before the event.
---
KPE Science Café is an ongoing series, where researchers from the Faculty of Kinesiology and Physical Education share their expertise with the community in an accessible way. Stay tuned for more KPE Science Café events!