28/11/2022
Oscar Starschild, student blogger
As students throughout U of T's tri-campus begin to prepare for their final exams, it can be easy to fall into a routine of spending excessive amounts of time indoors. Inside, surrounded by grey concrete walls, it's easy to feel anxious, trapped or even lost in, say, the brutalist labyrinth that is Robarts Library. Fortunately, this needn't be the case as each of U of T's three campuses are situated around or within a short distance of natural areas and parks.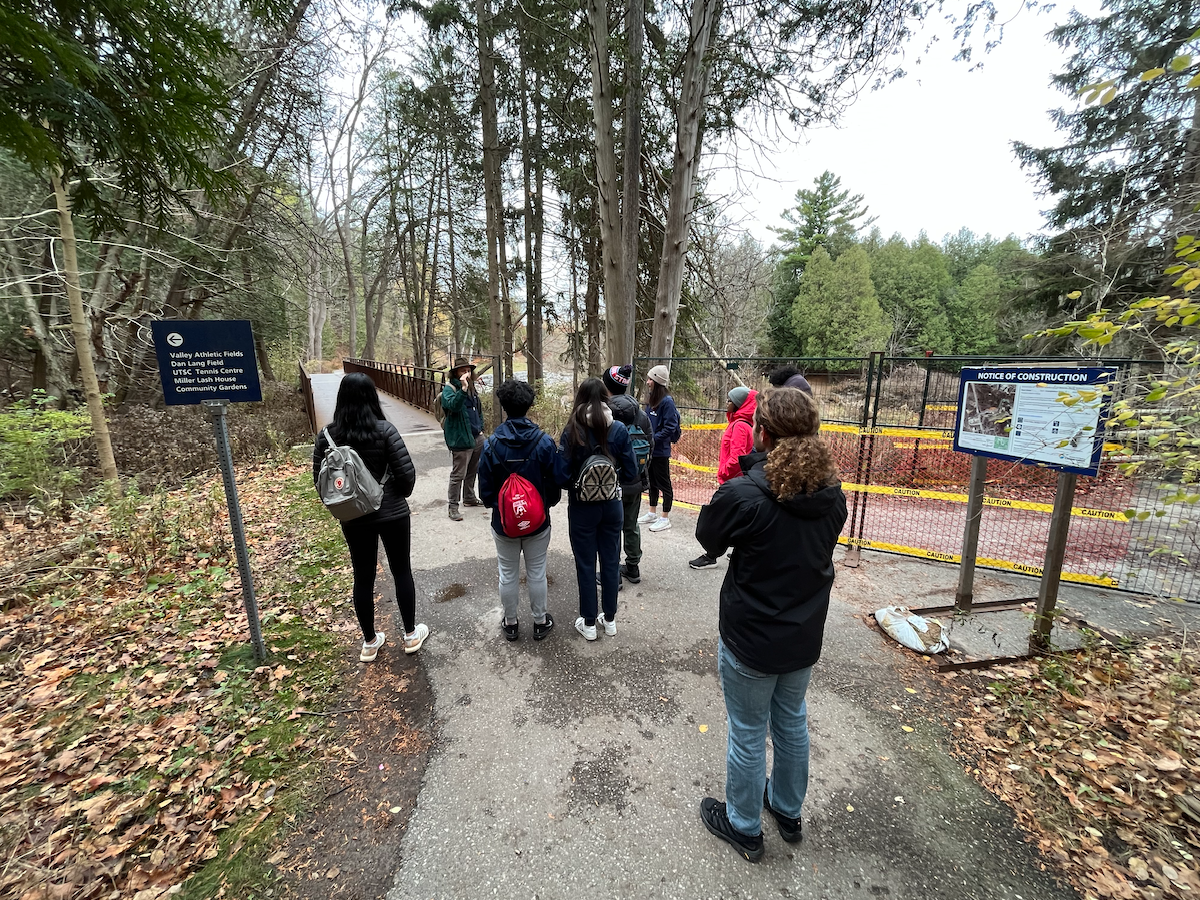 In nature, you can get away from the hustle and bustle of the big city, school or whatever philosophical problem you might be currently exorcised by (for me, it's the problem--of the problem--of induction). Thankfully, last Sunday, I got to go on a nature hike, offered through a partnership of KPE's Sport & Rec and Let's Hike T.O.
We met in the late morning at U of T Scarborough and, following the valley trail behind campus, made our way towards Lake Ontario, with Tristan as our guide.
Tristan was very knowledgeable about the natural history of the area and stopped us along our hike to share some cool nature facts or point out some interesting natural features of the landscape like the river.
Though it was quite chilly, it turned out to be a wonderful hike. I enjoyed many warm conversations with the other hikers such that I didn't really notice I was most unwisely wearing a very thin raincoat which offered little protection from the cold.
Anyhow, it didn't feel long before we stopped for a lunch break by the lake. Having forgotten to pack a lunch, I instead swapped some food for thought and plenty of jokes with the other hikers. After the break, we made our way back and returned to campus not too late in the afternoon.
All in all, I had a great time hiking last Sunday, so I want to encourage more students to get outdoors and experience the beautiful nature around campus. It won't just give you a mental break but also a physical workout, so think of it kind of like a two-in-one sort of activity. And for anyone interested, Lets Hike T.O. is looking to recruit hike leaders for future hikes.