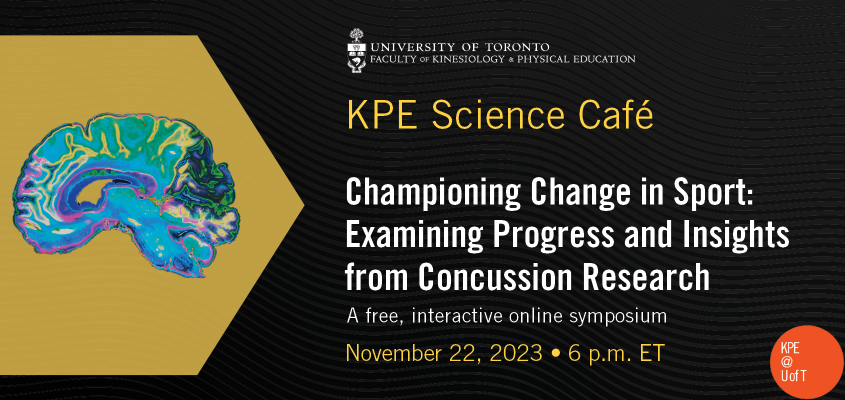 Open to All KPE Students
Open to Alumni
Open to the public
Open to U of T students
Tune in online on November 22 as a panel of experts from U of T's Faculty of Kinesiology & Physical Education discuss the latest advancements in concussion research.
Our experienced panelists will dive deep into the latest trends and insights, evaluate the effectiveness of current efforts to reduce the burden of concussion, and explore proactive sports measures to minimize concussion risks.
Don't miss this dynamic exchange of ideas, moderated by Kyla Pyndiura, a fourth-year PhD Candidate in Exercise Science at the University of Toronto.
Panelists
Professor Michael Hutchison oversees the clinical and research activities related to sport concussion at the David L. MacIntosh Sport Medicine Clinic, University of Toronto. He holds a PhD in Rehabilitation Science (Faculty of Medicine, University of Toronto) and specializes in sport-related concussion research in various populations ranging from adolescent students, university level students, and professional athletes.
Dr. Doug Richards is a retired clinical sport physician and biomechanist. He has been a professor in U of T's Faculty of Kinesiology and Physical Education at the University of Toronto since 1991. Over his clinical career, Dr. Richards organized and provided medical services at a variety of national and international sporting events and major games. He has been team physician for U of T's Varsity Blues intercollegiate teams, Canada's women's national basketball team, for our national beach volleyball teams and the Toronto Raptors.
Kyla Pyndiura is a fourth year PhD Candidate in Exercise Science supervised by Dr. Michael Hutchison at the University of Toronto. She is also the Lab Manager of the Centre for Sport-Related Concussion Research, Innovation, and Knowledge where she has studied and researched various populations following concussion. In 2020, Kyla completed her Master of Science degree. For her PhD, Kyla is developing, evaluating, and implementing a functional test that combines all factors of concussion management. Kyla's current research focus is on the physiological effects, management/rehabilitation, and prognosis of sport-related concussions.
Registrants will receive a link to access the online symposium a few days before the event.
---
KPE Science Café is an ongoing series, where researchers from the Faculty of Kinesiology and Physical Education share their expertise with the community in an accessible way. Stay tuned for more KPE Science Café events!