21/11/2017
Jill Clark and Jelena Damjanovic
The University of Toronto honoured 225 student-athletes at the eighth annual Academic Excellence Breakfast on Tuesday, November 21, at the Goldring Centre for High Performance Sport.
The ceremony honours student-athletes who, while competing on a Varsity team, earned an 80% average or higher in all courses they were enrolled in during the previous academic year. Each recipient receives a pin: enamel for first-time winners, bronze for second, silver for third, gold for fourth, and a diamond pin for earning the award five or more times during their intercollegiate career. 

Women's golf all-star and fourth year PhD student in sociology Laura Upenieks received a double diamond pin.

"I don't think I realized the number of times I've won this award," she said. "This recognition is the result of prolonged hard work and commitment to be the best in both my sport and my school. It takes a lot of time and effort, and support from my family, my department, coaches and team to achieve this. It doesn't happen on its own."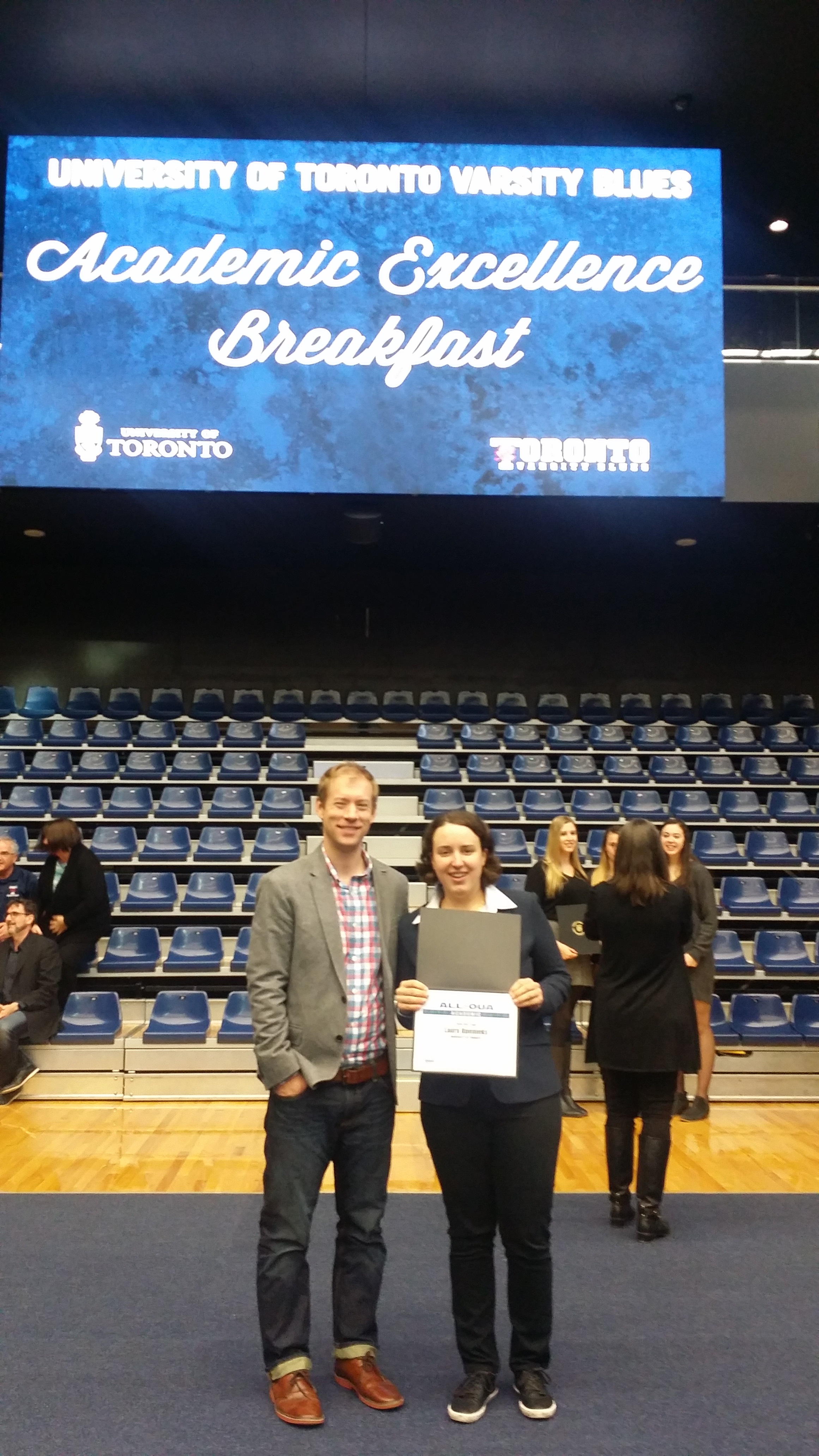 Women's golf all-star and fourth year PhD student in sociology Laura Upenieks was cheered on by her supervisor Associate Professor Markus Schafer 

University of Toronto Vice-Provost of Students Sandy Welsh, Professor Ira Jacobs, dean of the Faculty of Kinesiology & Physical Education, and Beth Ali, executive director of athletics & physical activity, were all on hand to honour this year's recipients. 

"The awards that you are receiving today recognize not only your outstanding athletic performance, but also your unfaltering dedication to your studies," said Welsh.

Remarking on the humbleness of the student athletes, Welsh praised their quiet excellence and hard work in the classroom.

"I've had at least two students come up to me in class and say: 'Professor, I'm really sorry, I'm going to have to miss your class next week. I hope you don't mind, I'm trying out for the Olympics.'"

The 225 rewarded student-athletes represent 27% of the Varsity Blues population from all seven University of Toronto colleges, UTM, UTSC, architecture, engineering, music and kinesiology, as well as second degree programs in law and pharmacy, and a number of graduate programs.

Blues figure skating, women's soccer and women's track & field teams had 11 honourees, while 10 baseball and women's lacrosse players earned Ontario University Athletics (OUA) academic achievement awards.

The Blues also honoured four U of T top scholar athletes: Men's swimming standout Osvald Nitski and women's track and field Olympian Gabriela Stafford were celebrated as the U SPORTS top scholar athletes, while Blues baseball all-star Kyle Bowers and women's squash sensation Evelyn Moorhouse earned the OUA top scholar athlete awards.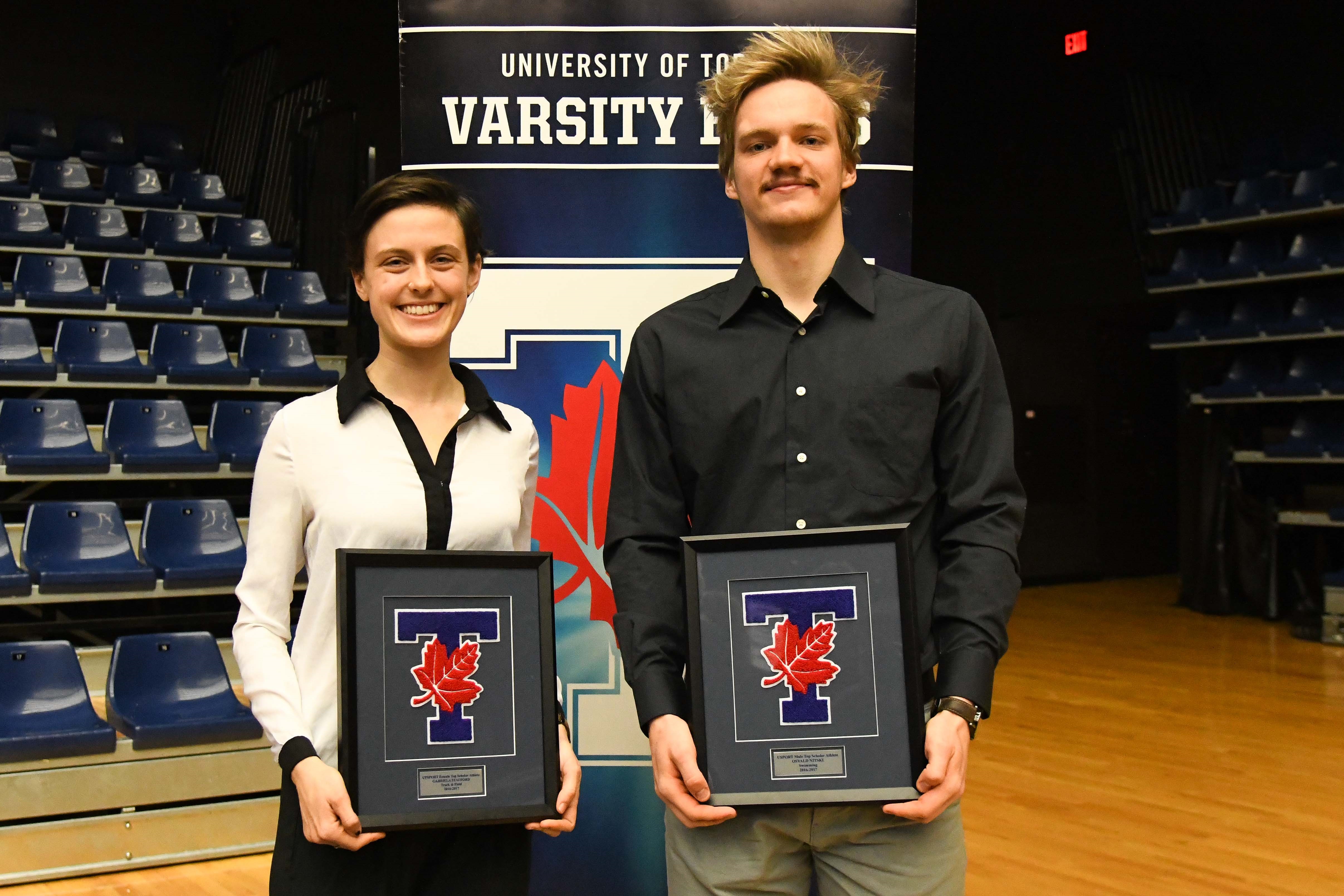 Fourth year psychology student and track and field Olympian Gabriela Stafford and mechanical engineering major and men's swimming standout Osvald Nitski were celebrated as U SPORTS top scholar athletes (photo by Martin Bazyl)

A mechanical engineering major, Nitski was named a U SPORTS Top 8 academic all-Canadian two weeks ago. He earned OUA all-star honours in 2017, winning both the 400 and 1500 freestyle gold medals and went on to claim the 2017 U SPORTS 200 butterfly bronze medal.

Stafford, now a fourth-year psychology major, represented Canada at both the 2016 Olympic Games and the 2017 International Association of Athletics Federation (IAAF) world championships in the 1500m. She won the U SPORTS gold medals in the 1500m and 3000m, helping U of T to their third consecutive national team title in 2017.

"Gabriela is one of the most well rounded individuals on campus, striving for personal excellence, academically and athletically. When I look at this wonderful woman, all I is see is potential in everything she does in her life," said Track and Field Head Coach Carl Georgevski. "You get emotional, because I've watched her grow. I know what she's been through and I just think that she is wonderful."

"It was hard after the Olympics to come back and be a student," said Stafford. "I really struggled, especially in the fall, so I was not expecting this to be my best year academically. This means a lot."