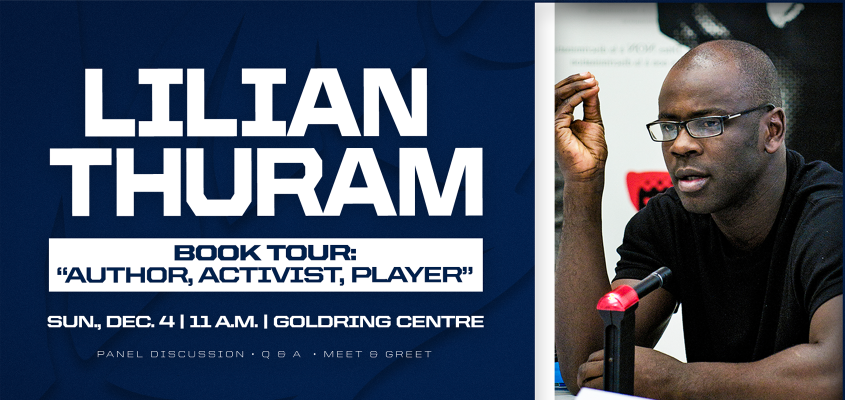 Open to All KPE Students
Open to Alumni
Open to U of T community
Open to U of T students
Join us on Sunday December 4, 2022 from 11 a.m. - 1 p.m. at the Goldring Centre for High Performance Sport for an exceptional speaking engagement featuring author and activist, Lilian Thuram. Presented by the Varsity Blues men's and women's soccer teams, this event marks the ONLY Canadian stop on Mr. Thuram's North American book tour. 
Mr. Thuram was one the best soccer players in the world during his playing career. He has the most matches ever played for the French national team and played for famous clubs Juventus and Barcelona. On December 4, he will be doing a talk and hosting a Q&A about his latest book: WHITE THINKING: BEHIND THE MASK OF RACIAL IDENTITY 
Mr. Thuram is now an author and activist dealing with racism, equality and immigration. He has done tremendous work around the world to draw attention to racial, political and social issues in football.  
Moderating this session is none other than Shireen Ahmed. Shireen is a University of Toronto Varsity Blues women's soccer alumna and award-winning sports activist, public speaker and prolific writer who focuses on the intersections of racism and misogyny in sports. 
In addition to the talk, there will be copies of the book for purchase and a book signing for those that purchase a copy.  This will be an educational and inspirational opportunity for everyone.