12/02/2018
Jelena Damjanovic
While most of Canada followed the 2018 Winter Olympic Games on television, a select number of University of Toronto alumni and staff was in South Korea in person representing Canada at the Games.
Alumnus Paul Poirier was one of 17 figure skaters on the national team competing at the Games. Along with partner Piper Gilles, Poirier represented Canada in the ice dance category, finishing in eighth place. Poirier completed a bachelor's degree in linguistics at U of T and skated for the Varsity Blues for one season, winning the gold medal in the men's open free skate at the 2012 OUA championship and helping U of T to a bronze-medal finish. This was the second Olympic berth for the Unionville, Ont., native after he represented Canada in 2010 at the Vancouver Games.
Paul Poirier and Piper Gilles showcase their routine before heading out to the Winter Games in Pyeongchang (video by Raquel Russel)
Former Varsity Blues rugby player Heather Moyse earned her master's degree in occupational therapy from U of T in 2007. She represented Canada in bobsleigh at the Winter Olympic Games in PyeongChang, finishing in sixth place with partner Alysia Rissling. Moyse won her second straight Olympic bobsleigh gold medal at the 2014 Winter Olympic Games in Sochi, after winning bobsleigh gold at the 2010 Winter Olympic Games in Vancouver and making history with pilot Kaillie Humphries, as the first Canadian women to win Olympic bobsleigh gold.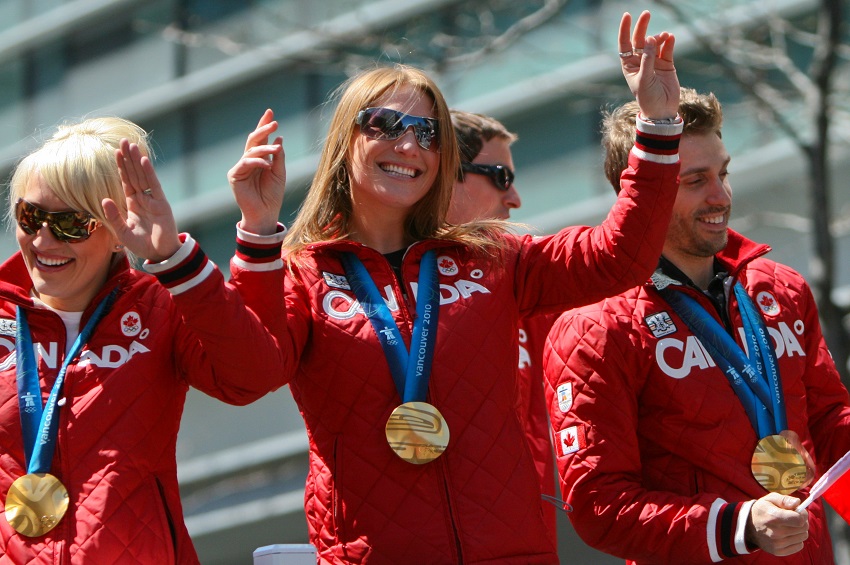 Heather Moyse marching in the Olympics 2010 parade in Montreal (photo by Flickr user Anirudh Koul)
U of T's David L. MacIntosh Sport Medicine Clinic had two staff members at the Games supporting the Canadian team: Marcel Charland and Lee Schofield. Charland and Schofield were both part of the Core Health Services Team of Team Canada at PyeongChang 2018 - Schofield as a physician and Charland as a massage/athletic therapist.
"Being here to help our athletes perform at the highest level in sport is the best feeling," says Charland. "Witnessing Canada's best performance at a Winter Olympics will be a memory I will have for years to come."
These Olympic Games also represent a 30 year anniversary for Charland who has been helping out Team Canada at the Olympic Games since 1988.
"I was with the speed skating team at the Calgary Olympics in 1988, so to be here 30 years later and see children of athletes I knew back then competing is pretty exciting and a bit surreal," he says. "Also, experiencing Korean culture, from K-pop to Korean bbq, has been extremely fulfilling."
Schofield worked primarily with long track speed skating while at the Games.
"We were able to integrate into their support team to help deliver strong services and help the athletes to perform at their best," he says. "I was lucky to attend some other events in the Gangneung Olympic Park, as well, including figure skating and hockey - always a personal highlight. Our core team, which included five medical staff on the coast and four in the mountain, really functioned well together and it was wonderful to have U of T alumni Paul Poirier here as part of our athlete delegation."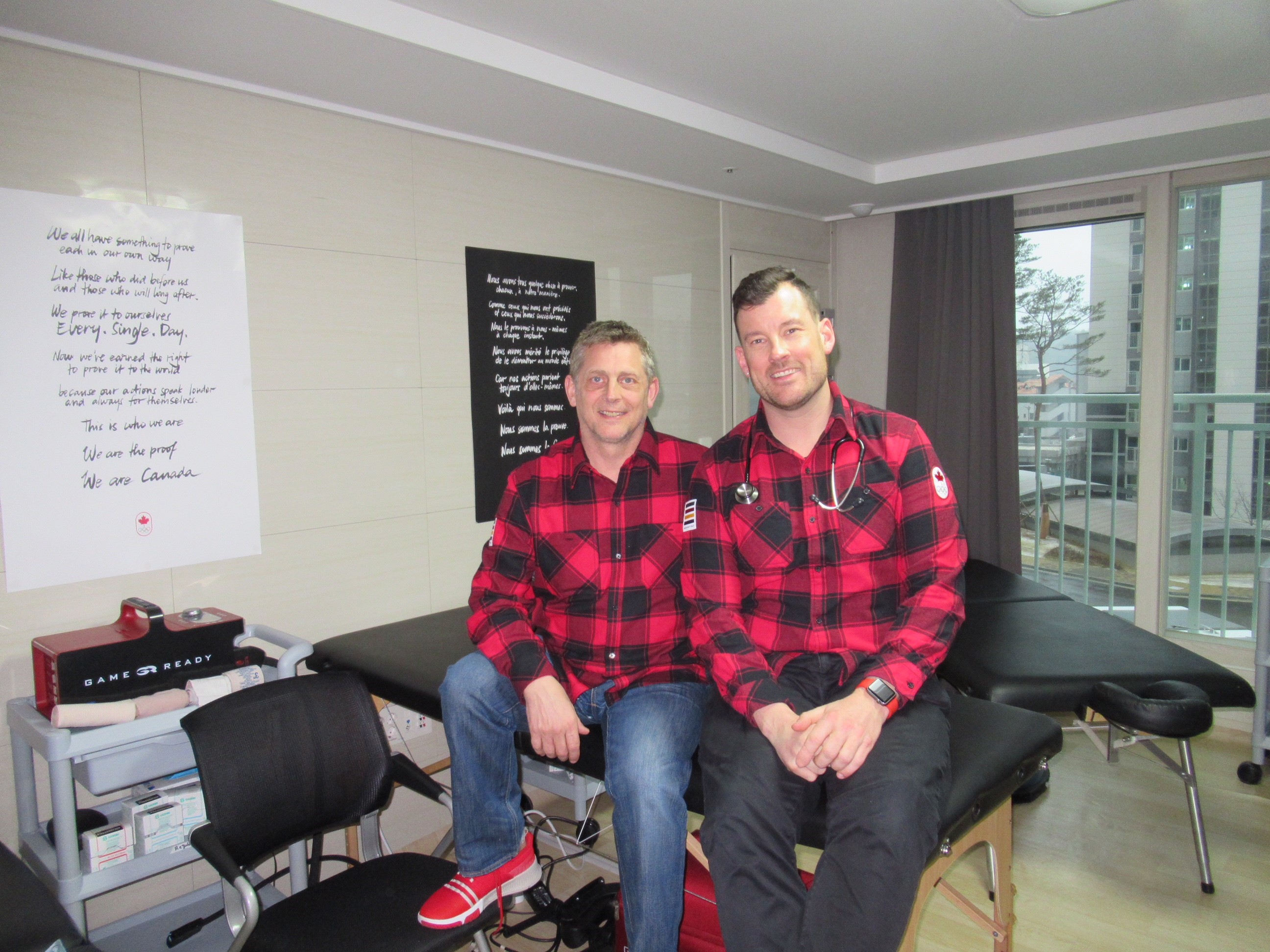 Marcel Charland and Lee Schofield of the David L. MacIntosh Sport Medicine Clinic were part of the Core Health Service Team of Team Canada at PyeongChang 2018 (Photo courtesy of Lee Schofield)
KPE graduate and former Varsity Blues water polo player Breanna Gadzosa was also at the Winter Games, taking in the sights and sounds in preparation for a master's degree in international relations. Gadzosa emailed her professor at KPE, Margaret MacNeill, about the protests and jubilations on the streets of PyeongChang after the North/South Korean women's hockey team debut.
"Breanna's email arrived while I was in an Olympic 'marathon' in the Benson building, teaching a three hour Olympic class, two hours of  Olympic essay tutoring and then mentoring a late entry Korean student into the course. Talk about great timing!" says MacNeill.
Back in Toronto, KPE faculty and staff were on standby to provide their expertise and commentary on all aspects of the Olympic Games, from keeping our faith in the Games to supporting our athletes and more.