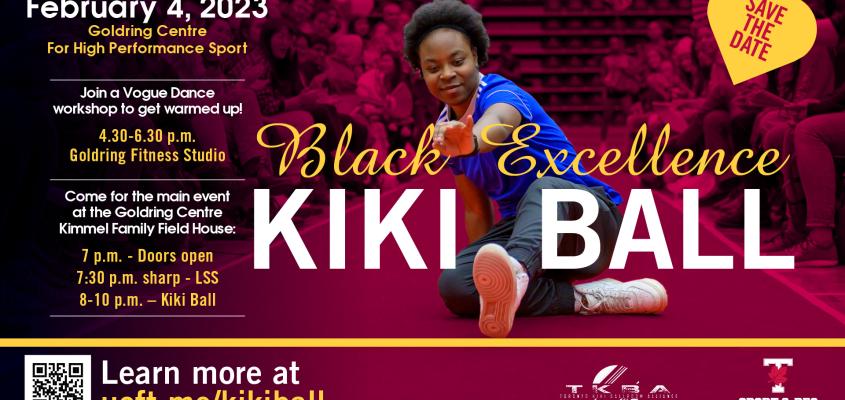 Line up for the 3 pointer! Drop the puck! And meet you at the 50 yard line! THE GLOVES ARE OFF FOR THIS BALLROOM BATTLE!

Our FREE sports-themed kiki ball will be centre court at the luxurious Kimmel Family Field House of U of T's Goldring Centre for High Performance Sport. The event will feature a special beginner friendly vogue dance workshop before the ball led by none other than THE Legendary House Mother Snoopy of the Kiki House of Disney.
Strut the runway with DJ Blackcat and commentator Silk Pinklady!
Vogue Workshop*: 4:30 p.m. - 6:30 p.m.
Doors: 7 p.m.
LSS: 7:30 p.m. SHARP
Kiki Ball: 8 p.m.
*Registration for pre-ball vogue workshop required, as spots are limited. Registration opens January 23, 2023. 
No registration required for the main event, starting at 7:00 p.m.

Categories are:
Beginner Runway: Colin Kaepernick (Football)
His selfless act of kneeling would speak volumes. Colin Kaepernick was persecuted for taking a stance towards social injustices but today we celebrate his courage to fight for our rights! Bring it in Red and White, in the name of Colin Kaepernick.
Prize: $50 Visa Gift Card

Beginner Performance: Simone Biles (Gymnastics)
A Queen in her own right Simone Biles has mastered the Floor, Bars, and Balance Beam in Gymnastics. Bring it as Simone Biles in a Bodysuit or Unitard. 
Prize: $50 Visa Gift Card

Face: Mohammed Ali/Laila Ali (Boxing)
Make sure the face is a total KNOCKOUT! Bring it in a boxing look.
Prize: $150 Visa Gift Card & Trophy

Best Dressed: Kobe Bryant (Basketball)
Kobe Bryant is gone way too soon, but he was and still is one of the best Ball players to have ever done it. In the name of Kobe, bring it in gold/purple.
Prize: $150 Visa Gift Card & Trophy

Runway: P.K. Suban/Sarah Nurse (Hockey)
Hockey is for everyone! We thank these two for breaking barriers in a White dominated sport. Bring it in a Hockey inspired look. Don't forget the fashion.
Prize: $150 Visa Gift Card & Trophy

Realness: Usain Bolt/Sehelly-Ann Fraser Pryce (Track and Field)
Don't blink or you will miss them. Bring it in a speedy, sleek track look to leave your opponents in the dust. 
Prize: $150 Visa Gift Card & Trophy

Body: The Body Issue ESPN
Show us your physique in your nude-coloured baselayers and a prop from ANY sport.
Prize: $150 Visa Gift Card & Trophy

Tag Team Performance – Venus/Serena Williams (Tennis)
These goddesses of Tennis will forever be idolized for their poise, class, and expertise. With three gold medals in doubles, theses sisters bring heat as a team. Now it's your turn to storm the floor as the Venus and Serena duo in complementing looks
GRAND PRIZE: $400 Visa Gift Card & Trophy

If you are attending the event and require accommodation(s) due to disability, please e-mail sportandrec@utoronto.ca to make appropriate arrangements.

To learn more about The Kiki House of Disney:
https://www.instagram.com/disneykikihouse/

To learn more about the Toronto Kiki Ballroom Alliance:
https://www.facebook.com/TorontoKikiBallroom/
Check out highlights from our 2019 Vogue Dance workshop & Kiki Ball: