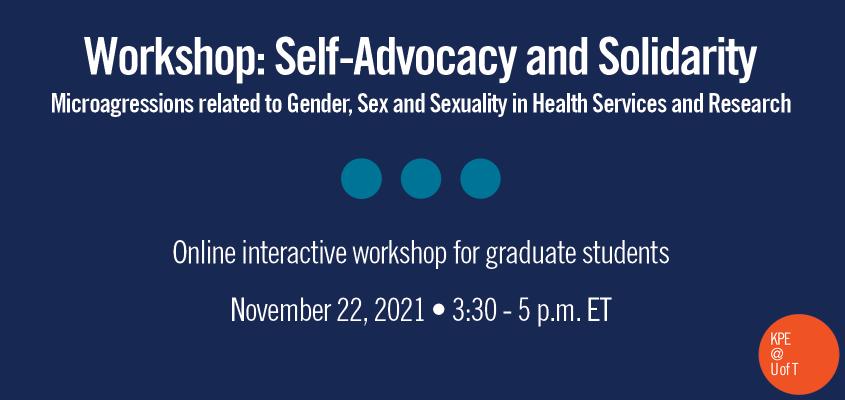 Microagressions Related to Gender, Sex and Sexuality in Health Services and Research
Join this interactive online workshop tailored specifically to KPE graduate students to learn about the definition of a microaggression and the types of microaggressions that occur in health services and research settings. Part of the Self-Advocacy and Solidarity Series, and offered in partnership by the KPE Office of the Registrar and Student Services and the KPE Graduate Society (KPEGS), this session will discuss the impact of microaggressions on service provider and patient/client therapeutic relationships, as well as on the research environment.
Moreover, this workshop will reflect on the ways that microaggressions are both part of and a contributor to the larger system of systemic oppressions, such as homophobia, transphobia, cisheterosexism, and others at their intersections. Students who participate in the workshop will learn strategies for engaging in self-advocacy and solidarity when microaggressions occur, at both the interpersonal and institutional level.
How to Participate:
Register online for the Microaggressions related to Gender, Sex, and Sexuality in Health Services and Research Workshop
Attendees will receive a link to a Zoom meeting the morning of the session.
Please note that the deadline to register for this session is Monday, November 22 2022 at 9 a.m. ET.