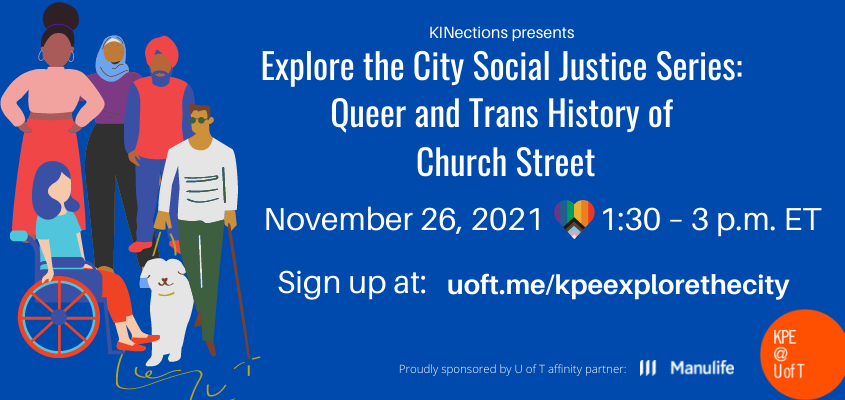 Open to All KPE Students
Open to KPE Graduate
Open to KPE Undergraduate
Come out on November 26, 2021 from 1:30 - 3 p.m. ET to learn all about the Queer and Trans history of key landmarks on Church Street! Student volunteers will guide you to each location, explaining the related Queer and Trans history along the way.
This event is open to all KPE students! Whether you identify as a part of the 2SLGBTQIA+ community or want to be a better ally by learning about Queer and Trans history, join us for this fun and educational physical activity.
Accessibility Notes: We will travel a distance of approximately 4 km, from Back Campus Field to the end of the guided walk on Church St. Volunteer guides will wear clear masks for increased access to lip reading. If there is a way we can make this event more accessible to you, please let us know in your registration form.

Optional: those who wish to stay and dine at an establishment on Church St after the tour may do so at their own expense.

Please note this is an in-person activity. Proof of vaccination and a completed UCheck self-assessment will be required, along with mask-wearing and social distancing.
 How to Participate

Register online for the Explore the City event
Please note that registration closes 2 hours before the start of the activity.