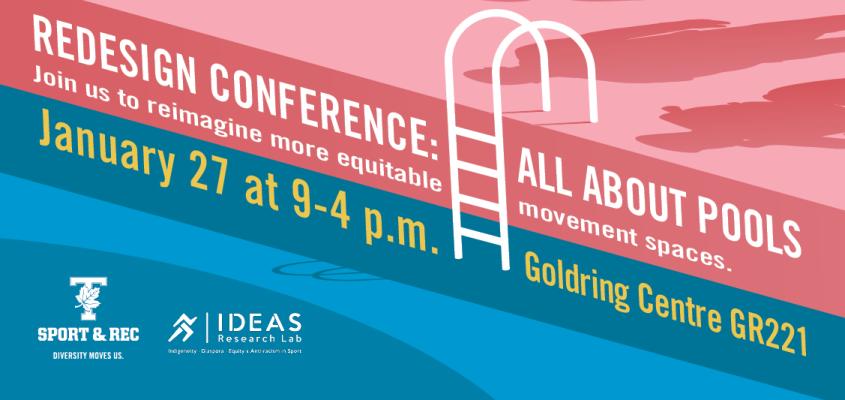 Open to All KPE Students
Open to U of T students
The Redesign Conference is an annual conference hosted by Sport & Rec's official Equity, Diversity, Inclusion and Belonging (EDIB) team. This year's conference is co-hosted with the IDEAS research lab and will be All About the Pool, surrounding issues of equity, diversity, inclusion and belonging in pool spaces. Help us redesign movement spaces together!
Participants will have the opportunity to ask questions and engage in thoughtful discussion with: 
Re-Imagining Movement Spaces Inaugural Distinguished Keynote Address speaker, Dr. Ornella Nzindukiyimana, speaking on, "What Does the Social History of Swimming Mean for Black People in the 21st Century?"
Panelist storytellers, Vanessa Treasure and Alex Jung from the University of Toronto 
Robert Hampson from Variety Village
Discussions will be followed by a creative, arts-based workshop focusing on redesigning more equitable pool spaces.
Lunch, coffee, tea and snacks will be provided. Registration is FREE for students, and open to faculty, staff and community members with a $10.00 registration fee. Registration closes January 24. 
Accessibility needs? Please email sportandrec@utoronto.ca. 
Conference Schedule 
9:10 – 10:00 a.m. // Welcome to the Redesign Conference! 
Why are pools always rectangular? What patterns can we see in designing movement spaces, and how does space design impact access, equity, and justice in sporting spaces? Most importantly, how can we harness creativity and design principles to re-imagine movement spaces towards more just futures? 
Join Val Gerlings and Dr. Debra Kriger, representatives of the Sport & Rec Equity, Diversity, Inclusion & Belonging team, as they welcome you to the Redesign Conference and offer tools to spark your imagination in answering these important questions. The day starts with warm introductions and acknowledgement of the land, community expectations agreements and review of the conference schedule, and a brief overview of tools to support your creative, engaged learning journey for the day. 
10:00 – 11:15 a.m. // Stories of the Pool 
Hear stories from our panelists, Alex, Vanessa and Robert, and engage in guided discussion and reflection.  
Vanessa Treasure, (she/her), Director of Fitness, Wellness & Recreation at Hart House   
My passion for physical activity blossomed from a 15-year athletic career in competitive swimming. Through my involvement in sport, I learned the true meaning of sacrifice, determination, and perseverance. These skills have been applicable in my life in so many more ways than athletic performance.   
I completed a degree in Kinesiology at the University of Toronto while also being a member of the Varsity Blues swim team. The most profound thing I took away from my University Career was the incredible impact that physical activity can have on every aspect of my life. Testing my body in the pool taught me who I am as a person, shaped my confidence, showed me to an amazing social circle, taught me to take care of my teammates and worked wonders on my mental health.   
Alex Jung (he/him), Swim Instructor, University of Toronto and other  
Alex is a transmasc swimmer and organiser. He found his way back to the pool in 2018 after a decade of gender-related alienation which complicated his love for water and derailed a competitive career. Alex has since been pushing for changes at UofT pools to make it a welcoming space for gender-diverse users and became a swim instructor so that he might help more trans folk feel comfortable in the water. He is working to build a local community of gender-diverse swimmers.  
Robert Hampson (he/him), Variety Village  
A blind competitive swimmer for 17 years, Robert raced at the Ontario Para Championships and the Can Am Para Swimming Championships. Through swimming, not only did Robert develop a love for sports and trying new activities, but it also led him along his career path and helped him to develop his passion for public speaking. Robert is currently working at Variety Village, is an ambassador for the Rick Hansen Foundation and runs a charity. 
11:15 – 12:00 p.m. // Visit the pool 
Let's take a look at our pool spaces together! What do you notice about the space? What policies are present? 
For those that cannot or choose not to walk, we will have an alternative option available.  
12:00 – 1:00 p.m. // LUNCH from Veda Catering 
1:00 – 2:00 p.m. // Re-Imagining Movement Spaces Inaugural Distinguished Keynote Address from Dr. Ornella Nzindukiyimana  
What Does the Social History of Swimming Mean for Black People in the 21st Century? 
A few years ago, I completed a social history of Black Canadians in swimming from the 1900s to the 1970s. In it, I explore the politics of access to designated swimming spaces for leisure and sport, investigating whether the anti-Black racism that is historically manifest around water in the United States was also manifest in Canada. A Canadian Black history of swimming suggests that racial politics around pools and bodies of water was complex. In many cases, de facto segregation meant widespread lack of access; in others, a culture developed around swimming, fully undermining racist stereotypes about Black people's capacity to swim. Yes, the legacy of racism in other social spheres was clearly transposed to swimming over the decades. But so did the legacy of anti-racist activism. This leaves us with a key question: What does the social history of swimming mean for Black people in the 21st century? 
Dr. Ornella Nzindukiyimana,(she/her), Associate Professor, Department of Human Kinetics, St. Francis Xavier University.  
Ornella Nzindukiyimana, Ph.D., is an Associate Professor in the Department of Human Kinetics at St. Francis Xavier University (Nova Scotia, on the unceded territory of the Mi'kmaq People). Her primary area of research is in sport history, with a focus on the intersection of race, gender, and class from critical race and Black feminist perspectives. As a social historian, she studies 20th century Black Canadian sport participation, asking how immigration, nationalism, colonialism, Multiculturalism, and the intersection of race and gender have shaped Black peoples' practices and experiences. Dr. Nzindukiyimana has documented histories of boxing, track and field, swimming, and baseball. This has included sporting accounts of Black girls and women in Southern Ontario during the early to mid-20th century, contextualized narratives of Black Canadian champions, and a social history of swimming. She is currently working on expanding those histories, and on new ones in surfing, basketball, and hockey. Dr. Nzindukiyimana's work has appeared in forums such as Loisir et Société /Society & Leisure, Journal of Canadian Studies, and The International Journal of the History of Sport. 
2:00 – 3:30 p.m. // Reimagining the Space Creative Workshop 
Sometimes we can create new spaces, but other times we need to make or take space. How do we facilitate everybody being welcome in spaces we can't move? 
In this creative workshop, participants are asked to reimagine a more equitable pool space, touching on some of the topics discussed today.  
3:30 – 4:00 p.m. // Museum and Closing Remarks 
Prior to closing remarks, participants are welcome and encouraged to share their work created in the workshop with the group.  
4:15 p.m. // Duke of York 
Conference participants are invited to join us at Duke of York (39 Prince Arthur Ave) for post-conference food and drinks. Light appetizers will be provided.