04/03/2018
Jelena Damjanovic
On March 1, U of T's Faculty of Kinesiology and Physical Education hosted a free symposium called Mobilizing Change, the eleventh installment of its annual public research series. With the Paralympic Games in PyeongChang, South Korea, just around the corner, the symposium focused on the importance of accessibility in sport and recreation, as well as the significance of physical activity across the lifespan.
"We know already that physical and metaphorical barriers can impact one's ability to enjoy healthy active living," said Professor Ira Jacobs, dean of KPE, in his opening remarks. "Our Faculty believes strongly in breaking down such barriers to enable more individuals to become more active throughout their lifetime and reap the many related benefits."
The speakers at the symposium were KPE's Professor John Cairney and Assistant Professor Kelly Arbour-Nicitopolous, who were joined by University of Alberta Assistant Professor Danielle Peers and Mount Royal University Professor David Legg. They each drew on their research and lived experiences to reveal the societal implications of limited participation opportunities for individuals with disabilities, particularly in the area of sport and physical activity.
"Stories about disability and sport often focus too heavily on athletes achieving high performance success after a traumatic injury, neglecting the larger, often invisible, population of individuals, including those born with neurodevelopmental and congenital conditions that affect their ability to participate in physical activity," said Cairney, whose expertise lies in motor development, pediatric exercise sciences and adapted physical activity.
His presentation focused on the policy and programming required to support the physical activity journeys of children and youth across a wide range of abilities.
Arbour-Nicitopolous' talk focused on diversifying 'play' and grassroots programs for young people with disabilities.
"Adolescence and emerging adulthood are pivotal developmental periods during which lifestyle behaviours can shape health habits into adulthood. Engaging youth and emerging adults with disabilities in physical activity within their communities is imperative, not only for reducing the risk of secondary health conditions but for enhancing quality of life in adulthood," said Arbour-Nicitopolous, an expert in exercise psychology, disability and physical activity.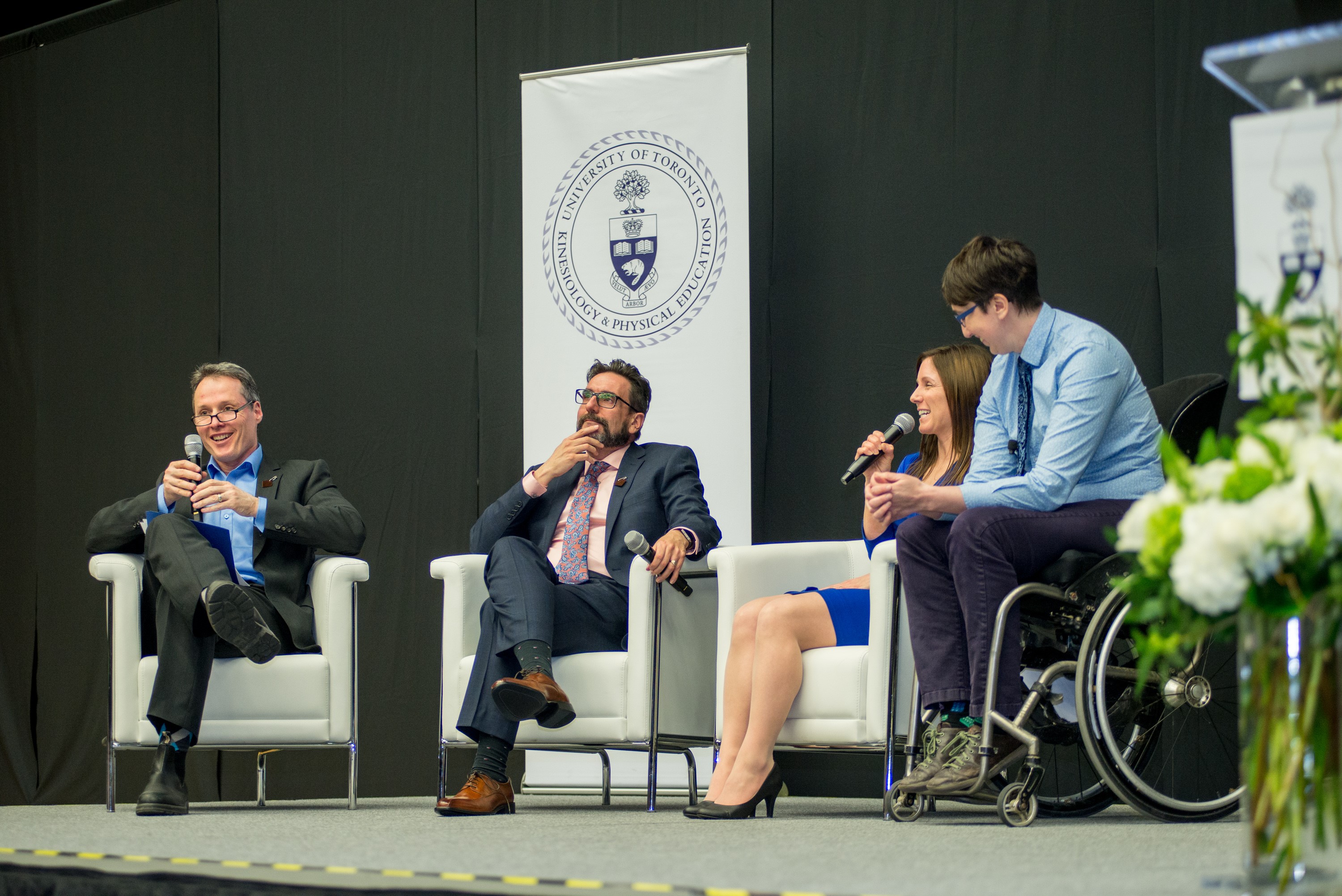 David Legg, John Cairney, Kelly Arbour-Nicitopoulos and Danielle Peers presenting at KPE's 2018 public symposium (photo by Jing Kao Beserve)
Legg reviewed the legacies of past Paralympic Games, addressing the challenges and opportunities of future Games in helping to create a more equitable society.
"The vision of the global governing body of the Paralympic movement and Games, the International Paralympic Committee (IPC), is to 'enable Para athletes to achieve sporting excellence and inspire and excite the world.' But, is this vision achievable or even appropriate," asked Legg, whose research interests range from sport management to adapted physical activity.
Peers, an expert on disability, sport and social justice movements, questioned whether Para sport systems still reflect the needs and backgrounds of most Canadians with disabilities, focusing her talk on equity, joy and community in our sport and movement cultures and in Canadian culture more broadly.
"The playground holds more potential for social movements within disability communities than the podium ever could," said Peers, who won a Paralympic bronze medal and five national championships during her career as a wheelchair basketball athlete.
The presentations were followed by an animated Q & A session with the audience who posed their questions on Twitter using the hashtag #UofTmobilizingchange.
Dean Jacobs closed off the evening by thanking the presenters for sharing their individual areas of expertise and multi-pronged solutions.
"This symposium highlights the research excellence and creativity to which we continually aspire at the University of Toronto with networks of collaborating scholars from elsewhere.  This evening, that excellence was reflected in the presenters, who individually and collectively informed and challenged us with a discussion of accessibility and physical activity across the lifespan. It is inspiring to know that you are working as advocates for creating inclusive communities that support accessibility to physical activity for those who need it most."
Jacobs also thanked the audience, saying that these important conversations couldn't take place or create a lasting impact without them.