18/01/2019
Jelena Damjanovic
With 44 libraries on three campuses, U of T Libraries is the largest library system in Canada, supporting the university's research mission with a vast collection of books and journals, articles and databases, archival material, multimedia and government information. 
Now, graduate students from all disciplines at the St. George, Mississauga and Scarborough campuses have the opportunity to translate some of that research into eye-catching displays, thanks to an exhibit competition called Showcase Your Work, hosted by U of T Libraries. In addition to being featured in the Robarts Library, which sees up to 18,000 visitors per day, the winning projects are awarded $1,000 prizes.

KPE graduate student Sandhya Mylabathula was among the three winners of the inaugural competition for her work called Concussions: The 'impact' of injury. 

"Concussions are serious brain injuries that can result in debilitating physiological, psychological and social consequences," says Mylabathula, whose research interests include concussion policy, prevention, risk factors, education and awareness, management, sex and gender considerations.
Her display is a mix of curated library items, 3D printed brain models, images and interactive components spread over three sections focusing on the science behind concussions, concussion policies and the recovery experience.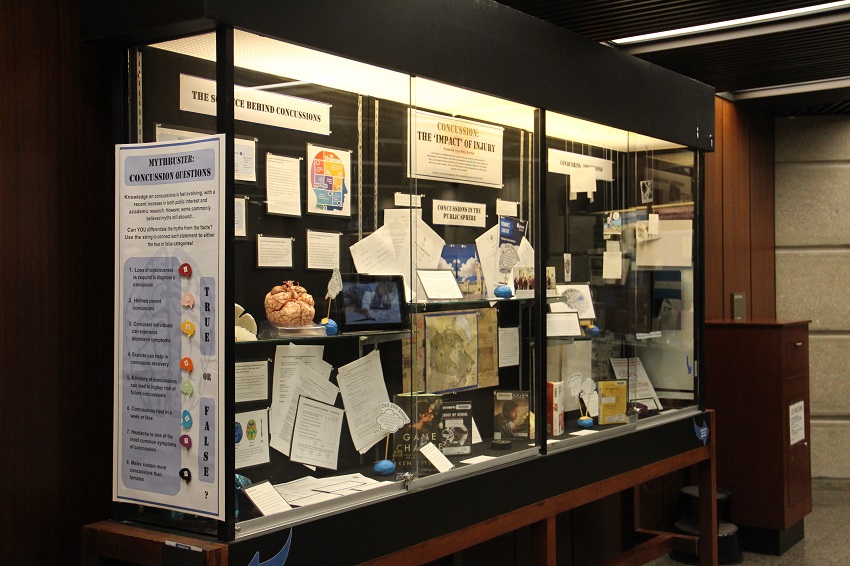 The glass display on the main floor of Robarts Library, featuring Sandhya Mylabathula's exhibit on concussions

"I loved the opportunity to think creatively and work outside the box in developing my exhibit and I hope visitors enjoy learning from it. Receiving this award means a lot to me, as science communication is a passion of mine," says Mylabathula. 

"I often hear from concussed individuals about their feelings of isolation or being misunderstood, especially given the invisible nature of their injury. I feel very fortunate to be able to try and help bring more attention to it through this exhibit."

Gretchen Kerr, vice dean of programs at the School of Graduate Studies and professor at KPE, congratulated U of T Libraries for "having the insight and foresight to organize this event." 

"There is a growing recognition of the importance of translating learning to broad audiences and this exhibit provided a wonderful opportunity for it," she said, adding that she hopes it will become a tradition.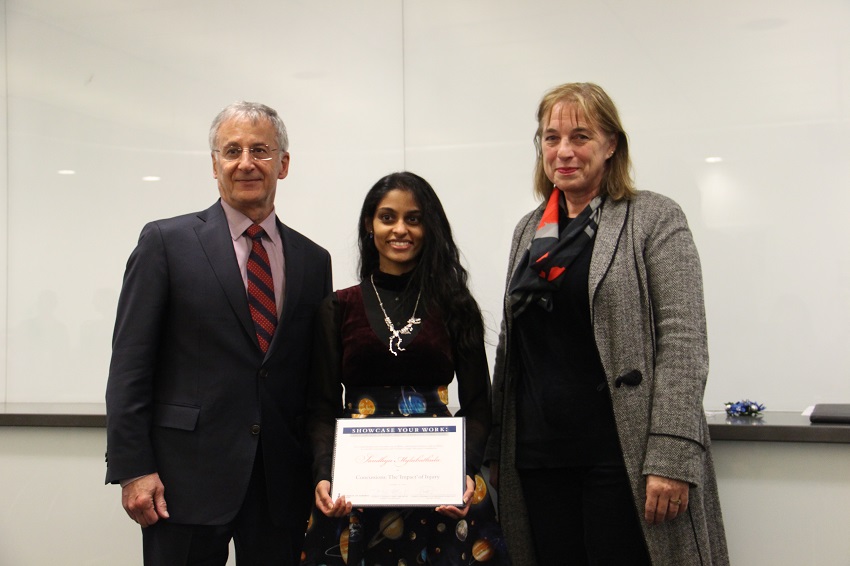 Mylabathula is flanked by Professor Ira Jacobs, dean of KPE, and Associate Professor Lynda Mainwaring, her supervisor, who both came out to support her

"Finding out that Sandhya is one of three students to receive this inaugural award was inspiring and very exciting for me and our Faculty," says Lynda Mainwaring, associate professor at KPE and Mylabathula's supervisor.

"She is devoted to raising awareness about concussions and facilitating their enhanced management. The award addresses important aspects of the research process that can be underemphasized, such as knowledge access, sharing and translation, and it provides student support and recognition in a creative and tangible visual display."
The winning exhibits will be on display until the end of February on the first floor of Robarts Library in the glass displays located by the escalators.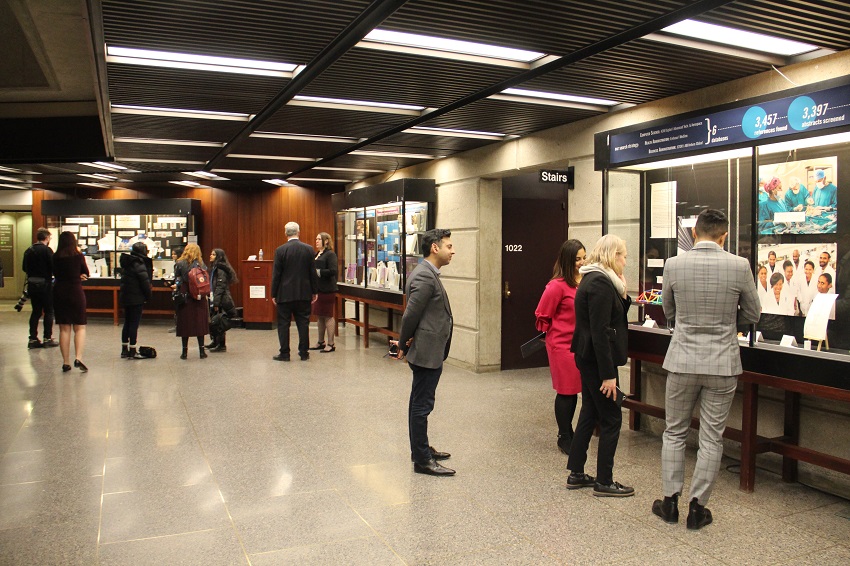 Guests of the Showcase your Work award ceremony enjoy viewing the winning projects, exhibited in glass displays on the main floor of Robarts Library