29/06/2018
Jelena Damjanovic
First there was a whistle to get the crowd's attention, then came the sound of the piano, followed by the voice of … Randy Newman? In fact, it was Professor Ira Jacobs, dean of the University of Toronto's Faculty of Kinesiology and Physical Education, sitting behind the piano, singing an original tune he penned for Professor Gretchen Kerr, the Faculty's vice-dean of academic affairs. The occasion? A farewell party thrown for Kerr, who will be leaving her position at KPE to take on the role of Vice-Dean, Programs and Innovation at the School of Graduate Studies in July.
"Gretchen, oh Gretchen, our vice-dean, our Gretchen, is leaving the KPE desk … Intervention and dissention, I even thought of prevention, but SGS needs her express," sang Jacobs to a delighted audience, which included Kerr's family and former and current colleagues.
The singing performance was followed by more traditional tributes from the podium by Kerr's colleagues and friends from across the Faculty and U of T.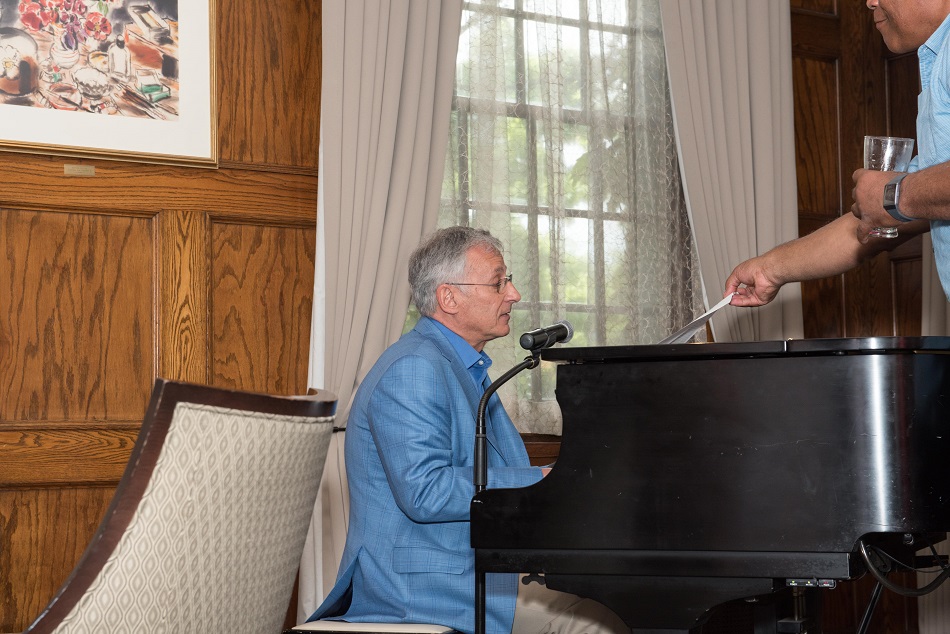 Dean Ira Jacobs sang his tribute to Professor Kerr
Cheryl Regehr, vice-president and provost at U of T, started off her speech by sharing that experts in public speaking generally advise to never start a speech with an apology.
"I won't start my speech with an apology, but I will say thank you to all of you at KPE for allowing us to take Gretchen away."
She recalled first interacting with Kerr when she was championing the new Master of Professional Kinesiology program at KPE, which launched in 2016 and was the first of its kind in Ontario.
"The proposed program was innovative, it provided students with great opportunities to integrate research into practice, but what you may not know is that it was Gretchen's dogged determination, deft political touch and steadfast commitment to this program that helped get it through a number of hurdles that allowed it to be here today," said Regehr.
She also lauded Kerr for the critical role she played in the development of a number of education programs on sexual violence at U of T, in her role as chair of U of T's expert panel on education and prevention of sexual violence.

Gretchen Kerr is flanked by Rosanne Lopers-Sweetman and Cheryl Regehr
Dean Jacobs praised Kerr for her innovative leadership and continual introduction of improvements to the curriculum to make it more responsive to students' needs and the states of knowledge of the various disciplines and fields that comprise the academic discipline of kinesiology.
He recalled Kerr breaking the news to him about her departure on Blue Monday, recognized as the most depressing day of the year.
"I was concerned about the departure of a tremendously effective and valued faculty member, but my concern was matched by pride that our Faculty has been an environment where Gretchen has been able to develop professionally and demonstrate the very accomplishments that have drawn the attention of Simcoe Hall and SGS to her," he said.
"More importantly, I'm really happy that a colleague and a friend has the opportunity to be excited by further professional development, new challenges and new opportunities to impact the larger U of T area."
He announced the creation of the Gretchen Kerr PhD scholarship award and said he felt very fortunate to have had the privilege of working with someone so talented, creative, wise and competent.
"As a physiologist, I think we all need to do a case study on Gretchen. I don't know of anyone else who has spent three decades in the academic trenches, who can walk across the sports field in front of hundreds of undergrads, nonchalantly do a stretch or two, and then proceed to execute a couple of cartwheels  that any gymnastics judge would rate as perfectly performed," he said.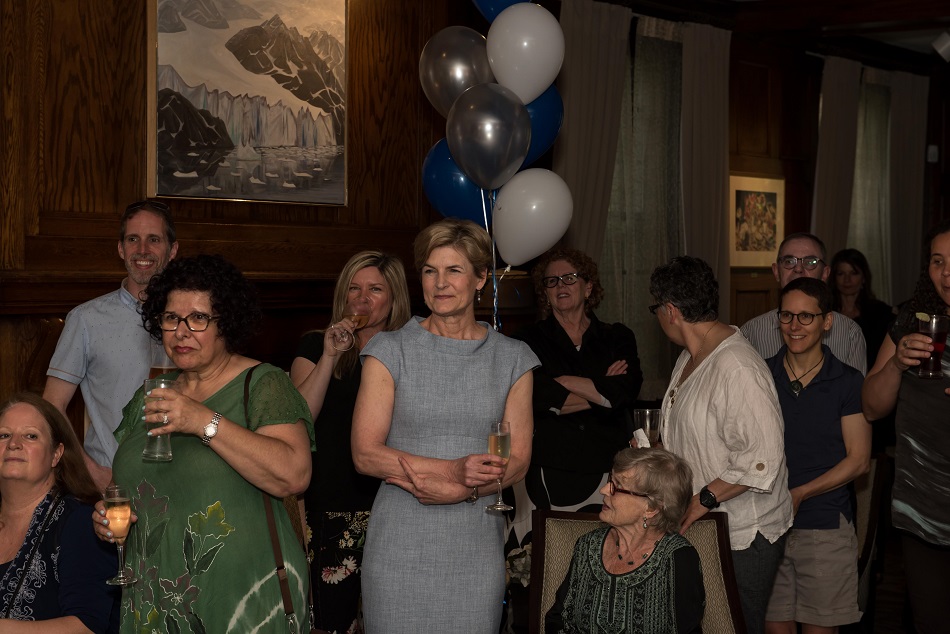 Professor Kerr listens to her tributes surrounded by colleagues, family and friends
Rosanne Lopers-Sweetman, KPE's chief administrative officer, also spoke of Kerr's background as a gymnast, saying it served her in good stead as an administrator throughout her career in the Faculty.
"She has the ability to balance on high levels, do hand stands and cartwheels and spring through hoops to get the job done."
Speaking on behalf of Kerr's students, PhD student Ellen MacPherson called her a wonderful mentor and supervisor, who encourages her students to push the boundaries, think outside the box and strive to effect positive change across various populations within recreational and elite sporting communities.
"Receiving feedback from Gretchen for the very first time is considered a rite of passage in our group. As she hands the reviewed paper back to us, smiles and tells us we did a fantastic job, she watches our confidence quickly turn to shock when we see our papers covered in enormous amount of colourful pen.
"But, her feedback is invaluable to us as scholars: thoughtful, provocative, encouraging and often filled with interesting information such as proper grammar use derived from her training in Latin," said MacPherson, thanking Kerr for always keeping the students' best interests in mind.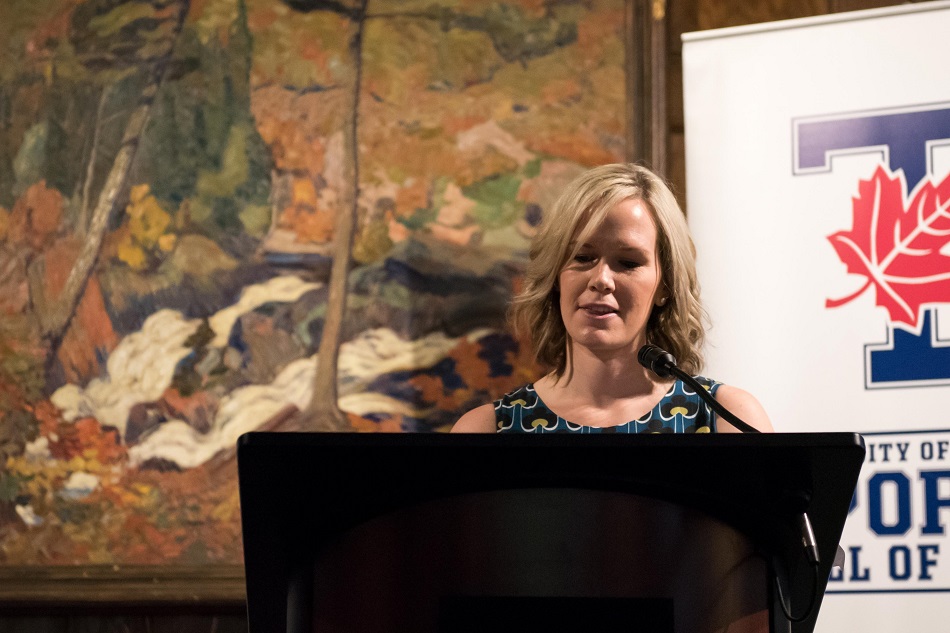 PhD student Ellen MacPherson spoke on behalf of Kerr's students
Head coach of the Varsity Blues women's volleyball team Kristine Drakich thanked Kerr for always finding ways to connect the curricular and co-curricular areas of the Faculty.
"You spent a great deal of time researching coaching, coach-athlete relationships, coach education and women in coaching. That has helped all of us here at the Faculty in coaching and beyond think critically about what we do and how we do it. Thank you for inspiring us to be better coaches and leaders."
Drakich also thanked Kerr on a personal level for being an 'incredible' colleague.
"I started coaching here in 1989 when Gretchen started teaching and we spent many hours sitting on committees together. No matter what the situation, you were always so caring, calm, collegial and gracious. My colleagues and I will always remember that," she said.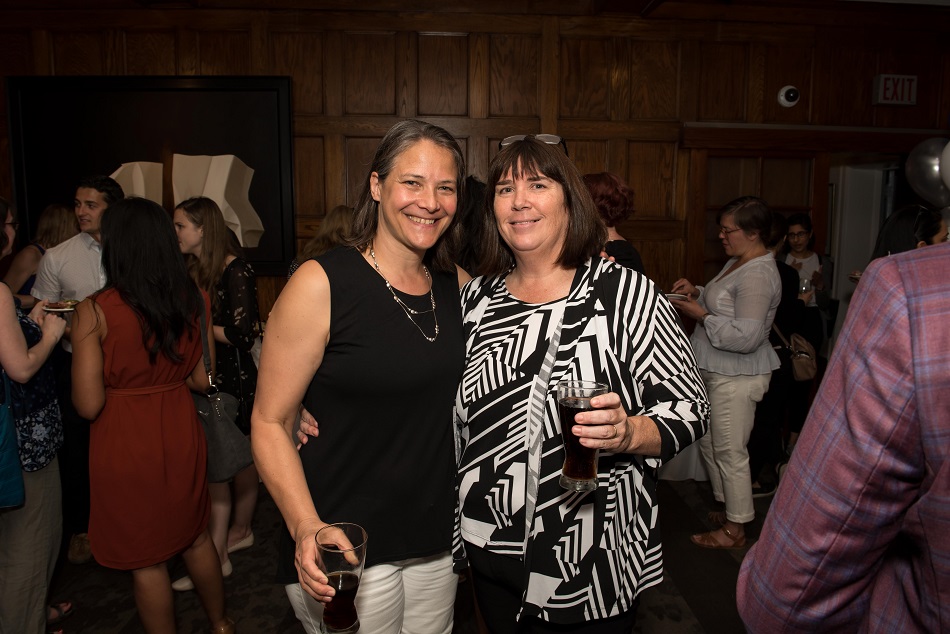 Kristine Drakich and Beth Ali
Beth Ali, executive director of co-curricular athletics and physical activity programs, presented Kerr with the Thomas R. Loudon Award, one of the highest athletic honours given to a deserving individual for their outstanding contributions to the advancement of athletics at U of T and the broader sport community.
"This award is not given annually and is only awarded when someone is deemed to have provided exceptional quality of service in athletics," said Ali. "I am so glad that your family is here today and that they understand just how much we cherish you."
"It was an absolute pleasure and privilege to work in KPE and to serve in various capacities," said Kerr having listened to all the tributes in her honour.
"It was 40 years ago that I was signing my acceptance to the bachelor of physical health and education degree here at U of T," she said. "When I told a colleague that I was moving to SGS they said 'You've been such a fixture around the Athletic Centre, I thought you'd be buried under it!' There's still time," said Kerr with a chuckle.
Kerr's father was a third generation graduate from the Faculty of Medicine and her mother was the first in her family to go to university and graduate from Victoria College in psychology and later from OISE. She was a drum majorette, who would lead the marching band in the Varsity Stadium before a football game. and in 1952 represented Canada in the Olympic Games.
"I attribute my love of sport to her. I have loved it ever since," said Kerr.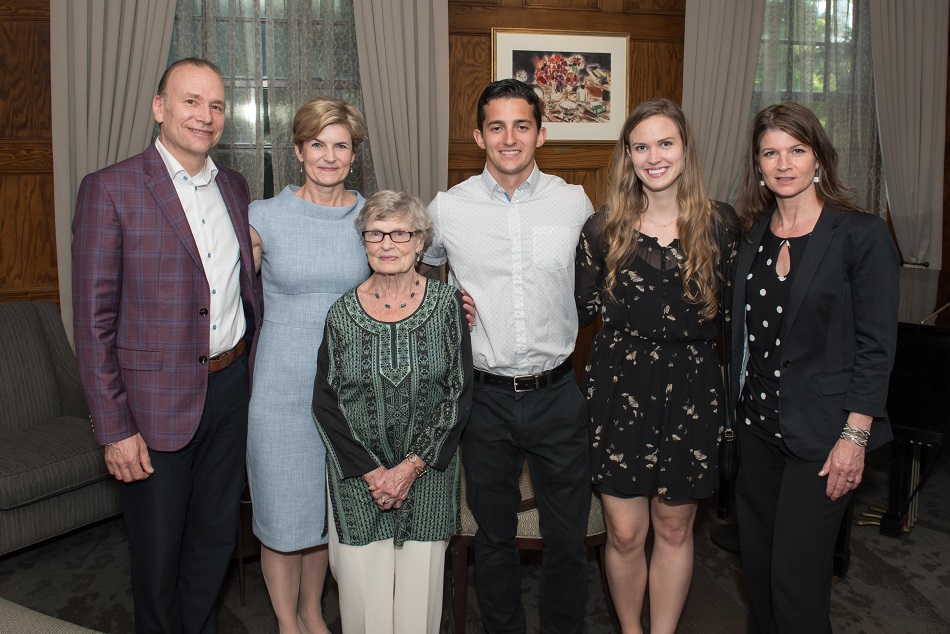 Gretchen Kerr's family: husband Walter, mother Shirley, son Hudson, his partner Amanda and sister Beth
"I had a wonderful undergraduate and graduate experience and 30 years as an official employee at U of T. I can't believe that it's been 30 years, but this is what happens when you're doing what you love and this place feels like my second home."
And yet there are some clear indicators that 30 years have passed, said Kerr, recalling that she was the only female faculty member at the beginning of her academic career. She also spoke about the shifts in curriculum, which has moved beyond just preparing physical educators to include responses to what are now widely recognized benefits of physical activity for the prevention and treatment of various physical and mental challenges, building communities, enhancing peace and international development, and increasing academic achievement.
She thanked the thousands of undergraduate and graduate students she taught for bringing her joy and teaching her something new every day, and thanked Roy Sheppard, Yuri Daniel, Bruce Kidd and Ira Jacobs for their mentorship and support as deans of the Faculty throughout its many incarnations.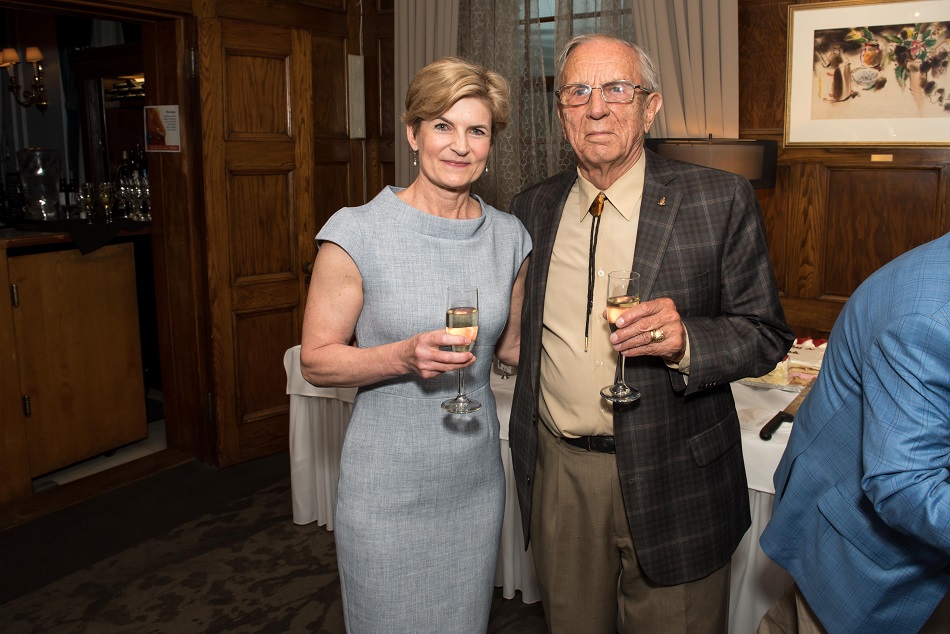 Gretchen Kerr and former dean Yuri Daniel, who was also Kerr's PhD supervisor
"I have amazing colleagues," she said. "It's hard to appropriately recognize our staff members, but they keep the trains running. And, I learned so much from my fabulous faculty members. Thank you for the respect you've given me, especially when things were tough."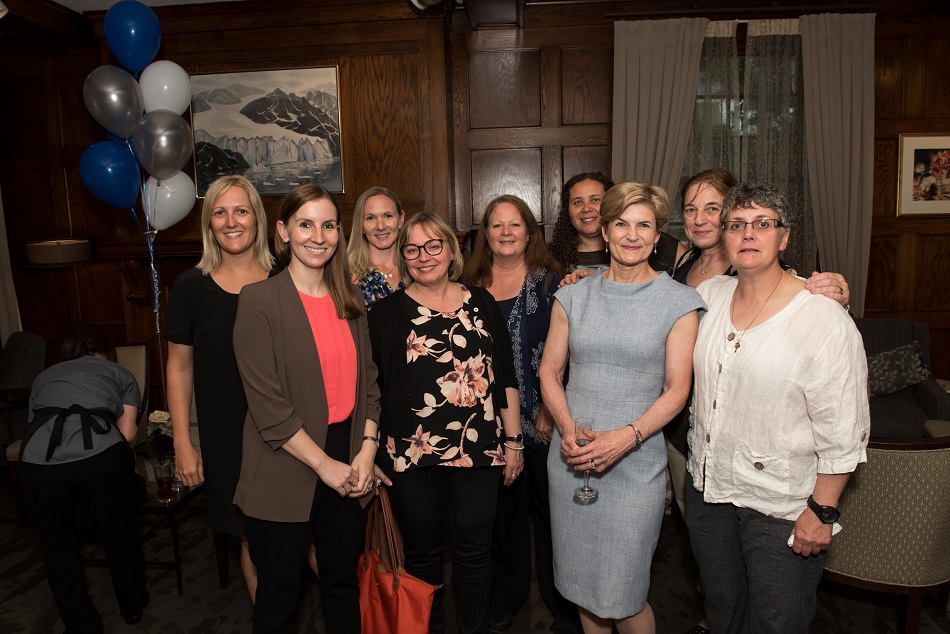 Posing with faculty members...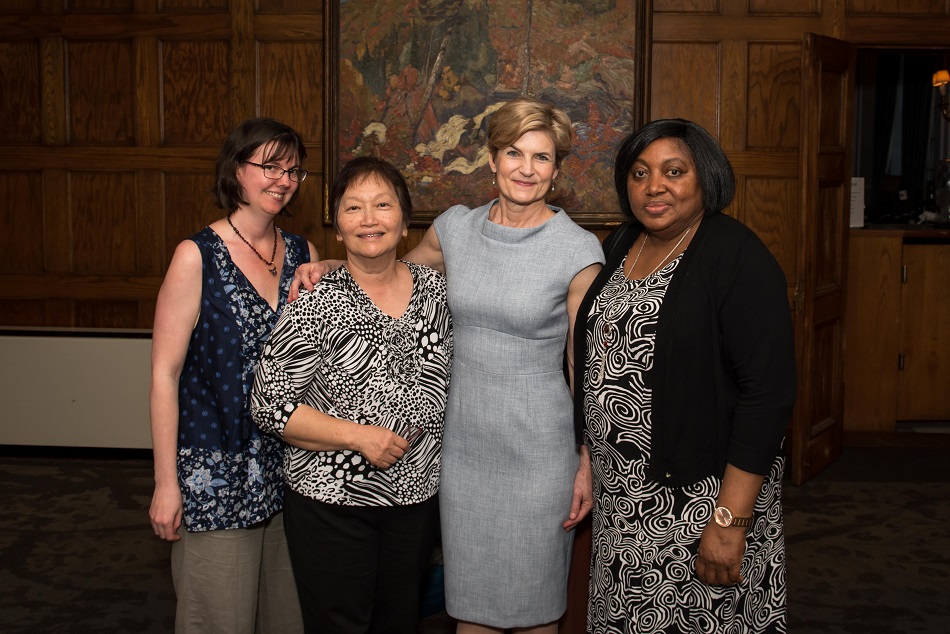 ...and staff
Kerr also thanked her family, mother Shirley, son Hudson, his partner Amanda, husband Walt and sister Beth.
"It's not lost on me that you've looked at my face on the computer on evenings and weekends and over the holidays, and you've not complained. And I know that's because you realized that my work has been a passion for me and my sense of self has not been complete without it."
"Thank you all for contributing to what has been the most wonderful chapter of my life at KPE."
While Kerr will be reducing her day to day presence at KPE, she will remain a faculty member and will continue to supervise students. She is succeeded in her role as vice-dean of research by Associate Professor Ashley Stirling.