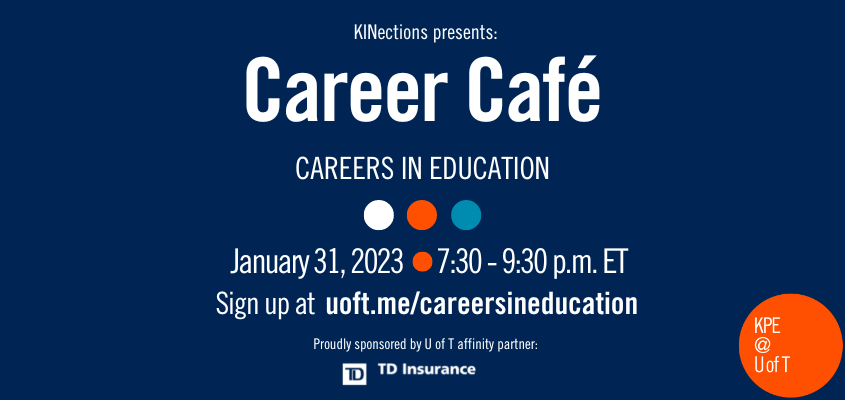 Open to All KPE Students
Open to KPE Graduate
Open to KPE Undergraduate
Find inspiration for your future career in this edition of Career Café, featuring alumni working in primary, secondary and post-secondary education.
Tune in online on January 31 at 7:30 p.m. to connect with KPE alumni as they share experiences and insights from their professional journeys. 
Gain new perspectives and ask questions at this interactive event to explore your career potential!
---
Featured alumni speakers
Ruqayyah Alibhai: Ruqayyah is currently in their second and final year of the Master of Teaching program here at the University of Toronto. They are an intermediate and senior teacher, in health and physical education and biology. Ruqayyah has many years of experience working with students, and their most recent practicum experiences include both the TDSB and YRDSB school boards. Their research focus as part of their graduate studies involves using queer pedagogy to develop a more inclusive health and physical education curriculum, and making health and physical education spaces more inclusive for queer youth of colour.

Bill Mah: Bill is entering his 11th year as a school Principal in the Toronto District School Board. A graduate of the Faculty's BPHE program (now BKin), his degree and experiences at the Faculty were instrumental to his career as an educator.

Peter Koutroumpis: Peter has been involved and employed in organized sport and competition as a player, official, teacher, coach, administrator, and volunteer, with more than 30 years of experience in sport and wellness event management and programming, media and public relations, and teaching and coaching.

Chris Alexiou: Chris Alexiou is a former Oakville school principal and a Think:Kids CPS Certified Practitioner.  For over twelve years Chris has used Collaborative Problem Solving® (CPS) to help children, families and staff members in his schools. He believes deeply in the philosophy underlying CPS - that all "children (and adults) do well if they can." Chris is the past Chair of the Community Youth in Action Network (CYAN) in Oakville, Ontario and a Board member of the Oak Park Neighbourhood Centre in Oakville.  

Emilio Landolfi: Emilio is currently an Associate Professor in the Faculty of Health Sciences (School of Kinesiology) at University of the Fraser Valley where he also coordinates student experiential learning experiences and provides academic and career - based mentoring. Dr. Landolfi is also a member of the International Olympic Academy, holds a qualification as a Clinical Exercise Physiologist with a specialty in High Performance Sport, and is a Certified Mindfulness - Based Stress Reduction Facilitator.

Lisa Edwards: Lisa's passion is finding what students do best and helping them find success. She has worked in different school settings for 28 years, now working as a centrally assigned principal in the TDSB on developing policy and procedures for several departments. Building relationships with all stakeholders is a key element of her work, with the goal of moving the system forward.

Katherine Laschowski: Katherine Laschowski is a Grade 5 Teacher at the York School. She received her Bachelors in Physical Health and Education from the University of Toronto in 2013, followed by a Bachelors of Education from Western University and a Masters of Education from the University of Toronto in Developmental Psychology. Since 2015, Katherine has worked in education as an Educational Assistant, Physical Education Teacher, Learning Strategist, and Homeroom Teacher. Katherine currently teaches Grade 5 in Mississauga.
---
This event is brought to you by KINections' Career Development pillar. The KINections program is proudly sponsored by U of T affinity partner, TD Insurance.