Welcome to Sport & Rec! 
---
COVID-19 Update:
In accordance with provincial measures and reopening plans in place in the City of Toronto,
U of T Sport & Rec will begin reopening outdoor sport and recreation spaces and programs.
---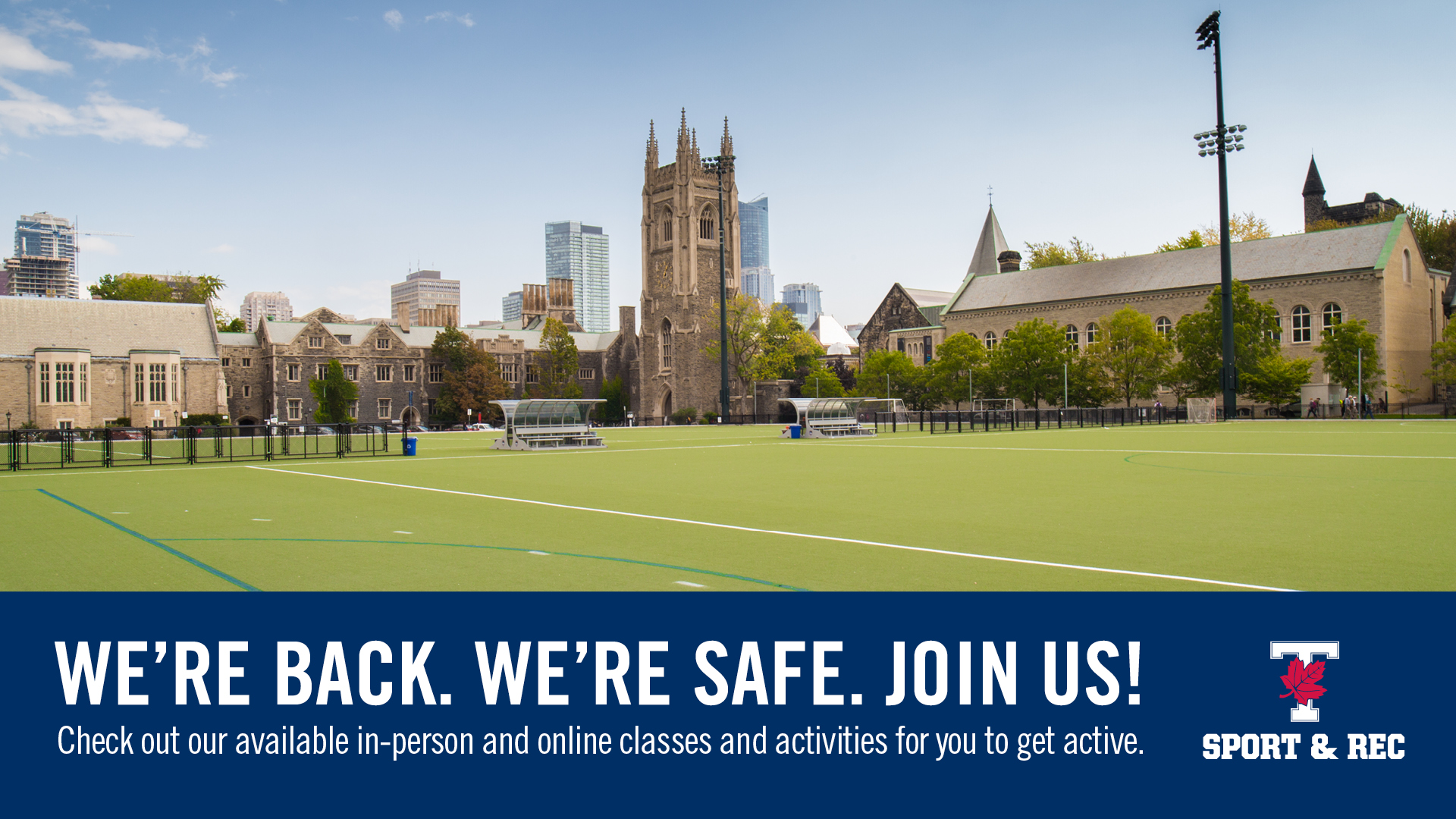 Join us outdoors or online!
We've made some changes to the way we operate in order to continue to provide exciting and safe opportunities to enhance your physical, mental and social well-being through sport and physical activity. We're offering a mix of in-person and online programs to help you get active in whatever way works best for you. 
Programming is currently only for spring/summer 2021 students paying incidental fees. Programs and services will be expanded when possible. 
Explore and register for our current activities:
Group Fitness Classes and Workouts of the Day
Improve your overall fitness and strength in a small group training outdoor environment at the Varsity Stadium and Back Campus Fields. See schedule and more information
Drop-in Jogging
Run some laps and get your steps in at the Varsity Centre Track. See schedule and more information
Drop-in Field Sports Training
Get moving at our Back Campus fields with time slots for outdoor sports training (no games or practices permitted) for soccer, football and ultimate frisbee in a limited capacity setting of 10 people per zone. See more information. 
Virtual Fitness Studio
Participate in daily live online workout classes led by Sport & Recreation, UTM and Hart House instructors. See schedule and more information.
MoveU Anywhere 
Find inspiration for daily movement with MoveU Anywhere, a series of practical exercise videos that you can do in your own space. Get moving now.
Facility locations and ACCESS POINTS:
Varsity Centre: 299 Bloor Street West, Toronto, ON M5S 1W2
The Varsity Centre features a 400m eight-lane international class track and state-of-the-art artificial playing field. 
Back Campus Fields: 20 Tower Rd, University of Toronto St. George Campus
The Back Campus fields are comprised of two synthetic turf fields and provide state-of-the art outdoor facilities on our downtown campus.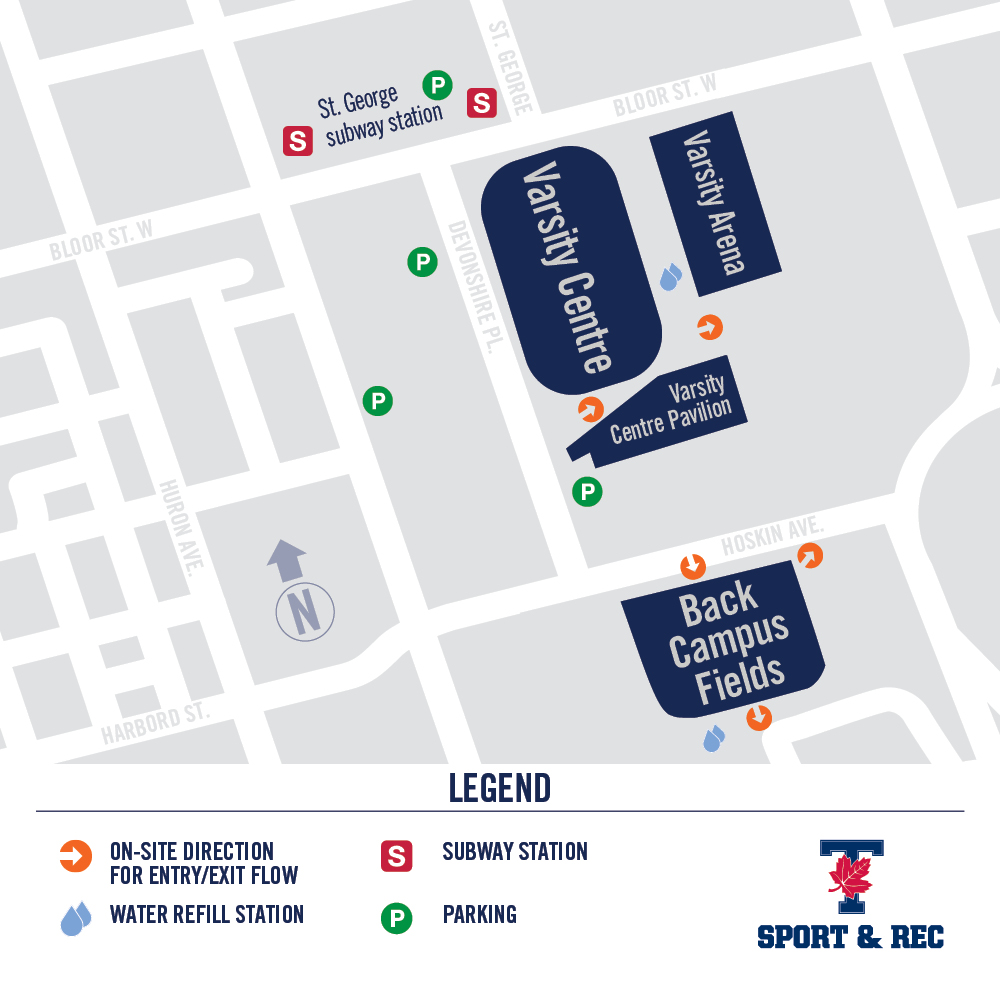 Safety protocols
Please ensure you are updated on our safety protocols and complete pre-screening prior to participating in activities.
---
Explore our programming: 
We look forward to welcoming our clients back and offering our full programs again when it is safe to do so.
---
Work @ Sport & Rec: 
Sport & Rec is one of the largest employers on campus, hiring students each year to work in a variety of areas and gain valuable skills by assisting in the planning, delivery, and evaluation of our programs.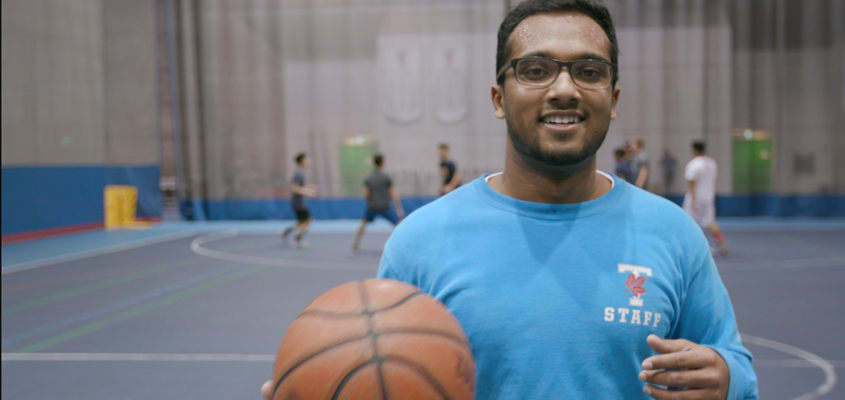 Navi 
Navi is a virtual agent that help students navigate mental health supports at the University of Toronto. Navi is an informational tool for wayfinding, and does not provide advice, counselling nor does it make any diagnosis. If students would like to speak to someone, Navi highlights a suite of resources that students can connect with 24/7.

 Stay Connected! 
Follow Sport and Rec on Instagram, Facebook and Twitter to keep up with all the awesome events and activities we offer! 
Studying at U of T Scarborough or U of T Mississauga?
While our programs and facilities are open to all U of T students, you can also explore what's available through the Athletics department at U of T Mississauga or the Athletics & Recreation opportunities at U of T Scarborough.