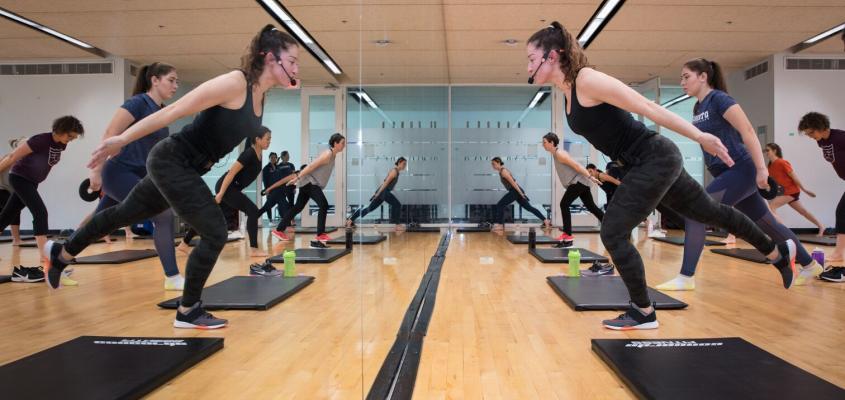 A variety of instructor-led drop-in group fitness classes are available at the Athletic Centre and Goldring Centre. All abilities are welcome. Movements can be modified as needed. 
Equipment is provided including fitness and yoga mats, blocks, straps and weights when included in a class.
Bring a water bottle; water bottle filling stations are available in all facilities.
Remember to bring a lock to secure your belongings in the change rooms. Bags are not permitted in the field house and other areas may have very limited storage.
Participants are welcome to bring their own yoga mat.
Wear comfortable athletic attire that is easy to move in. Appropriate non-marking, soft-soled athletic shoes (e.g. aerobics/cross-training/running shoes) are essential for all programs except Yoga, Stretch & Relax, JOGA, and Aquafit.  
Clean bathing attire is required for Aquafit. Clean, non-outdoor water shoes can be worn in the pool but are not required. We recommend clean indoor flip flops and a towel or robe for getting to and from the change room.
Flotation belts and other equipment are provided for deep water Aquafit classes.
All fitness levels are encouraged to participate in drop-in classes. If you are a beginner and have specific questions, please feel free to arrive early and speak to the instructor before class begins.
We recommend that participants who have existing health concerns consult a member of their healthcare team before participating in fitness activities including the group fitness drop-in programs.
Please inform the instructor of any existing health concerns or injuries before the start of each class. Instructors often provide options of varying intensity. Participants are encouraged to listen to further modify exercises as desired.
Please do your best to arrive on time. If are arriving late to class, please enter the class location with minimal disruption. If you are arriving late to the yoga and meditation classes that take place at  the Athletic Centre dance studio or Goldring Centre fitness studio, please enter the studio quietly and please walk slowly. Also, please consider turning your phone off or turning off your phone ringer and other notifications before beginning a yoga and meditation class. 
Be scent free. Many individuals are affected by scents, please respect that others may be more sensitive to scents and odours.
Clean your mat after class and put away any equipment neatly in the designated location.
Leave your personal belongings in the change room, remember a lock! There is limited space in the dance studio and fitness studio for personal belongings. Bags and personal belongings are not permitted in multi-use facilities such as the field house.
Athletic Centre (AC), 55 Harbord St
FH 1 = Field House East side
FH 2 =Field House North side
FH 3 = Field House South side
FH 2/3 = Field House both
DS = Dance Studio
25 yd = 25 yd pool on the main floor
Goldring Centre (GC) for High Performance Sport, 100 Devonshire Place
FS = Fitness Studio