The University of Toronto is continuing to carefully assess the COVID-19 situation, while considering the advice of public health authorities and the interests of our community.
---
The Faculty of Kinesiology and Physical Education is pleased to host the annual Soar Indigenous Youth Gathering.
We invite Indigenous youth ages 14 to 17 to experience university life at U of T, visit Toronto Landmarks, and participate in a series of recreational and Indigenous focused events and activities. 20 fully funded spots are available and include accommodations, food, and activities throughout the week.
Read more about Soar:
U of T News: Indigenous teens try out University of Toronto for March Break
Program Eligibility
* Students must be of Indigenous ancestry (including First Nation, Status, Non-Status, Métis and Inuit)
* Students must be registered with a school board in grade 9, 10 or 11, 12
* Students must be between 14 and 17
* Students must agree to attend the program every day, be on time, follow the program guidelines and the student code of conduct 
Applications are reviewed, and funding will be awarded on a rolling basis. The sooner you get your application in, the better chance of receiving a spot in the program.
For more information or any questions, please contact soar.kpe@utoronto.ca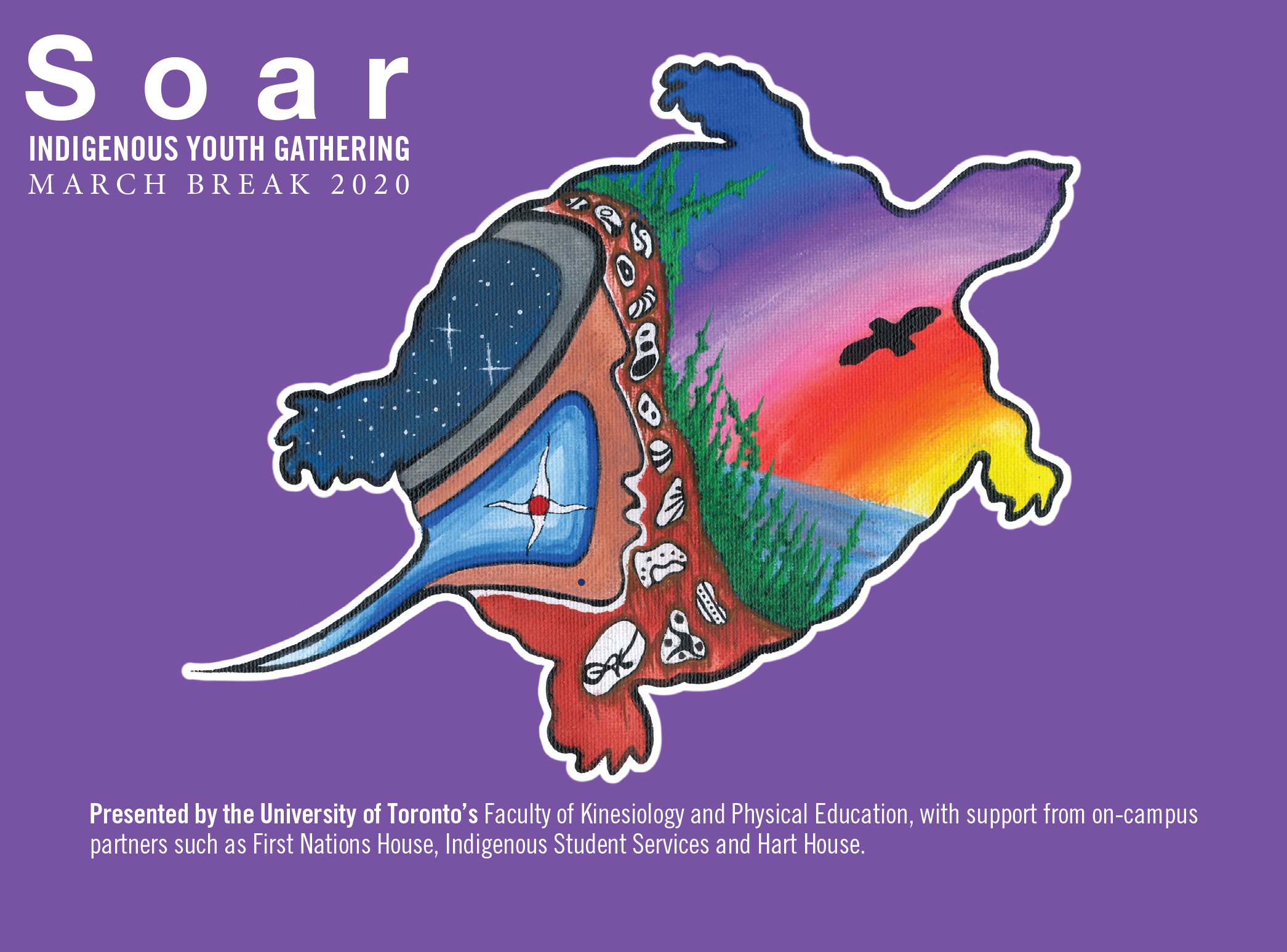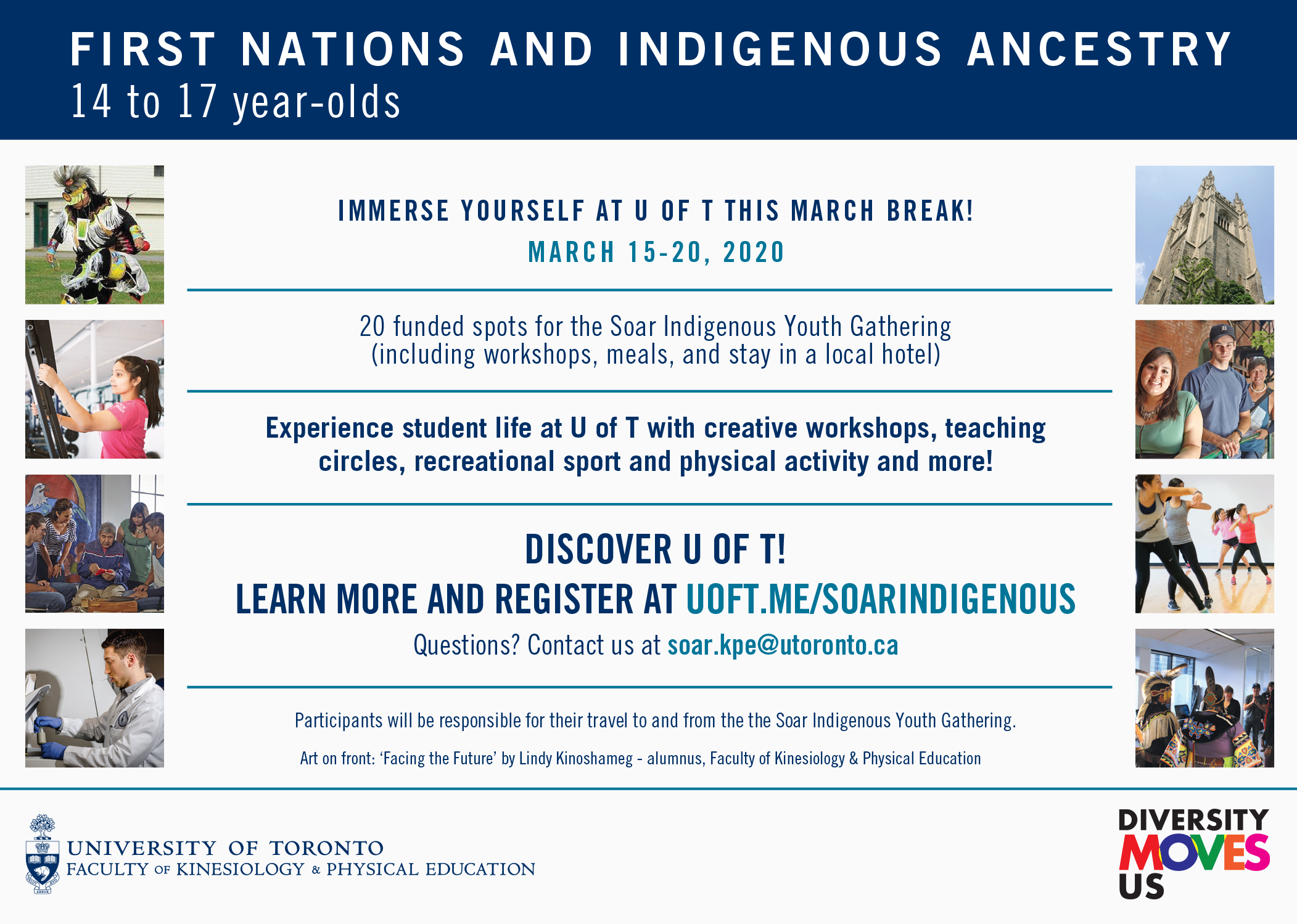 ---
FAQ
To apply for Soar, simply print a copy of the registration form, fill it out, and return the required documents to soar.kpe@utoronto.ca.
A completed registration package includes: Parental Permission Form (including a Media Release Form) and Student Registration Form.
The requirements to be accepted into Soar are as follows: you are an Indigenous youth aged 14 to 17, a resident of Ontario and you agree to attend the program every day and follow the guidelines and code of conduct.
The schedule of Soar varies from one year to another. Overall, the program is designed to give Indigenous students the opportunity to experience university life, visit Toronto, and participate in workshops on various aspects of Indigenous culture such as dance and music.
While the program is run out of the University of Toronto's Faculty of Kinesiology and Physical Education, Soar offers more programming for Indigenous students than just physical activity. Physical activity will be incorporated into many different activities and workshops. Additionally, there are also workshops designed to introduce participants to other Faculties and programs at the University.
Yes. Soar can fund up to $400 for those who require transportation via air, train, etc. if necessary. In order to obtain this funding, students must provide receipts for reimbursement upon arrival in Toronto.
The Soar program has 10 rooms reserved at the Chelsea Hotel, located a 15-minute walk away from the University of Toronto campus.
Successful applicants will receive a letter of acceptance from the program coordinators, which will include: hotel information, directions to the University of Toronto and the Faculty of Kinesiology and Physical Education, and a final agenda and itinerary. The program coordinators will also be contacting the successful applicants by telephone.
We accept applications on a rolling basis as they come in, and send out our acceptance emails during the month of February.
Accommodations and meals will be covered  by the Soar program. Since we will be making a trip to the Eaton Centre, participants may choose to bring some money for shopping during the week. Any other personal expenses will be expected to be covered by the students.
A packing checklist will be sent out along with the Soar acceptance letter.
There is the possibility that the coordinators will bring cameras to document various workshops and activities, or that a member of the Faculty of Kinesiology and Physical Education will film a workshop, and because of this, we have included a media release form with Soar's registration package.