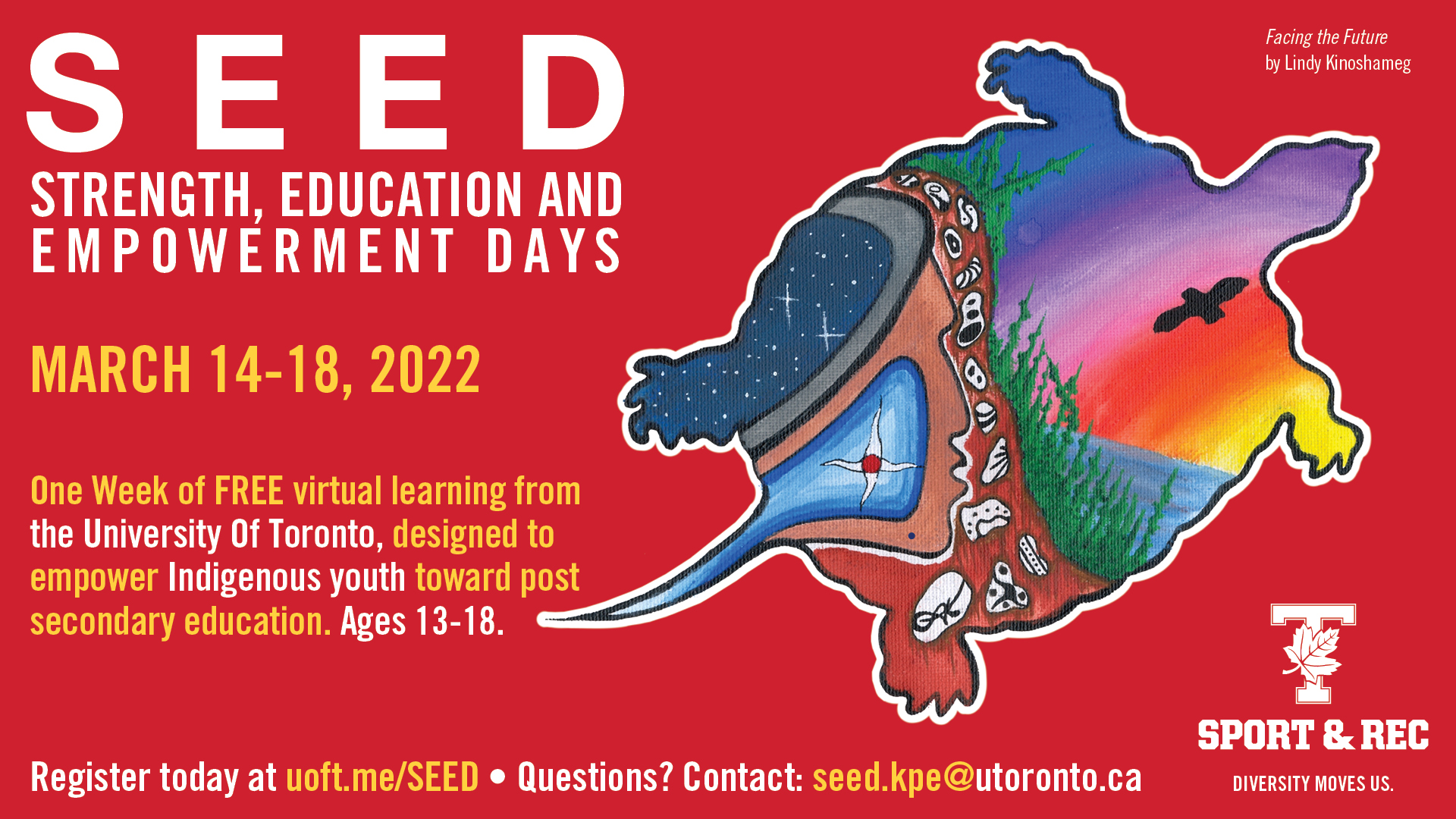 The Faculty of Kinesiology and Physical Education is pleased to host the SEED Program from March 14-18, 2022. 
SEED is offered in partnership with Indigenous Student Services' First Nations House, Hart House, First Story, the Nikibii Dawadinna Giigwag program (John H. Daniels School of Architecture) and other on- and off- campus partners.
Come see what Indigenous life can be like at the University of Toronto through this wonderful collection of SEED virtual sessions. There will also be lots of prize packs and give-aways throughout the week from each of our program partners, so be sure to come by!
The week will consist of 5 program sessions - 1 hour to 1.5 hours in length. Youth are encouraged to register (free of charge) in at least 3 of the 5 sessions and all youth who join in for at least 3 of the 5 sessions will receive a certificate and be entered in a draw to win a Nintendo Switch Lite with a game of their choice.
The leader who scores the highest in the virtual Goosechase (hosted by Hart House) throughout the week will win a great set of headphones! All registrants in all sessions will receive instructions on how to compete in the Goosechase.
Don't delay! Please register for each session using the links below.
 
Registration for seed 2022 Programs:
Welcome from First Nations House - Monday, March 14th at 3pm ET
First Nations House is the home of Indigenous student services on campus. Join us for a welcome to the week!
During this session, you'll get to know First Nations House staff and current students, get a sneak peek at some of the exciting First Nations House space renovations, and will learn about some of the great services and resources available that support Indigenous student life on campus.
Stories of the University of Toronto St. George Campus with First Story - Tuesday, March 15th at 3pm ET
The First Story Toronto Tours combine historical and archival research with oral histories and stories (both communal and personal) of Indigenous peoples in Toronto. The tours are not only factual tellings of Indigenous life in Toronto in a Western academic sense; they also provide personal and culture-specific experiences, perspectives, and knowledges through storytelling that is grounded in Indigenous connections to place across Toronto. It is therefore not just a tour; it can also be understood to be an urban Indigenous land-based oral storytelling tradition that effects an Indigenous reclamation of territory, mapping Tkaronto as an Indigenous "place-world". The stories and perspectives shared on the tours contribute to the way that Toronto's Indigenous community understands, remembers, and imagines itself and its relationships to land, now and into the future.
Land-based Learning with the Nikibii Dawadinna Giigwag Program (John H. Daniels School of Architecture, Landscape and Design) - Wednesday, March 16th at 3pm ET
Nikibii Dawadinna Giigwag – Anishinaabemowin for Flooded Valley Healing – is an employment, mentorship, and pathway to postsecondary education program for highly motivated Indigenous youth between the ages of 15-25. The Summer program takes place from July-August, for seven weeks, weaving together cultural teachings with landscape architecture and environmental conservation, answering UofT's Calls to Action: 1, 15, 17, 26. Nikibii Dawadinna Giigwag is designed by Elders, Knowledge Keepers, professional mentors, and educators hosted at the University of Toronto, Daniels Faculty of Architecture, Landscape, and Design. We aim to strengthen the youth's cultural identity and connection to land while showing how exciting and valuable green infrastructure and sustainability can be.
Movement and Teamwork with Lay Up!, hosted by Hart House - Thursday, March 17th at 3pm ET
Participate in basketball skills and drills without leaving your home! Ever wondered what it would be like to be a basketball player or coach a team?  What qualities are needed to succeed in this field and what makes both a player and a coach successful? Curious about what a coach says to their players in time-outs or pre-game?
Join two professional coaches from the Lay Up Foundation as they lead a high energy workshop focusing on skills and drills that you can do at home (no basketball required), create and contribute to a team cheer, participate in a virtual team huddle and choose a word of the day that coaches can use in their pre game pep talks!  Plus you'll have an opportunity to win great prizes!
Artist Talk and Program Closing - Friday, March 18th at 3pm ET
Become inspired to deepen your artistic practices by learning more about a local Indigenous artist's artwork, artform, and creativity.
Questions? Please contact seed.kpe@utoronto.ca
Program Eligibility
* Youth must be of Indigenous ancestry (including First Nation, Status, Non-Status, Métis and Inuit)
* Youth must be registered with an Ontario school board in grade 9, 10 or 11, 12
* Youth must be between 13 and 18
* Youth must agree to attend the program, be on time, follow the program guidelines and the student code of conduct.