Personal Training
Your workday workout, simplified.
For a limited time, staff and faculty can take advantage of an exclusive offer on personal training!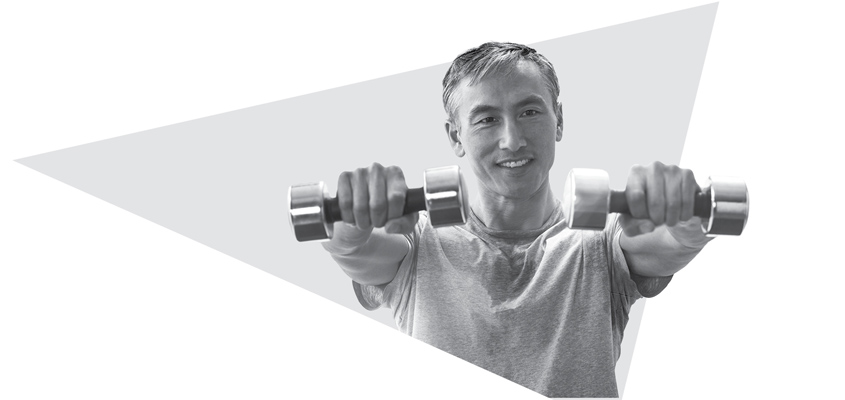 U of T staff and faculty members can get three 45-minute personal training sessions for just $150 or six for just $265!
Offer valid from April 9 - August 1, 2018. Prices do not include HST.
Personal training offer limited to staff and faculty with a valid membership.
---
Personal Training Packages
Our personal training sessions for individuals are 55-minutes in length.  In addition, we offer 45-minute nutrition consultations, a fitness assessment, body composition analysis sessions, as well as our Get Fit and Team Lite packages.

Fitness Assessment
Learn about your baseline fitness and areas of need using a national protocol that evaluates:

• Target resting and exercise heart rates

• Target resting and exercise blood pressures 

• Muscular strength and endurance 
 
• Aerobic capacity

• Body composition and girth measurements

• Flexibility
Get Started Package (for U of T students only) 
All current U of T students can take advantage of the one time only Get Started Package and get detailed instructions from a personal trainer at a discounted rate. Whether you are new to the gym or just looking to revamp your training this program is right for you. Take advantage of five (45 min) personal training sessions for the low introductory price of $220+tax.
Get Fit Package
This package includes a fitness assessment and two 55-min personal training sessions. The fitness assessment determines your current fitness level, identifies your areas of need and determines your ideal exercise program focus. These personal training sessions are designed to teach you how to get the most from your exercise program.

Team Lite
Start a healthy eating and exercise program the right way.  Balancing your physical activity levels and nutritional intake requires a team approach: nutritionist, personal trainer and you. This package includes two 45-minute nutrition counselling sessions and four 55-minute personal training sessions.

Fees (HST not included)  
 

U of T Students

U of T Staff Members & Senior Members

All other Members

Non-members*

Fees 2017-18

 

Packages / Sessions

 

 

 

 

 

Fitness Assessment

$65

$67

$75

$100

Get Fit

$157

$170

$180

$217

Team Lite

$292

$320

$380

$462

One-Hour P/T or Nutrition

$53

$58

$68

$88

3 Sessions

$150

$165

$200

$240

6 Sessions

$295

$320

$370

$460

12 Sessions

$570

$620

$730

 

24 Sessions

$1,100

$1,225

$1,425


*A guest fee has been included in the non-member fee to allow access to the facilities for the day of your training session.
Purchase 24 sessions of personal training and receive a Fitness Assessment for FREE.
All prices are subject to HST.
Special rates for students with disabilities who are registered with Accessibility Services.
DO MY PERSONAL TRAINING SESSIONS EVER EXPIRE?
Packages of less than 6 personal training sessions must be used within 3 months of the purchase date. Packages of 12 & 24 sessions must be used within one year of purchase date. Any unused sessions after these expiry dates will be cancelled, and partial refunds will not be provided. 
Ready to book?  
If you already know which package you would like to select, you can complete your registration by submitting your completed personal training profile forms with your payment at the Athletic Centre's main office or at the service desk at the Goldring Centre for High Performance Sport.  A personal trainer or nutritionist will contact you within 48 hours to arrange your session(s).
If you have any further questions or would like to book an appointment to discuss your objectives and goals, you can contact the personal training coordinator & nutrition coordinator,  Douglas Rosa,  at douglas.rosa@utoronto.ca or 416-978-4456.