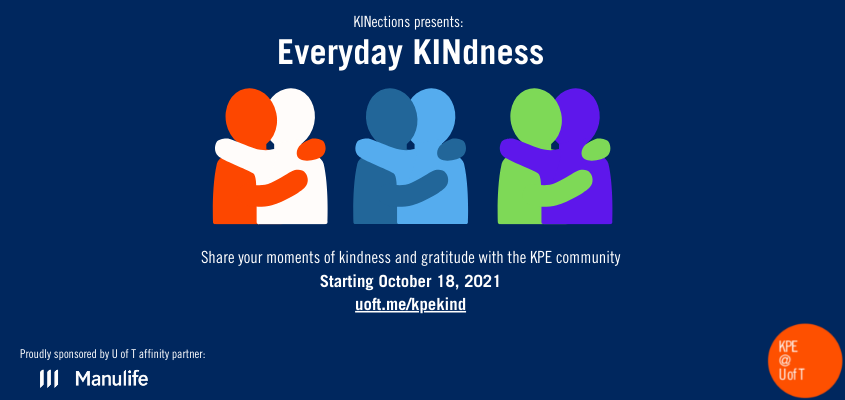 Open to All KPE Students
Open to Alumni
Everyday KINdness is a virtual initiative that encourages us to connect to those around us, boost our mental well-being by being kind to others, reflect on the good in our lives and create positivity in the world.
We invite you to perform small acts of kindness each day or reflect on something you're thankful for as part of the Everyday KINdness challenge! We'll keep a running tally and feature different acts on the KPE Instagram throughout the challenge.

KPE students, staff, faculty and alumni are all invited to participate in the challenge whether you're on campus or off, at home, or out and about.

How to participate:
Perform acts of everyday kindness or reflect on something you're thankful for during the challenge period—and let us know about it! The challenge runs from October 18 - December 9, 2021.
Your submission can be about an experience you've had within KPE, at home, or in your local community.
If you're on Instagram, tag @uoftkpe and use the hashtag #kpekind in your Stories or posts. You can also send a photo and/or note to kinections@utoronto.ca to share your act of kindness or moment of gratitude.

We also welcome anonymous submissions via the online form linked below:
---
This challenge is brought to you by KINections' Community Engagement pillar. Learn more about KINections at kinections.utoronto.ca.
The KINections program is proudly sponsored by U of T affinity partner, Manulife.