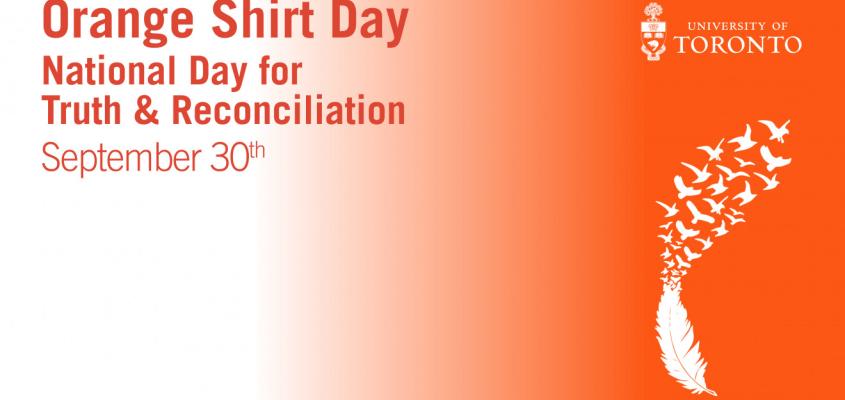 This event can be attended in-person (at Hart House in the Great Hall; registration required) or via livestream (on YouTube or view at Varsity Centre).
The National Day for Truth and Reconciliation and Orange Shirt Day will be commemorated on September 30 across U of T's three campuses.
Hart House will host a university-wide event open to all students, librarians, faculty librarians and staff across the three campuses, featuring remarks from Kelly Hannah-Moffat, vice-president of people strategy, equity and culture, and Alexandra Gillespie, U of T vice-president and principal of U of T Mississauga. 
On the St George Campus, Varsity Stadium will livestream the event under the concourse. Members of the U of T community will be asked to present their T-card at the doors.
On Scarborough Campus, there are several events planned for the lead-up to September 30, including a Sept. 26 workshop called "Walking the Talk" that will use an Indigenous framework to unpack short examples around answering the Calls to Action on campus and a Sept. 29 screening of Rumble: the Indians Who Rocked the World, which is co-presented by the department of arts, culture and media and the Indigenous Outreach Program.
At Mississauga Campus, the Indigenous Centre has a limited number of tickets for a public virtual tour of the Mohawk Institute Residential School in Brantford, Ont. The centre has also compiled a list of resources to help the U of T Mississauga community prepare for Orange Shirt Day.
For more information on this event or to register to attend in-person, please visit: https://harthouse.ca/events/orange-shirt-day-2022
The event is organized and supported by the Office of Indigenous Initiatives, Hart House, the Faculty of Arts & Science, the Faculty of Kinesiology & Physical Education, Woodsworth College, U of T Mississauga Indigenous Centre and First Nations House.