Ruqayyah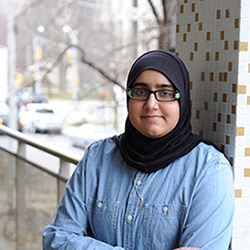 What made you want to be a kin student?
I never really knew what I wanted to do when I was in Grade 12, and after talking with a few of the Professors from our Faculty I got interested in Kinesiology just from the classes they spoke about, how we learn about everything from Human Anatomy to Sport Psychology. And after doing my research and seeing all the things we would get to experience like the Outdoor Projects, cadaver labs and placements I began to think that my place could be with kinesiology. And also just hearing from students about the location, the resources that we have access to, the people, how Kin was going to be like a small community I essentially fell in love with this place and haven't looked back.
Do you have a specific area of interest? If so, what is it?
I am interested in the rehabilitation areas of kinesiology and also really enjoy learning about injury prevention because that is very important right now. One of my favourite things is learning about the human body and figuring out how we move not just from a physical point of view, but even what occurs from the perspective of your brain and those processes, and how those all work together for you to be able to move and do things.
What is your favourite part about the faculty?
I love the size of our faculty, because with it being so small it lets you become part of a great community or (KINmunity to be cheesy), and feels great to feel part of something like this. You get to know most of the people in your year and many of the other years as well and it makes for an amazing environment, especially when you get to places like the Benson student lounge where you see all 4 years hanging out together and just helping each other out.
What is something you wish you knew before entering the faculty?
I wish I knew that before going into university that the professors and all of the staff are there for you and are ready to help you succeed, you just need to take the first steps, and know that you are not going to be alone at university. Everyone is in the same boat as you are, and what's great about our faculty is everyone is willing and ready to help you out, from your fellow students to the registrar's office and all the way to your Professors, you are not going to be alone during these next 4 years which are honestly going to be some of the best in your life.
What has been your favourite/most memorable experience in the faculty so far?
My favourite experience has been getting to be a student leader, within the faculty, and I highly recommend it because it was one of my favourite things about the faculty (aside from the cadaver labs of course). I was able to really get to know the faculty staff, meet so many fellow students and do my best to make a difference at university.
Any advice for incoming students?
Take a chance on kinesiology, it may not be what you are thinking of pursuing in university, or you may not know what you want to do, but I highly suggest going for it because kinesiology can lead to a variety of things and it will help you develop those important skills needed later in life and it also gives you a lot of practical knowledge that you can use in your day to day life and will change how you think. Take a chance on kinesiology and I promise that you will begin to fall in love, from the first anatomy class you experience all the way to the last exam you will take in the exam centre.
Anything else you would like to add?
Interesting fact about me: I am really involved with student leadership and I was on the Varsity Mountain Biking team last year, and I'm currently the co-chair for the Council of Athletics and Recreation Governance for the University and I'm currently running for KPE Director on the UTSU board.
---
Samir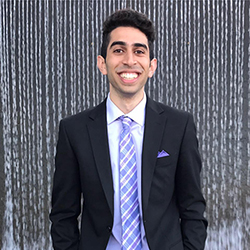 What made you want to be a kin student?
Where I am today is all because of my grade 12 Introduction to Kinesiology teacher. I took that class thinking it might be interesting to learn more about the human body and movement, but little did I know that it would actually become my future. My teacher, Ms. Palmer, explained everything in such a manner that made the content both easy to understand and interesting as well. The class had a lot of hands-on work as well which really engaged me as I like to learn by trying things out for myself. Being an athlete, I thought that learning about how physical activity affects the human body as well as learning how to diagnose and prevent sports-related injuries was one of the highlights of the class. I felt that Kinesiology was the perfect combination of sports and science, two of my biggest interests, and as a result knew that it was the best program for me.
Do you have a specific area of interest? If so, what is it?
I am specifically interested in the anatomy and physiology-based aspects of the Kinesiology program. I really like learning about how the human body works, from the level of the skin all the way down to the nerves, blood vessels and everything in between. I find it very fascinating to know that so many different processes occur within our bodies each second, even for a simple task like lifting your arm up or walking. I have also become very interested in looking at the field of Kinesiology through a physical cultural lens. In other words, analyzing what Kinesiology means to people and society, and how we can work to better integrate our knowledge from this field into people's lifestyles.
What is your favourite part about the faculty?
My favourite part about the faculty is that it is so tightly-knit. During my time in KPE, I have made so many good friends and met many amazing people along the way. Everyone is so friendly, welcoming and passionate about the program and this just contributes to an environment that is enjoyable for everyone. So many people are there to help you, from the students in upper years, to the Academic Advisor and Health Science Writing Centre. At KPE, your success as both a student and an individual are the faculty's first priority.
What is something you wish you knew before entering the faculty?
One thing I wish I knew about before entering the faculty would definitely be the wide range of opportunities to get involved in. There are so many clubs, sub-committees, sports teams, drop-in activities and other extra-curriculars for the students to get involved in. Essentially, there is something for everyone. It can be a little bit overwhelming at first, but the best thing to do would be to figure out what your interests are and go from there. Now that I am in my second year, I have become very involved in the faculty and not a day goes by where I question my decisions.
What has been your favourite/most memorable experience in the faculty so far?
My favourite experience in the faculty so far was being an Orientation Week Leader this past September for the incoming students. This was truly such a rewarding experience as I not only got to help the first year students with their transition from high school to university, but I also got to meet so many new people. It was very interesting to be on the other side, because it was just over a year ago that I was in these students' position and was both nervous and excited to start my university life.
Any advice for incoming students?
GET INVOLVED! University of Toronto is recognized as one of the top academic institutions in the whole world, but there's a lot more to your undergraduate experience than just academics. In order to excel, you need to maintain a balance between your academics and extra-curriculars. Getting involved in the faculty is a great way to reinforce your various skills as an individual as well as meet so many people, both inside and outside of kin. Fun Fact: KPE is the largest employer of students on campus! Keep a lookout on the website as well as on the bulletins in the Athletic Centre for any job openings or volunteer opportunities.